Mashed Potato Pizza is one of my absolute favorite specialty pizzas. If you haven't heard of this or you have and haven't tried it yet, do yourself a favor and make it already. It's super easy you use instant mashed potatoes and premade and stretched pizza dough.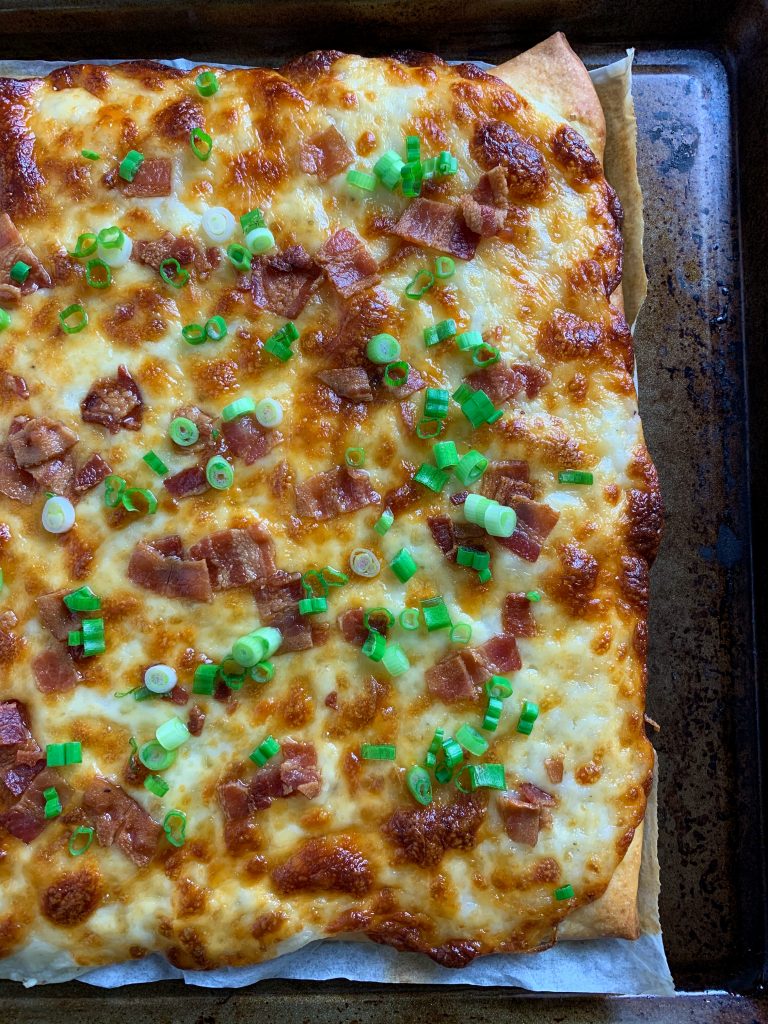 I have seen a few places do it differently with roasted sliced potatoes or fingerling potatoes. All delicious ways to prepare it, and I will gladly gobble them up without a second thought, but there is just something about mashed potatoes that just does it for me.
I have only had mashed potato pizza one place – BAR in New Haven, CT. Now this recipe isn't exactly that, but since I can't just drive there from CA, this will just have to do. I always talk about how good this pizza was the first time I had it. My husband never remembers because we had it the first time he met my brother. He was really nervous, and I think only had a few bites. I think that is very sweet that he was nervous, and he rightfully should have been (wink wink). My brother is kind of intimidating in stature (he was also a bouncer I believe at the time at BAR), but he is also really likable, friendly and a ridiculous person once you start talking to him. He gets that from me (even though I'm 6 years younger).
I have wanted to re-create this pizza since then (7 years ago) and for whatever reason, just kept not doing it. Then recently, my cousin's mother-in-law, Jackie, posted a mashed potato pizza she made and it inspired me to make it. She had the genius idea to use instant packaged garlic potatoes to save time, and instead of traditional mozzarella, use slices of provolone cheese. She didn't steer me wrong. The provolone really adds something special to it and the potatoes took all of hitting a few buttons to heat up some water.
I hope you enjoy this Mashed Potato Pizza as much as I did!
Ingredients
Pizza dough
½ -1 onion, sliced
Package of instant garlic mashed potatoes
¼ cup of sour cream
10-12 slices of provolone cheese depending how big your pizza is. I did a square refrigerated crust.
Green onion or chives, chopped
3-4 sliced of cooked bacon, chopped
Sprinkle of dry or fresh thyme
1 tsp. olive oil
Fresh cracked black pepper to taste
Directions
Set your oven to whatever your dough instructions say. You want it nice and hot. I try and preheat my oven for 30 minutes.
Slice your onions and toss them into a pan to caramelize with a little olive oil. It should take 20 minutes or so, you want to do it low and slow to get them jammy. The last few minutes, add your thyme, mix and set aside.
While onions are cooking, make your instant mashed potatoes per the instructions on their packaging. I like to add some sour cream after they are made and fresh cracked black pepper.
I just microwave my bacon in-between a few pieces of paper towels. Usually 30 seconds per slice and then see if it needs longer. When it's done and cooled, chop it up and set aside.
Dice your green onions and set aside.
Get your slices of provolone ready.
I roll out my dough and place it onto a baking sheet. I add my onions first then my mashed potatoes and then my cheese. I bake it per the dough's instructions. The last two minutes, I pull it out and add my crumbled bacon to warm up and adhere to the cheese and then put it back in the oven to finish. I like mine a little crispy so I usually let my pizza cook a few minutes extra. Just don't burn the cheese. A little brown is good it will actually give it a nice nutty taste. Garnish it with the green onions.
The mashed potatoes hold an ungodly amount of heat, so let this guy chill for a few minutes before you dive in so that you don't sear the roof of your mouth off and it's easier to cut. It's really tasty the next day cold leftover too.