Roasted Red Pepper Pasta is so creamy and delicious. You can make it with your own roasted peppers, or if you're in a time crunch, jarred ones work as well. You can keep this recipe really simple with just a few ingredients, or if you have the time and desire, jazz it up. It can be a quick weeknight meal or something to be savored over the weekend with a nice salad, bread and something bubbly.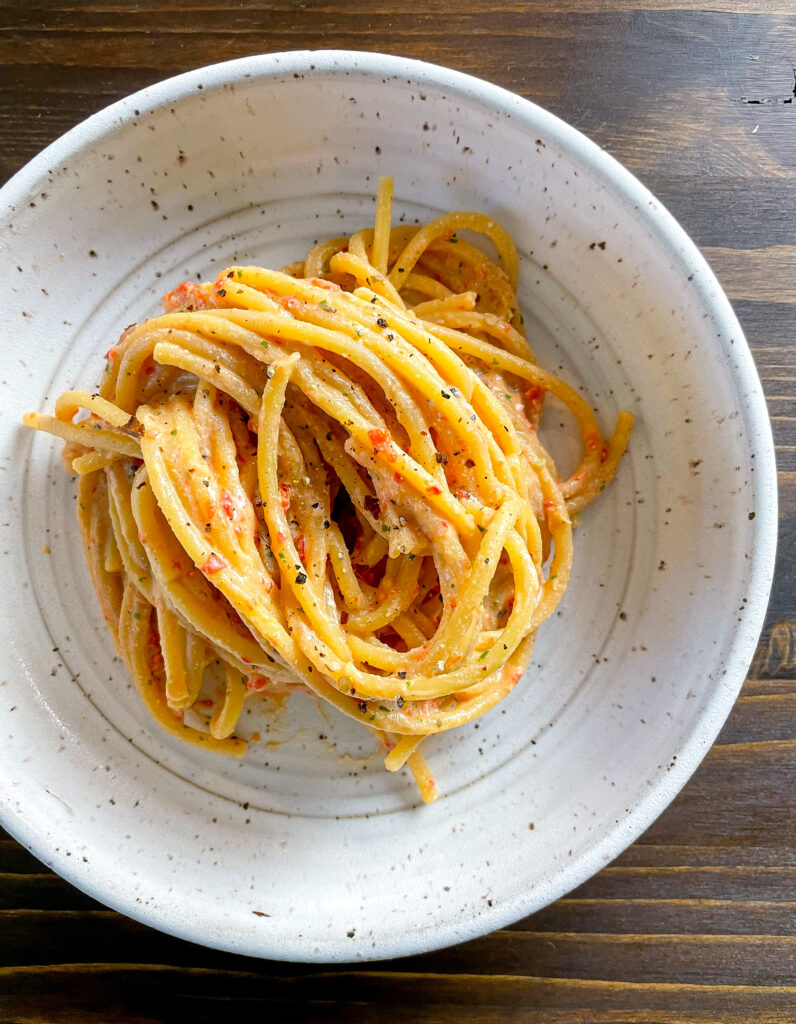 For this recipe of Roasted Red Pepper Pasta I used a combination of ricotta cheese and Parmesan cheese. If you like things a little tangy, I would also recommend using some goat cheese as it works really well with the roasted pepper and fresh basil. You can use 1 cup of ricotta and 2 oz. of goat cheese instead of the Parmesan. If you have the time, I do recommend making your own roasted red peppers, and when doing so, toss in ¼ or ½ of an onion to roast with it and your garlic cloves. Make sure to season them with a little olive oil and salt and pepper before roasting. Then, add them in with the peppers when you puree it. It will add a nice layer of depth to the sauce. If you want to get more vegetables into the pasta feel free to add a little roasted squash and cherry tomatoes, they taste great with the sauce.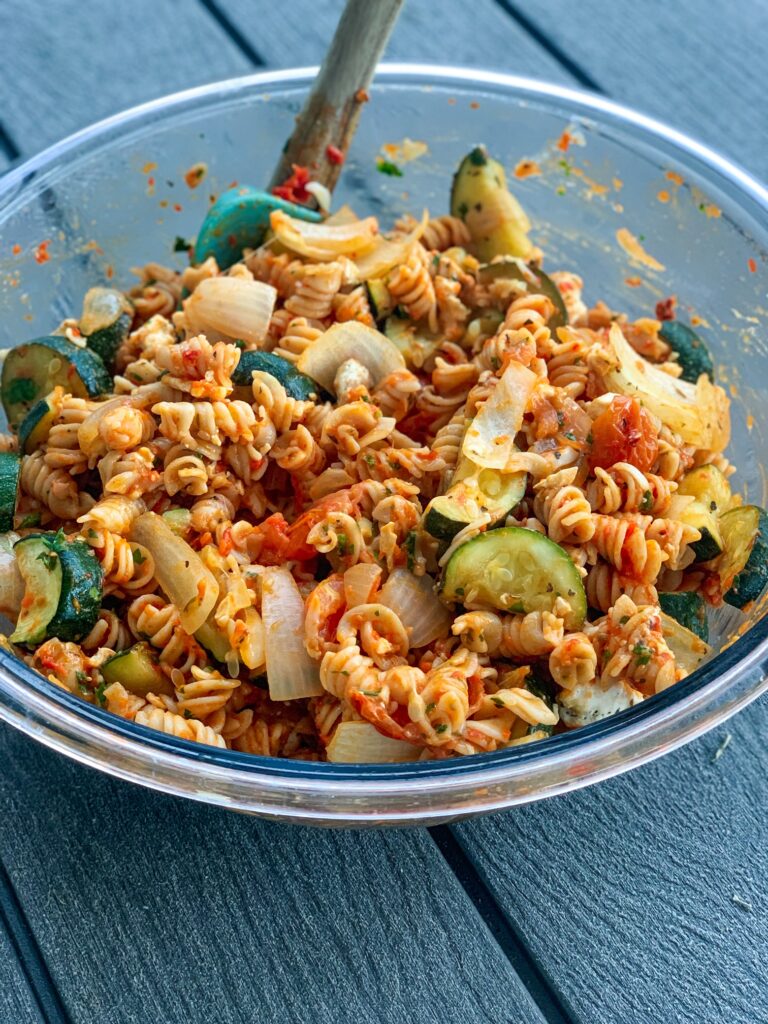 If roasted red pepper pasta isn't your thing, I have plenty of other recipes on my blog such as my Lemon Ricotta Pasta, Hatch Chile Pasta, easy sauce or pasta alla boscaiola.
Ingredients
12 oz. Bucatini, spaghetti or box of rigatoni pasta
1.5 cups of ricotta cheese
½ cup of Parmesan cheese
1 tbsp. olive oil
½ lemon zest
3 bell peppers roasted or 12 oz. drained jar of roasted red peppers
1/3 cup of loosely packed basil about 6-8 good sized leaves
5 cloves of garlic
½ tsp. sea salt- more for taste
¼ tsp. dried parsley or 1 tsp. fresh
½ tsp. onion powder
Red pepper flakes and black pepper to taste
Directions
Slice three red bell peppers in half and remove the seeds. Lightly coat them all over with oil and a little salt and pepper. Place them on a baking sheet skin side up and bake at 450˚ F until the outside of them is nice and charred, about 20 minutes. When they are done, remove them and place inside a large bowl and cover with plastic wrap to rest for 20 more minutes. When they have cooled, remove their skin.
Place your bell peppers inside your food processor with your basil, ricotta, Parmesan, lemon zest and dried seasonings. Purée until smooth then taste for seasoning and adjust.
Bring a large pot of water to a boil, season with salt and drop your pasta and cook till al dente. Save ¼ cup of pasta water, then drain.
Place your sauce into your hot pasta pot along with the saved pasta water and noodles and mix. I like to let it sit together for a few minutes in the sauce before I serve it. Garnish with additional chopped basil, Parmesan cheese and red pepper flakes.
.