Potato and Corn Chowder is a creamy, hearty and flavorful soup. It is perfect to enjoy as the end of summer nears. You can't go wrong with bacon, potatoes and sweet corn in a soup.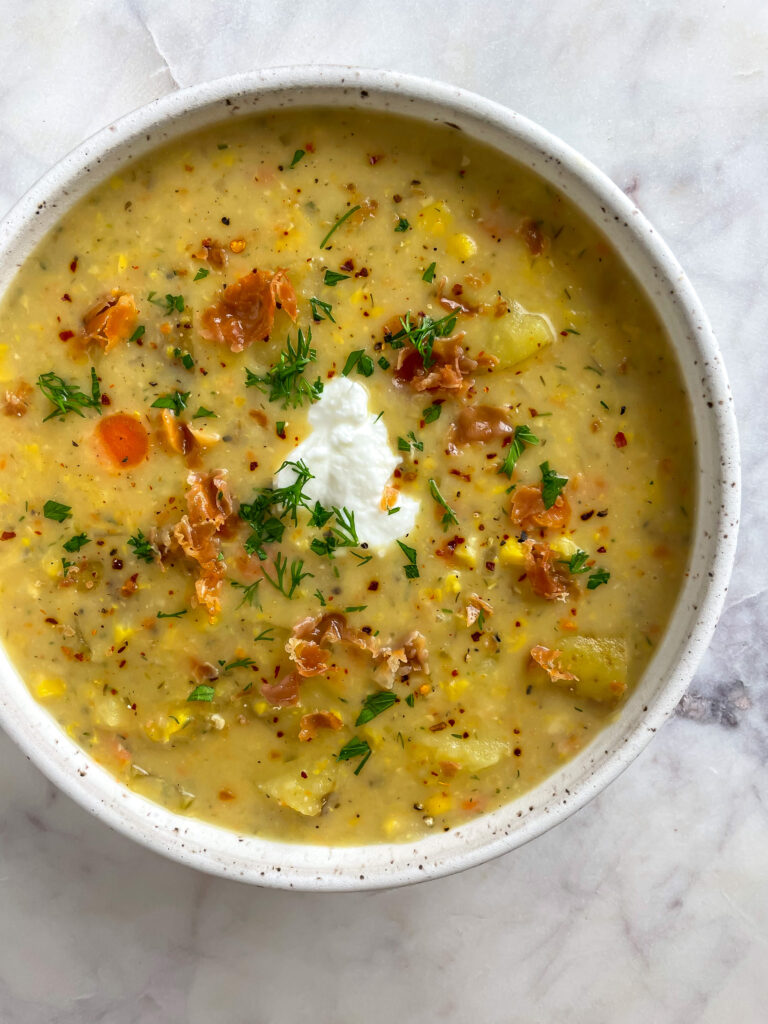 I often wonder if I'm the only weirdo that usually only eats chowders during the summertime, I think it might be a New England thing? When I go home to visit, it can be 90 ˚ out and you could still find me on a patio in CT or RI near the water enjoying a bowl of clam chowder. I can't be the only one, right?
I like to make my potato and corn chowder with fresh sweet summer corn, but I have no issue using frozen or canned sweet corn too. For that reason, I make this often as a "clean the fridge out" soup. I almost always have some carrots (baby works fine too), celery, potatoes and canned or frozen corn hanging around. I take it all, add it to a big pot and let it simmer. You can play with it and add fresh herbs or some zucchini; you really can't go wrong as long as you have the basics.
If potato and corn chowder isn't your thing, give my Tuscan White Bean Soup and try or my Split Pea. They will not disappoint! I also shared a non-dairy option at the bottom, and you can also make this vegan by opting out of the bacon and using veggie stock instead of chicken.
Ingredients
4-5 medium yellow potatoes – diced
1 large carrot or handful of baby carrots – peeled and diced
½ large yellow onion – diced
2 celery sticks – diced
3-5 garlic cloves – pressed
Optional-1 large zucchini- diced
½-1 jalapeno – seeded and diced (use a whole one for more spice) or a sprinkle of Cayenne pepper. Please at least use a sprinkle of cayenne!
3 pieces of bacon – chopped and save some for garnish after you cook it
3 cups of corn – fresh, canned (drain) or frozen
1 bay leaf
2 Tbsp. corn starch
1 qt. chicken or veggie broth
1 Tbsp. unsalted butter
1 tsp. dried thyme
½ tsp. dried chives
½ tsp. onion powder
½ tsp. garlic powder
1 Tbsp. fresh dill
1 cup shredded white cheddar
¾ of a cup of half and half or whole milk
1 ½ tsp. sea salt and some black pepper to taste, fresh cracked black pepper is great in this
Sour cream, parsley, dill, green onion will all work for garnish. Pick what you like.
Directions
In a large soup pot over medium heat, add your chopped bacon and butter. Cook this until the bacon is browned and remove to a paper towel and set aside.
Add your carrots, celery, jalapeno, and onion to pot with bacon grease and cook until they soften, not mushy just soft. Add in your garlic and dried herbs, salt and pepper and mix. Cook for 1-2 minutes.
Now add in your broth, corn, bay leaf and potatoes. Bring to a boil and then lower to a simmer for 10 more minutes. Now add in your diced zucchini if you're going to use some. Cook for another 10 minutes.
At this point (~20 minutes) potatoes should be cooked. I check for seasoning of the broth and adjust. Take the milk or half and half and mix it with the corn starch in a bowl. Slowly pour half of it into the soup and mix. Then slowly pour the other half in. Let this come together with the soup for a few minutes. You will see it begins to thicken up nicely.
Remove your bay leaf and mix in the cheddar cheese. Once that is incorporated, add the fresh dill. Taste and adjust for seasoning one last time.
You can serve it just like this. To make it thicker and creamier you can also puréea few ladles of soup in a heat safe blender or use an immersion blender to your pot and give it a few turns. I like to leave it a bit chunky.
Non-dairy options: if you don't want to add any dairy, you can just purée a few cups of the soup to thicken it. If you want a cheesy taste but no cheese you could always add nutritional yeast for a little cheese flavor. I know people like to sub out coconut milk for dairy or cashew milk. The full fat coconut milk will obviously give it a coconut taste. Cashew milk is not as thick as half and half so it won't be as creamy.