Crock Pot Split Pea Soup is absolutely delicious and takes very minimal effort to make. It's truly one of those things you can just set it and forget it and come back at the end of the day to enjoy.
I always looked at split pea soup as a dish old people ate. I feel like that's how it was always depicted in TV and movies. Old people ate it because it was easy to chew, and frankly the mental image of old people gumming their split pea soup seems quite unappetizing. Well, I learned that's some ageist crap and generations of people are missing out. Split pea soup is the freaking bomb at any age, and it's so easy to make, especially with the Crock Pot.
This soup has become a tradition with my MIL. She makes a ham, I get the bone, and I make us split pea soup. So, I was only making it once a year after Christmas when we have ham. Well, guess what? You don't need the bone to make this delicious soup (although I do use it when available). You can make it without, and it still comes out great, so don't panic if you don't have a ham bone. All you need is some good thick slices of your favorite ham or smoked turkey, and it will infuse the soup as you slow cook it.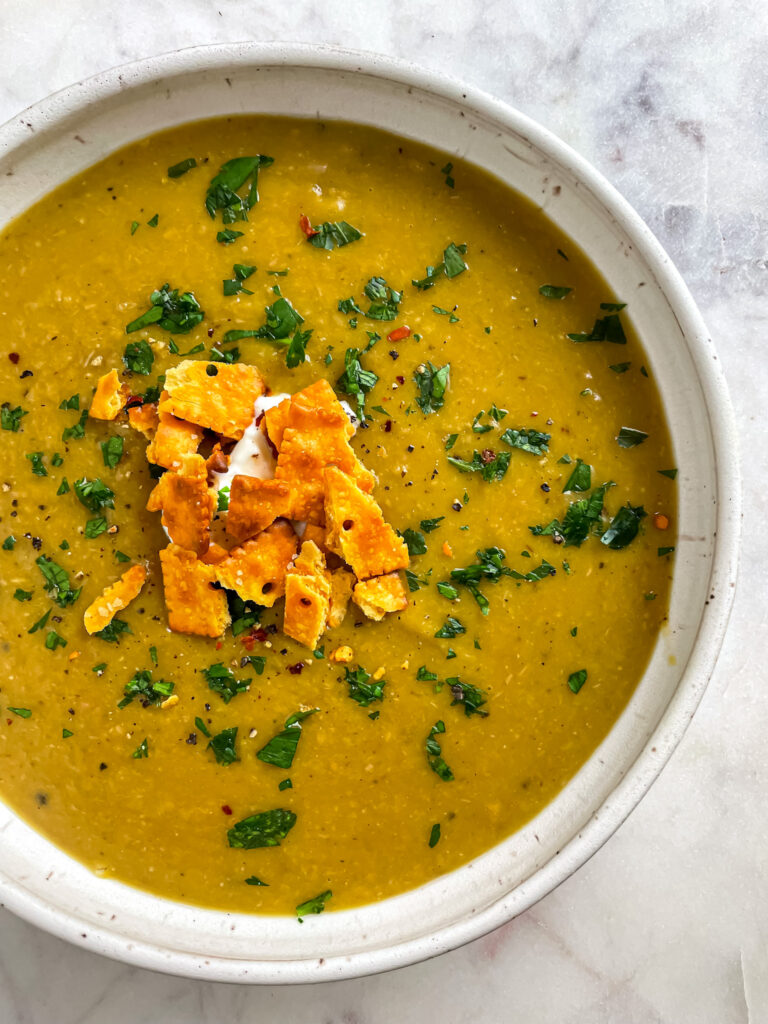 Ingredients
Ham bone with meat off (we get a Honey Baked Ham for Christmas)
2 cups (about a pound) of diced thick cut ham or diced thick cut smoked turkey breast
1 Tbsp. olive oil
½ large yellow onion or 1 medium sized onion diced
1 (16 oz.) bag of dried split peas, rinsed and remove shells or tidbits mixed in
3 celery stalks diced
1.5 cups carrots diced
3 garlic cloves minced
4 cups of unsalted chicken broth
1 -2 cup of water
2 bay leaves
1 tsp. onion powder
½ tsp. garlic powder
A few fresh thyme sprigs (I toss them in whole and just remove stems at end)
Salt (I add just a sprinkle to start and adjust later after it's cooked)
Pepper to taste
Sprinkle of red pepper flakes (optional if you want a little heat)
Garnish
Extra toasted Cheezits (highly recommend)
Parsley
Sour Cream
Hot Sauce
*You will need an immersion blender or a heat safe blender to make the soup creamy
Directions
Rinse your split peas and remove any lose shells or tidbits that might be mixed in.
Dice up your veggies and meat and add them all to your Crock Pot with your olive oil, herbs, seasonings and split peas. Now, add your container of chicken broth and one cup of water. Mix this and add in your bone. Now if the soup doesn't come up 3/4 the way up to the bone, add in more water until it does.
Put on your lid and set it on low for 6-8 hours. If you want it faster, put it on high for 4 hours; however, you will need to stir it from time to time so it doesn't burn at the bottom.
Once it's done cooking (the peas are mush and veggies cooked), remove the bone, bay leaves and thyme springs.
Now place your immersion blender inside the crock pot and blend. I like mine super creamy, so I blend the whole thing. You can also remove a few cups of it, add them to a heat safe blender, purée and add them back to the Crock Pot. If you think it's too thick, you can add some more water or chicken stock. I personally love it thick.
Once it's the consistency you like, taste for seasoning and adjust. Let it hang out for a few minutes if you add seasonings so that the seasonings mingle.
I love to serve it with sour cream, parsley and crumbled Cheezits. I sometimes add a little Franks Red Hot Sauce too, but try it first without.