Pear, Prosciutto and Gorgonzola Puff Pastry is easy to throw together, delicious and equally as beautiful. The sweet caramelized onions, salty prosciutto, funky Gorgonzola and drizzle of hot honey combine to make this an unforgettable appetizer.
I make all different types of puff pastries; it's one of my go-to appetizers and also an easy but decadent brunch item or dinner item. They look like they took all day to make, but really they do not. The buttery flaky crust of the puff pastry will make anything you put on top of it taste great. The best part is that you don't even have to make the puff pastry yourself; they have them ready to go usually over by the butter in the refrigerated aisle. If you love mushrooms, check out my Mushroom Galette, which you can also convert into a puff pastry.
Next time you're thinking about making something to wow your friends or family, make this Pear, Prosciutto and Gorgonzola Puff Pastry.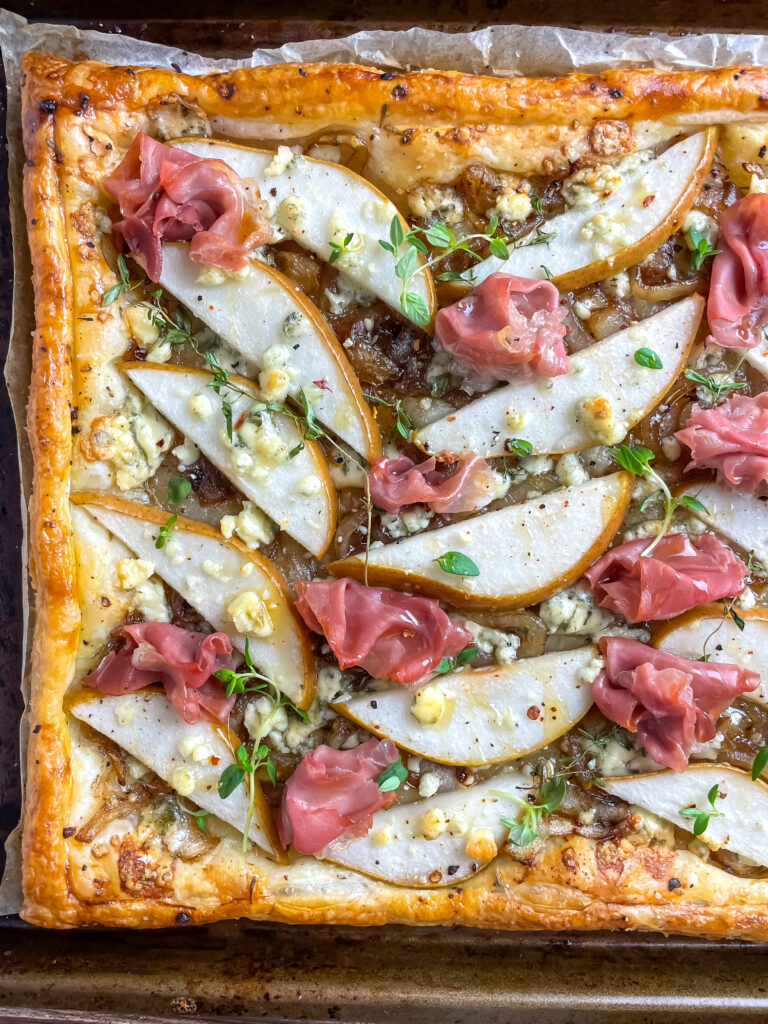 Ingredients
1 sheet of puff pastry
2 Pears sliced
½ lemon juice
4.5 oz. of Gorgonzola crumbed
1 large brown onion
2 tbsp. butter
4 oz. pack of prosciutto (tear each slice in half )
Hot Honey
1 tsp. dried thyme (a little more for flatbread and garnish)
Fresh thyme (for garnish not necessary but makes it look pretty)
Salt
Pepper
Red pepper flakes (optional)
½ tsp. umami powder or soy sauce
1 tbsp. balsamic glaze
1 egg for egg wash
1-2 tbsp. olive oil
Directions
Turn your oven on to pre heat per directions on puff pastry.
Slice onions and add them to a large pan with 2 tbsp. of butter. Cook these on medium low heat for about 20 minutes till nice and soft. Once they are tossed in the butter, season with dried thyme and some salt, umami powder, pepper and red pepper flakes. Stir every few minutes to make sure they don't stick and burn. In the last three minutes or so, add the balsamic glaze and soy if you didn't use umami powder and mix. Once they are done cooking, remove from heat.
Slice pears about 1/8 of an inch pieces and toss them in lemon juice so they don't brown. Crumble the blue cheese and get the prosciutto ready by tearing each slice in half.
Unroll the puff pastry and place on baking sheet; it should have a piece of parchment already attached, if it doesn't, lay one down first.
Using a sharp knife, score around the edge of the pastry about ½ inch in (you do not want to cut all the way through the dough) this will create the edge for the crust. Then take a fork and gently poke all over inside the border. Again, do not go all the way through the pastry.
Take olive oil and drizzle all over the inside and spread it out. Sprinkle with a little thyme, salt and pepper.
Spread the onions onto puff pastry and half of your cheese. Then add pears, the rest of the cheese and prosciutto. If you don't want your prosciutto super crispy, you can add it the last 5 minutes of cooking.
Then, mix the egg wash. Take one egg and whip it with a splash of water in a little bowl. Baste the outside crust with it. This will help it get golden brown.
Sprinkle the whole pastry with a little more thyme, salt and pepper. Cook till golden brown per the instructions.
Remove when finished, and garnish with fresh thyme and a drizzle of hot honey. Tastes good hot or cold, so serve to your preference.