This Mushroom Galette is next level. The buttery flaky crust is carefully packed with a mixture of Gorgonzola cheese, caramelized mushrooms and onions in a delicious umami sauce. I have been making a lot of fruit galettes recently, but this savory one is something else. A mushroom galette is perfect served as an appetizer or even as a meal with a small salad. This dish may look fancy, but it's actually easy, and I promise it will impress anyone you serve it to.
When making this mushroom galette, I like to use a bunch of different mushrooms to give it a range of flavor and texture. My local grocery store puts together these great little stir fry mushroom bundles with shiitake mushrooms, oyster and king oyster mushrooms. Those three types of mushrooms have great flavor and texture. You can make it with just those or do a box of those and a small box of white or crimini mushrooms. I would grab a few containers because you need about 2 cups worth and they cook down a little. When I made this one in particular, I did one package of those stir fry mushrooms and a few handfuls of some sliced white mushrooms I already had at home.
I used half a yellow onion to make this, but you can also use a couple shallots instead. I recommend you don't switch out the Gorgonzola. I really think the Gorgonzola works perfectly with this dish. You can make your own pie crust if you want or you can buy a premade one and save yourself some time like I did. Whenever baking, I like to give the oven plenty of time to heat up, so I usually turn it on before I start to cook. That way, my pastry cooks more evenly. The sauce is where the true magic happens. I make this sauce a lot and always eyeball it, taste it and adjust. You only need about ½ cup of sauce for this. A little goes a long way.
I hope you enjoy this Mushroom Galette as much as I did. The sauce is great to add anytime you are caramelizing mushrooms; I add it almost every time I cook mushrooms to add a little something extra. Check out my Reel of making this Mushroom Galette.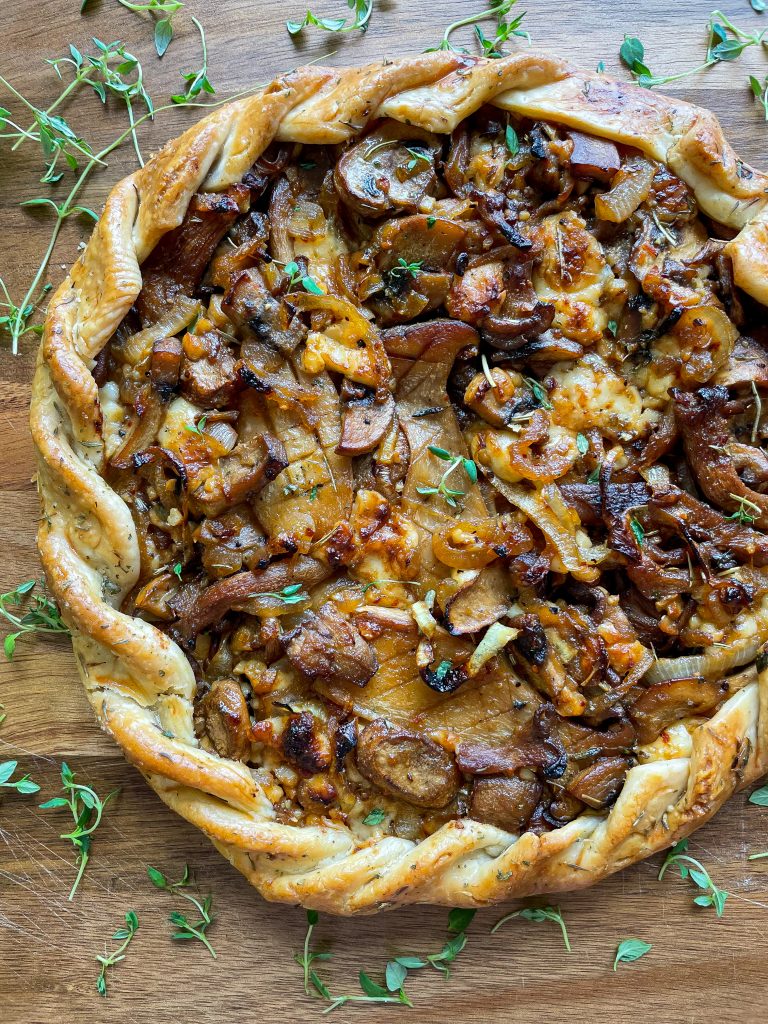 Ingredients
3 Tbsp. unsalted butter
4 oz. Gorgonzola cheese crumbled
Few sprigs of fresh thyme and some dry thyme for garnish
¼ tsp. dried rosemary
8 oz. package of stir fry mushrooms (shiitake, oyster and king oyster)
8 oz. package of sliced white or crimini mushrooms (you'll only need 1/3 of it)
2 garlic cloves minced
½ yellow onion or 2 shallots thinly sliced
Pie dough
Salt
Red pepper flakes
Pepper
1 egg
Olive oil
Sauce (Makes ½ cup of sauce)
1 ½ tsp. white miso paste
1 tsp. honey
1 ½ Tbsp. rice wine vinegar
1 ½ Tbsp. Coconut Aminos (you can substitute soy sauce but I would start with just 1 Tbsp. first because it's saltier. I like coconut aminos because they give a little sweeter taste).
3 Tbsp. Olive Oil
1/8 tsp. garlic powder
1/8 tsp. onion powder
Also a few cracks of red pepper for some heat. I bought this new Chilli Lovers blend that I use on everything. It's a blend of black peppercorns, sea salt, smoked chilli peppers, red bell pepper and paprika. It isn't really spicy and gives a lot of flavor and you can really build your spice level with it.
Directions
Turn your oven on to preheat.
Clean, dry and slice your mushrooms. With the king oysters, cut them lengthwise. I can usually get three or four slices from one. Then, score them with little hash tag type cuts so they cook more evenly. Check out my reel on Instagram to see what I'm talking about. Slice the shiitake and white mushrooms, and separate the oyster mushrooms into smaller bundles.
In three batches, sauté them on medium heat using 1 Tbsp. of butter for each batch. Cooking them in batches allows them to cook more evenly and get caramelized versus being steamed. The key is to toss them in the melted butter, and then just let them cook until brown before flipping. Right before the second side is done, give them a light sprinkling of sea salt and pepper. Remove them to a plate and make the next batch.
Once the mushrooms are done and set aside, it's time to cook the onions and garlic. Turn your pan down to medium low heat, add 1 Tbsp. of olive oil to it and add your onions to cook till very soft. This should take about 10 minutes. When they are nice and soft, add in your garlic, thyme and rosemary and a pinch of red pepper and a tiny sprinkle of salt. Cook this together for another 2 minutes. Mix your sauce.
Add your mushrooms back to the pan and mix. Pour your sauce over the mushrooms and onions and mix. Allow this to cook together for about 3-5 minutes until the sauce has been absorbed. Remove from the heat and add to a mixing bowl. Allow this to cool for 10 or so minutes and then mix in your crumbled Gorgonzola.
Roll out your dough onto parchment paper on top of your cooking sheet. Gently add your mushroom mix leaving a 1 inch border around the outside. When done, gently fold your corners around the mushrooms. Again, my reel on IG will show you how.
Make your egg wash. Beat 1 egg with a splash of water, and brush it around the edge. Sprinkle with sea salt and some dried thyme. Bake for whatever your dough says. I usually end up leaving it in for a little longer then it says to get it nice and brown.
Remove and let cool for 5 minutes. Slice and serve!