If you are a fan of dips then try this White Bean Dip. It is so easy to whip together and absolutely delicious served with some warm crostini and crudités.  
White Bean Dip is perfect for any party and you can make it a day ahead. It will taste better than any prepackaged dip you can find and won't cost much more to make from scratch. Seriously, ever since I started making this dip and homemade hummus the packaged stuff tasty gross. When I have extra, I like to slather it on some bread with the leftover veggies and some greens.
If you love white beans like I do, check out my recipe for Mediterranean Bean Salad or Cannellini Beans and Broccoli Rabe or any of my other bean recipe on my page.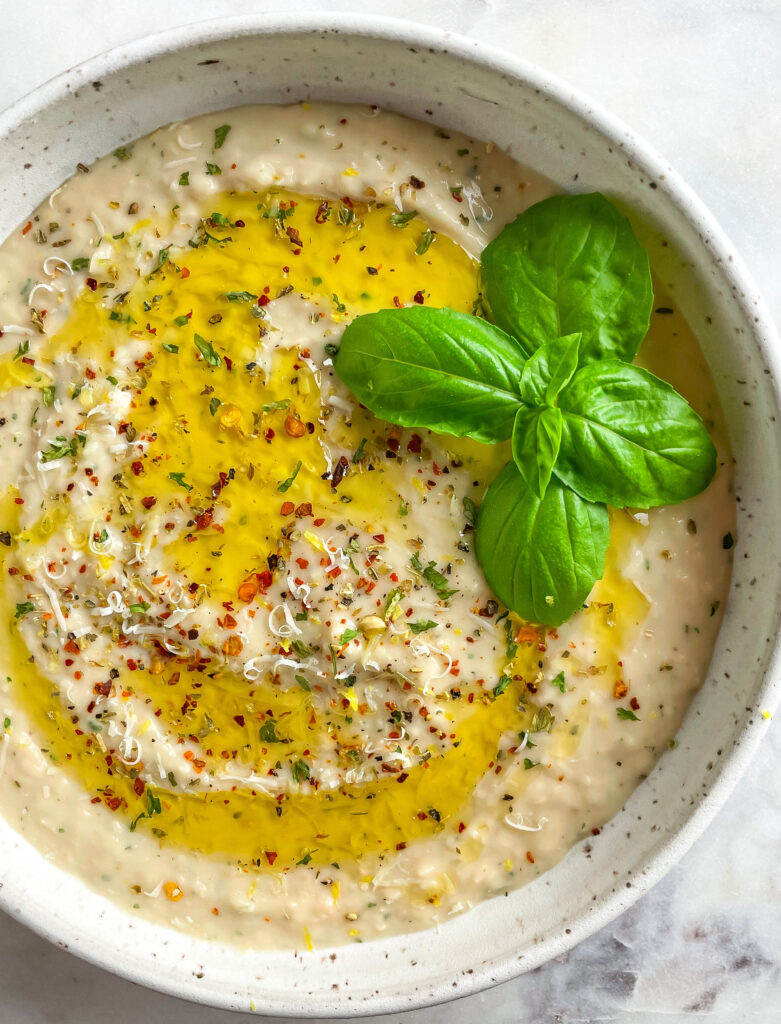 Ingredients
2 cans of cannellini beans (drained and rinsed)
1/4 cup of fresh lemon juice
Zest of one lemon
1/4 cup of olive oil
2-3 garlic cloves
3-4 basil leaves
1/2 tsp. dried oregano
1/2 tsp. dried parsley
1 tsp. kosher salt
3 ice cubes
Pinch of red pepper flakes if you like a little heat
Couple turns of fresh cracked black pepper
Directions
Drain and rinse your beans then add all your ingredients to a food processor and blend until smooth, taste and adjust for seasoning.
Drizzle your favorite olive oil over the top (this is the time to bust out that good stuff) then add some more dried oregano, red pepper flakes and lemon zest for garnish.
If you are going to make it ahead of time for an event hold off on drizzling the olive oil and extra seasoning. Do that right before you are ready to serve it.
*If you are feeling extra fancy you can toast up some garlic chips or pine nuts to sprinkle on top but it's not necessary, it's perfect the way it is, just like you 😉