When you're thinking of something to make for a BBQ or a healthy weeknight meal, this Mediterranean Bean Salad is it. Not only is it beautiful, but it is packed full of protein, vegetables, and herbs with a delicious tangy dressing. I love to make a big batch of this and stick it in the fridge to snack on during the week.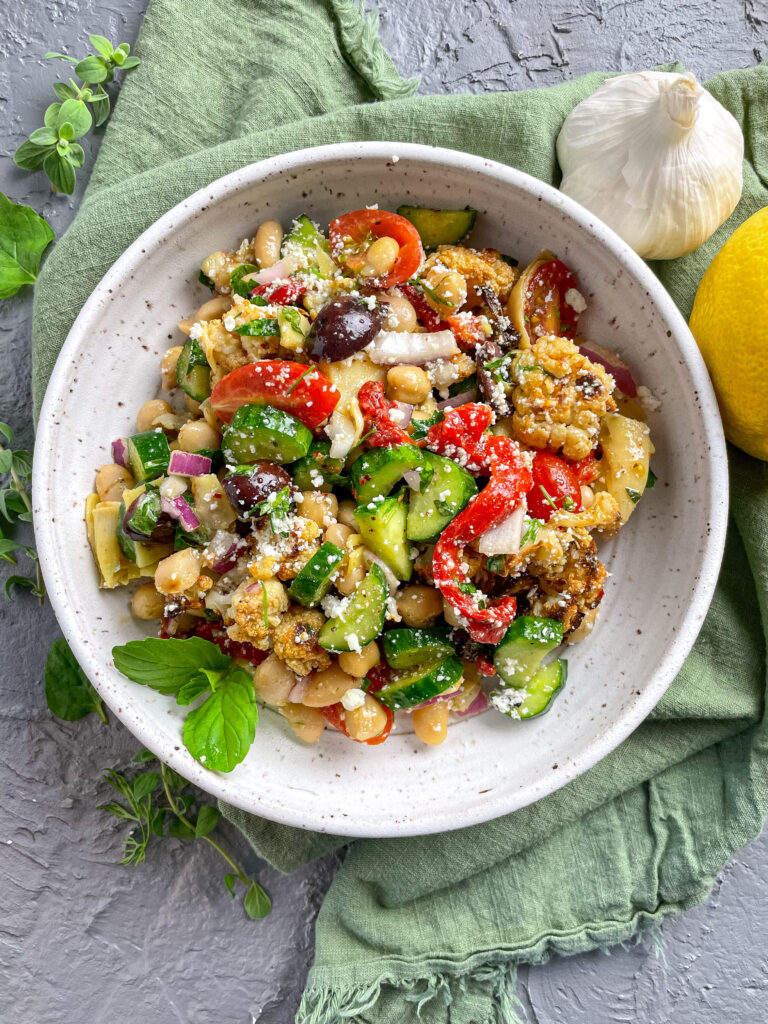 You can make your own roasted red peppers for the Mediterranean Bean Salad instead of jarred, but that's just what I had on-hand. I like to add a ton of herbs to it; I think they really shine in this dish and keep it tasting fresh for days. I used cotija cheese for this, again because that's what I had at home, but you can substitute feta or just some grated parmesan. To make this a super-fast meal, you can opt out of roasting the cauliflower, though I suggest you make it.
A piece of grilled chicken, flank steak, Mahi Mahi burger or my Greek Meatballs would go great with this Mediterranean Bean Salad to make it a full meal. If you love Mediterranean style dishes, check out my Mediterranean Potato Salad.
Ingredients
2 cans of white cannellini beans or chickpeas (drain and rinse with cool water and dry)
Head of Cauliflower (roasted with  some olive oil and your favorite spices: Za'atar, onion powder, garlic powder, paprika and salt)
½ a large red onion diced and rinsed
4 Persian cucumbers diced
1 Tbsp. olive oil/avocado oil to coat cauliflower for roasting
1 cup of cherry tomatoes sliced
½ of a 16oz jar of sliced roasted red peppers
¼ cup of jarred a sliced Kalamata olives
5 small marinated artichoke hearts chopped
¼ cup of your favorite salty cheese (cotija, feta, Parmesan) you can add more if you want
¼ cup fresh chopped parsley
2 Tbsp. fresh chopped dill
1 Tbsp. fresh chopped mint
½ Tbsp. fresh plucked Marjoram
Dressing
¾ cup of extra virgin olive oil or avocado oil
1 lemon juiced
3 tbsp. Dijon mustard
¼ cup of red wine vinegar
½ tsp. salt
¼ tsp. black pepper
½ tsp. onion powder
½ tsp. garlic powder
A few shakes of red pepper flakes
Directions
Chop your cauliflower into small pieces and toss with some olive oil and seasoning. Roast at 425˚ F for 35-40 minutes, tossing halfway through. Remove and allow it to cool down and then add to a large mixing bowl.
Rinse, drain and pat dry your beans. Put your beans and all your other ingredients into your mixing bowl with the roasted cauliflower.
Whisk your dressing together (taste it to see if you need to adjust) and pour over your bean salad. I usually start with using half the dressing. I give it a good mix and taste it, then pour more over if I need it.
You don't need to, but I like to let it sit in the fridge for an hour before serving.