Macaroni Salad is an American BBQ summer staple. This macaroni salad is what you expect to find at most BBQ'S. It's sweet, a little tangy and super easy to whip together. Make a big batch the night before any event, and it will be perfect day of your event.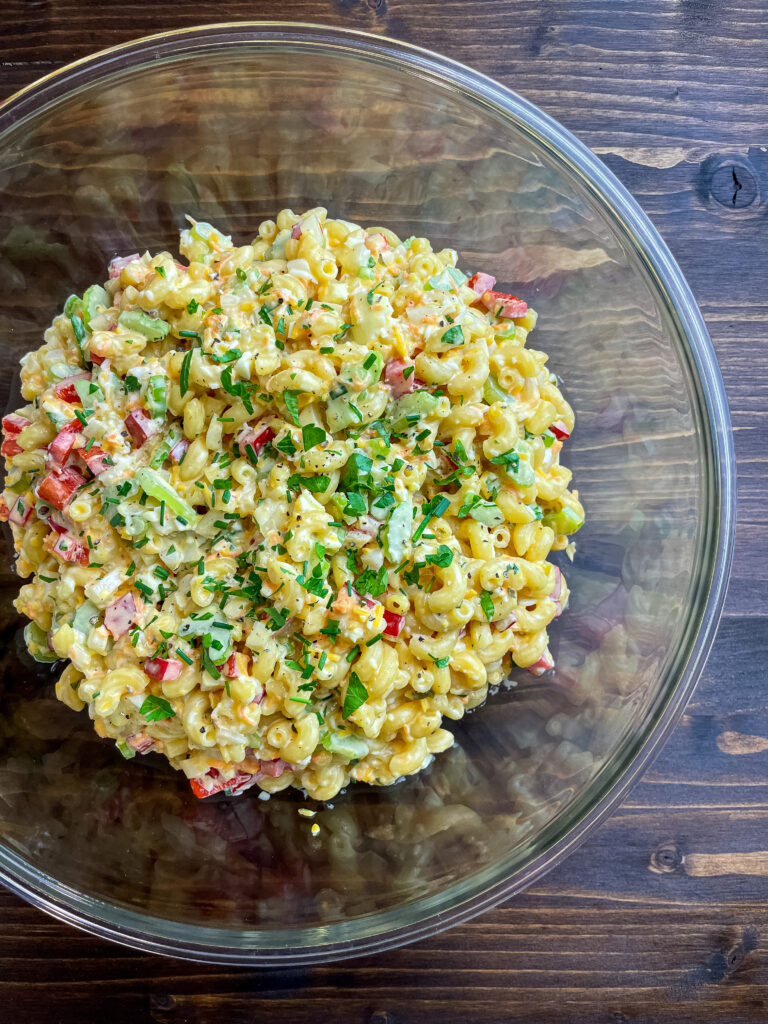 Please don't buy pre-packaged macaroni salad, it's so much better homemade. It's usually expensive for a little container and for maybe a few dollars more you can make a large batch and you can control what goes into it. I personally love to make side dishes for parties. Not to toot my own horn, but they are usually the first dish that gets demolished by the guests. If macaroni salad isn't your thing, I have an awesome Mediterranean Potato Salad, Mediterranean Bean Salad, Mexican Street Corn (elote) or Italian Pasta Salad that will just WOW your guests.
Ingredients
2/3 of a 16oz box of elbow macaroni
½ cup of shredded carrots
1 cup of shredded cheddar cheese
4 hardboiled eggs, chopped
½ large onion diced small and rinsed in cold water then patted dry
2 large stalks of celery finely sliced or diced
1 cup of red or orange bell pepper finely diced
Fresh parsley and chives chopped to garnish
Dressing
2-3 Tbsp. sweet pickle relish. (I start with 2 tbsp. and taste it and see if it needs more)
1 ½ cups of mayo
3 Tbsp. yellow mustard
2 Tbsp.- ¼ cup of granulated sugar (you can add more if you want it sweeter)
2 ½ tsp. apple cider vinegar
½ tsp. kosher salt
½ tsp. onion powder
A few cranks of fresh cracked pepper
Directions
Boil and chop your eggs, prepare vegetables, cheese and herbs.
Mix your dressing, taste it and adjust for seasoning. Some people like it really sweet, so they may add more relish or sugar. I like a little more savory, so I tend to add a little more mustard, salt and pepper.
Boil your pasta till al dente, strain and give it a quick rinse under cool water.
Add everything to a large bowl except the dressing and mix. Now pour half of the dressing over, mix and taste. Add more dressing as you like. It may look a little messy for presentation so you can add it to a clean bowl before you garnish. Garnish with chives and parsley. I like to refrigerate overnight or at least two hours before an event.
When I eat it, I like to add a little Frank's hot sauce too. You can also sub out the eggs for a can of tuna fish if you like tuna. Make sure to drain it well, remove it from the can and really break it up finely before you mix it into he macaroni salad.