This recipe for Soba Noodle Salad is colorful, tasty and comes together pretty fast. It's also packed full of vegetables making it a healthy choice. It a great vegetarian option but you can very easily add some marinated grilled chicken thighs, salmon, tofu or even some fried eggs on top to get that extra protein.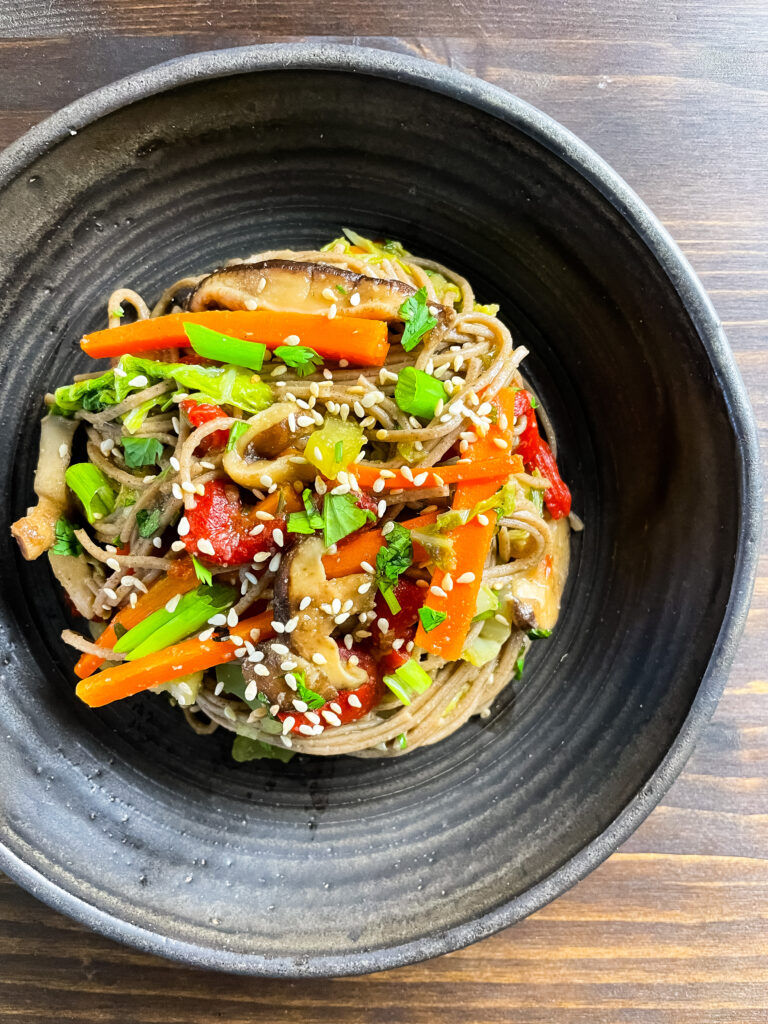 Soba is a thin Japanese noodle made from buckwheat and has a slightly nutty, earthy taste. It can be served hot or cold. I love this dish served warm but its great served cold too. If you are going to make it ahead of time for a event I would recommend slightly under cooking the vegetable just a little more so they don't wilt as fast, if you plan on serving it cold later on. We are just a family of two and this recipe with an added protein usually gives us two dinners and a lunch. So it's plenty for a potluck or can be broken down for meal prep for the week. I find it taste good for about four days after I make it.
If noodles are not your thing, check out my Chinese Chicken Salad. Whatever you choose to make I hope you enjoy it.
Ingredients
8-9 oz. soba noodles. Most packages are one or the other
1 ½ tbsp. of avocado oil. I use avocado oil because it has a high smoke point. You want your pan very hot to sauté the vegetables and you don't want the oil burning.  Feel free to use peanut, coconut or vegetable oil instead.
2 cups of Napa cabbage, shredded
1- 5 oz. container of sliced shitake mushrooms
1 large carrot cut into thin strips or about a cup of pre shredded carrots
4-6 cloves of garlic minced
A 1 inch knob of ginger peeled and finely minced or grated about ½ tbsp.
1 stalk of celery thinly sliced
1 Serrano pepper thinly sliced for heat *optional
1 bell pepper sliced into thin strips. I used jarred sliced roasted bell pepper because I had some about ¾ of a cup.
2 green onions, chopped. I separate the white ends from the green. I use the whites to cook and toss the greens in towards the very end for garnish.
Fresh chopped cilantro for garnish
Toasted sesame seeds for garnish
Sauce
2 tbsp. toasted sesame oil
2 tbsp. rice vinegar
1 ½ tbsp. honey
2 tbsp. low sodium soy sauce or 3 tbsp. of coconut aminos. If you use coconut aminos you way need to add a sprinkle of salt because it tastes less salty than soy sauce.
½ tsp. onion powder
¼ tsp. garlic powder
Directions
Boil, cook, drain and rinse your noodles under cold water. Set aside. Mix together your sauce and set aside. Chop and prepare your veggies and herbs.
Heat a large pan with sides (or a wok) over medium high heat. Once it's hot add in your oil. Now add in your mushrooms and give them a quick minute to cook before adding the rest of your vegetables. Add in your vegetable and give them a sprinkle of salt and cook for 2-3 minutes while stirring pretty continuously.
Now add in your garlic and ginger and cook also stirring continuously for another 2-3 minutes. Once that is done add in your noodles and sauce and mix well. Allow this to cook for an additional 2-3 minutes. The goal is for everything to be coated with the sauce and your vegetables not to be over cooked. You want them to still have some crispness to them.
Take off the heat and garnish with cilantro and your toasted sesame seeds.