I'm going to go out on a limb and say Chinese Chicken Salad is not a traditional Asian dish. I did some digging on the old Google machine, and it appears that its origins might be from the 1960's right here in Southern California. Wolfgang Puck was really the person who brought this variation of the salad to the masses in his restaurants.
Chinese Chicken Salad is pretty easy to assemble and is full of tons of yummy stuff. My favorite part is the savory dressing and the crunchy wontons!
If you are in a pinch and don't have the time to get all the ingredients to make the dressing don't worry. There are a lot of good dressings out there to buy. A peanut dressing would work or a toasted sesame dressing, I would just add a few tbsp. of peanut butter, cashew or almond butter to make it a little creamier. If you want some heat, add a little chili garlic sauce, sriracha sauce or some red pepper flakes. Remember, when buying premade dressings, please read the ingredient list. Like with any kind of prepackaged items, some are great and made with healthy ingredients, and some are filled with garbage.
I personally love to make a lot of Asian inspired dishes, so I always have these ingredients around.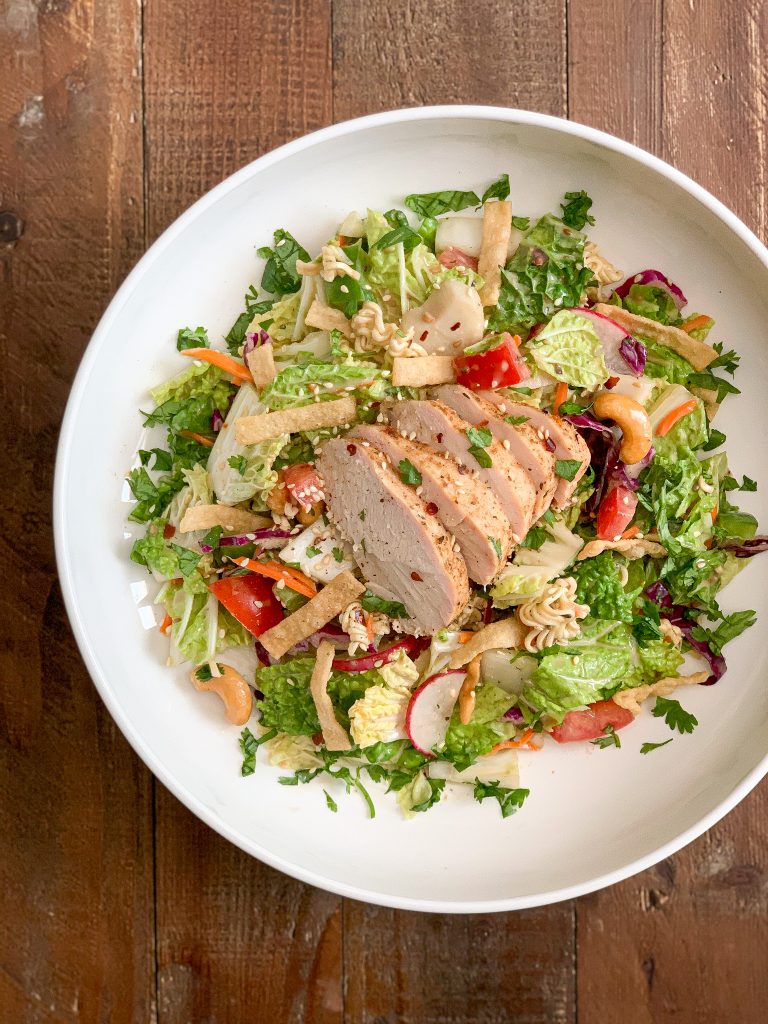 Ingredients (Serves 4)
Chicken Marinade (marinate for 1 hour, bake at 400 degrees for 35-40 minutes or until 165 degrees internally)
2 large chicken breasts, each person gets half a breast
1 orange juiced about ½ cup
2 tbsp. lime juice
1 ½ tbsp. olive oil
½ tsp. umami seasoning or sea salt
1/8 tsp. dried ginger powder
¼ tsp. garlic powder
¼ tsp. onion powder
1 tbsp. fresh cilantro chopped
Cracked black pepper
Salad Base
2 Roma tomatoes chopped
1 small can water chestnuts chopped in half
3 green onions chopped
4 radishes chopped
1 bell pepper chopped
1 cup of purple cabbage shredded
1 cup of shredded carrots
2 tbsp. chopped cilantro
1 package of dried ramen noodles broken up
1 head of Napa cabbage chopped
1 tsp. toasted sesame seeds for garnish
½ cup chopped and toasted cashews or peanuts
Wonton strips for garnish (as many as you would like)
Dressing
4 tbsp. low sodium soy sauce or coconut aminos
4 tsp. toasted sesame oil
4 tbs. rice wine vinegar
4½ tbsp. olive oil
2 tsp. sugar (optional)
2 green onions chopped
1 tsp. lime juice
4 tbsp. your choice of nut butter
2 tsp. chili garlic sauce for some heat
1 tsp. toasted sesame seeds
¼ tsp. garlic powder
Sprinkle of salt and pepper
Directions
Marinate chicken for at least 1 hour. Bake at 400 degrees for 35-40 minutes or until it reaches an internal temperature of 165 degrees. Allow to cool slightly then slice or chop for the top of your salad.
Assemble all the ingredients for the base of the salad and place in a large bowl. I recommend slightly toasting the cashews/peanuts on very low heat for just a few minutes, but it's not necessary.
Mix the dressing together very well, taste it for seasoning. Then dress your salad and mix it all together. Place salad base in serving bowls, add chicken on top, sprinkle with some sesame seeds and wontons for garnish.