MA… THE MEATLOAF!!!
I never had meatloaf growing up! I know, weird. I feel like every person grew up eating it except for me. I had meatballs and Salisbury steak, but I never had meatloaf. Oddly, I remember the first time I had it, my dad's wife, Patti, made it and gave me some leftovers. I was kind of weirded out to be honest because I hadn't had it before. I wasn't in the financial position to pass up a free meal though, so I gave it a go (it was in the same era of the chicken pot pie incident). After trying it, I remember thinking, damn, where has this been my whole life? I also discovered my love for Frank's Red Hot during that meal too. I added a little to the top after I heated it up. Prior to that, I didn't dabble in the hot sauce game. Black pepper was spicy… I know, white people (eye roll). It was a good day of food discovery.
Now, I make Meat Loaf pretty regularly. I usually make it with half beef and chicken or half chicken and pork. I very rarely make it all beef. I'll be honest. The all-beef is probably the fluffiest, but the other combos taste great as well. The bacon is a new addition that my mother-in-law, Debi, uses, and I love it.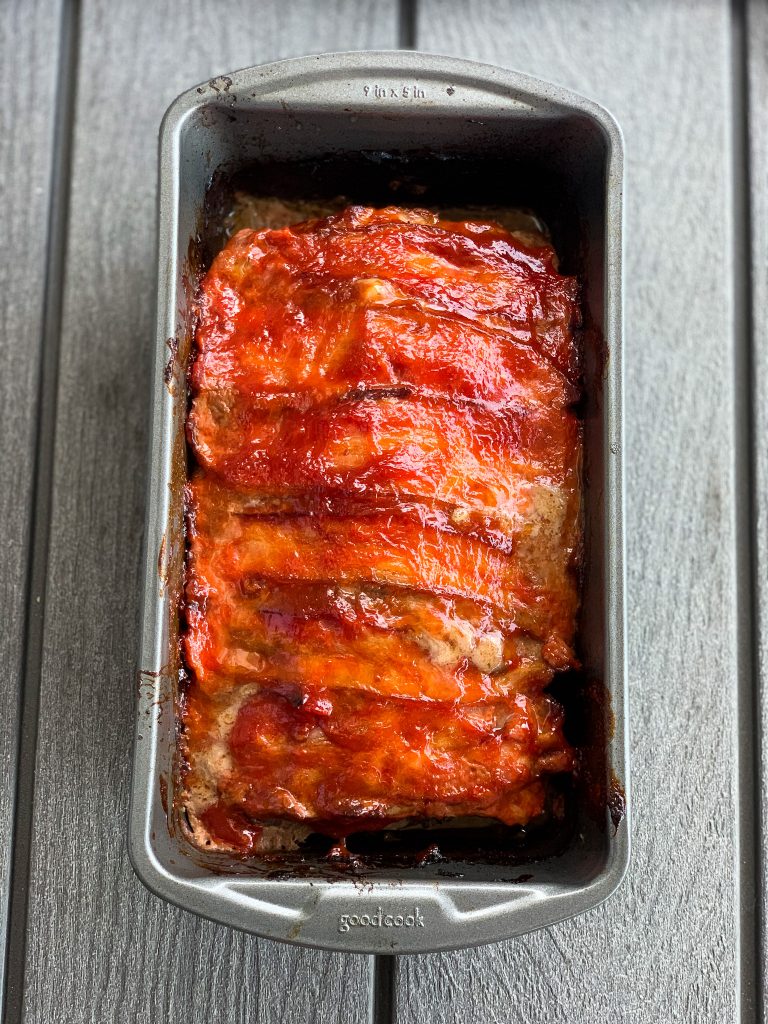 Ingredients
2 lbs. of meat (beef 85% lean)
1 ½ cups of half panko and half Italian bread crumbs
½ cup beef stock or broth or milk
1.5 cups of onion finely chopped
2 eggs
1 tsp. dried Italian seasoning
2 tbsp. fresh chopped parsley
3-4 garlic cloves finely minced
¾ tsp. paprika
2 tbsp. Worcestershire sauce
1 tbsp. tomato paste
1 tbsp. olive oil
A few shakes of red pepper flakes or Franks Red Hot Sauce
½ tbsp. yellow or whole ground mustard
¼ tsp. onion powder
¼ tsp. garlic powder
Salt and fresh cracked black pepper to taste
3 sliced of bacon cut in half
Glaze
¾ cup of ketchup
1 ½ tsp. red wine vinegar
1 tbsp. brown sugar
Directions
Heat oven to 350 degrees, get a large bowl for mixing and a 9×5 loaf pan.
Chop onions and garlic. Sautee those in a skillet with olive oil until onion and garlic are soft. I usually start with the onions and throw the garlic in for the last few minutes. Then I place them in the large mixing bowl to cool off. Allow them to cool for 8-10 minutes. You don't want the hot onions to heat up the meat.
If you want to partially cook your bacon, now is a good time. Add it to the microwave for a minute or so on a paper towel. If you don't want to, you can just add it under the broiler at the end for a little longer. Either one works.
Once the onion and garlic has cooled add all of your ingredients into the bowl and mix. Like meatballs, you don't want to over mix. Then add it into the loaf and bake for 45 minutes or until internal temperature of 165 degrees. My loaf pan is nonstick so I don't have to oil it or use parchment paper. You might have to use something to keep it from sticking to the sides depending on your individual loaf pan.
Pull out the meatloaf and drain some of the fat/oil and switch the oven broiler on as you make the glaze. I heated up the glaze ingredients in a small saucepan over medium heat for just a few minutes. I brush it over the top of the meatloaf and toss it under the broiler for a few minutes. Keep an eye on it so it doesn't burn. I usually place the lower rack when I use the broiler. Let it sit for a few minutes and remove to a cutting board to slice. I served it with some simple mashed potatoes and steamed broccoli.
Simple mashed potatoes for 2:
Two large russet potatoes (I usually use Yukon Gold, but I had some russets) peeled, chopped and soaked in water. I remove the water and then refill right before I boil. It helps remove some starch. For Yukon Gold you probably need 4-5 potatoes.
1 tbsp. salted butter
1 tbsp. sour cream
1 tbsp. chive cream cheese
1/8 tsp. onion powder
1/8 tsp. garlic powder
Splash milk or chicken or veggie stock
Salt and pepper to taste
Boil potatoes till tender then drain and add back to the pot off of the heat. Add in the rest of the ingredients and mash. Taste and adjust for seasoning.