Tomato Basil Pasta is a simple, fresh and delicious recipe that utilizes all those yummy summer tomatoes you are seeing in the stores, or, if you're lucky, have growing in your garden. Our little backyard gets murdered by the sun, so nothing does well out there. Also, something I feel like people in California don't talk about is the critter situation. We live in a nice area and it doesn't matter, they are here. Growing up we had field mice that were cute (think Fievel: An American Tail). The things we have here are BEASTS! I now know why the coyotes looks so well-fed. I saw one scurry across my backyard that was the size of my 7lb Yorkie. I called out to it because I thought it was her, I swear to God. I have two neighbors on either side that have citrus trees. Our backyard is their highway, and I'm not too cool with that.
If you have 15 minutes, you can have Tomato and Basil Pasta on the table for dinner. As we were eating this last night, the noises coming from us were of pure delight and borderline sexual. Those summer cherry tomatoes just hit differently this time of year. I honestly think I like this type of light fresh sauce better than a traditional red. I will be trying it with different dishes to see if it holds up.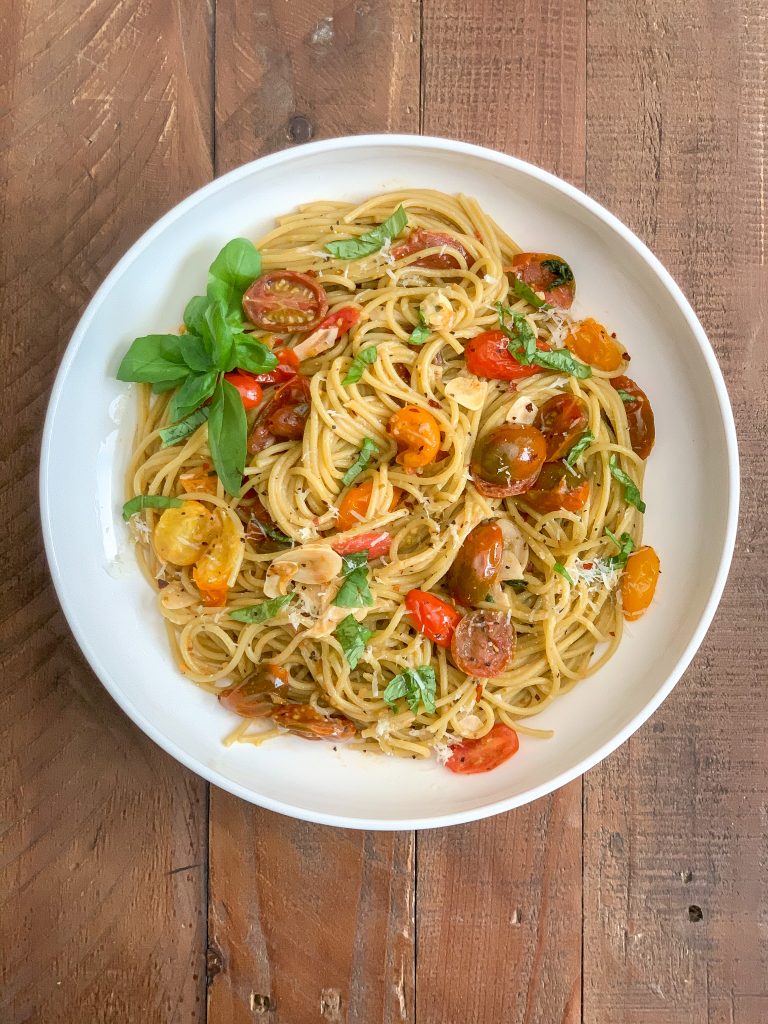 Ingredients
1 lb. of spaghetti
4-5 cloves of garlic sliced thin
2 tbsp. olive oil
1 tsp. Trader Joe's Chili Onion Crunch. If you can't get that just add some dehydrated onions, sprinkle of paprika and red chili flakes to the tomatoes while they cook.
16.5 oz. container of constellation tomatoes, or two pints of cherry tomatoes of your choice, I just love these because it's a nice medley of different ones.
½ cup lightly packed basil leaves torn or chiffonade
1 tsp. dried Italian seasoning
¼ tsp. onion powder
¼ tsp. dried oregano
½ cup of freshly grated Parmesan or Pecorino Romano cheese
Fresh cracked pepper and a little sprinkle of sea salt to taste
Crushed red pepper to taste
Directions
Bring a large pot of water to a boil. While that is happening, slice your cherry tomatoes and garlic. Once water is boiling, salt it well and add the pasta to the pot to cook.
While pasta is cooking, in a large skillet over medium heat, add olive oil and sliced garlic. Cook for one minute and then add cherry tomatoes and stir. The tomatoes will start to break down as them cook. After 5 minutes, add your other ingredients except for basil and cheese. Mix, continue cooking and occasionally stir.
Once pasta is done cooking (al dente), move it straight from the boiling pot to the skillet with some tongs. Toss the pasta with the tomatoes and add the fresh basil. You may need to add a little of the pasta water to the skillet to help the sauce come together. Take it off the heat and toss some more. Allow this to sit for 3 minutes so the spaghetti soaks up the sauce, and then hit it with the cheese.