This Mediterranean Potato Salad is a great zesty alternative to your traditional mayo based potato salad. Although I love traditional potato salad, this is a flavorful way to switch it up. Anytime I bring this to a party it's always gone or people ask for the recipe. What I like about it, is that it's great for anytime of the year not just summer. It goes perfectly along side steak, grilled chicken or fish.
To see how I make this Mediterranean Potato Salad check out this Reel.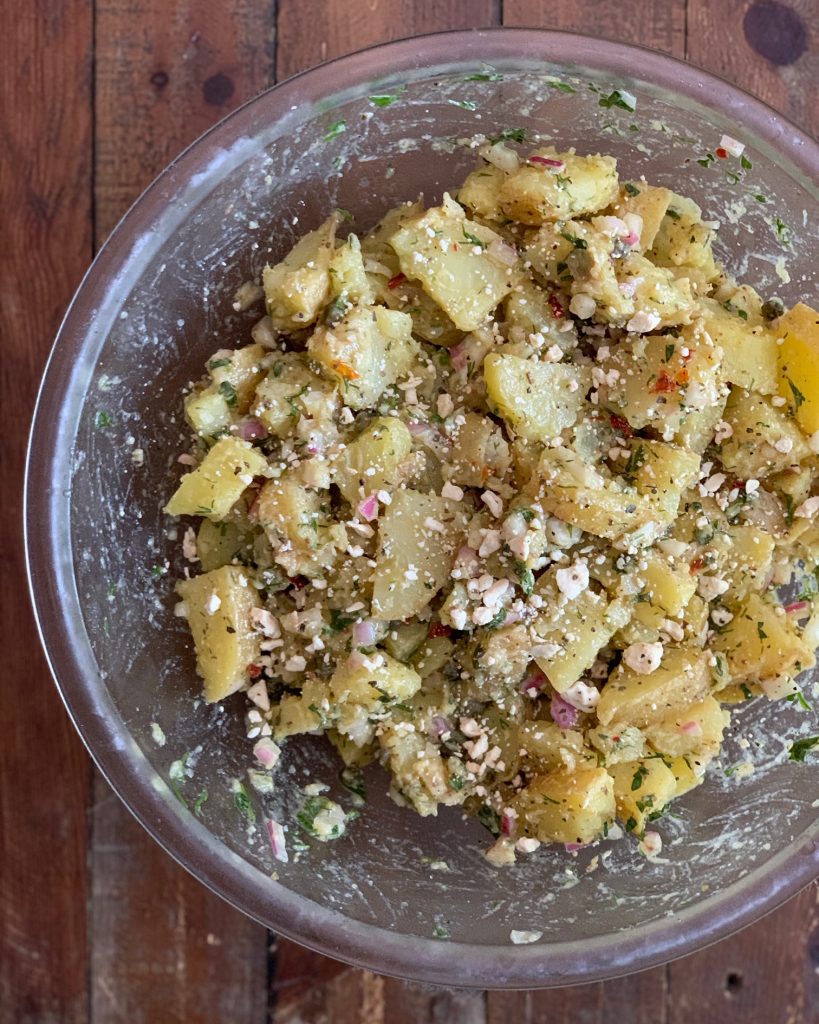 Ingredients
3 lbs. golden potatoes sliced and boiled till fork tender.
½ cup crumbled herb feta
½ cup of finely diced red onion
¼ cup of fresh dill chopped
¼ cup of fresh parsley chopped
3 tbs. capers
Dressing
½ cup of olive oil
3-4 tsp. red wine vinegar or white wine vinegar or half and half
3 tsp. Dijon Mustard
3 garlic cloves pressed
1 ¼ tsp. Za'Atar seasoning
½ tsp. oregano
Zest of ½ a lemon
¾ tsp. black pepper
¾ tsp. sea salt
¼ tsp. red pepper flakes
¼ tsp. onion powder
¼ tsp. garlic powder
Directions
Wash and evenly slice your potatoes. I cut the potatoes length wise and then half again and then slice those pieces.  You want them to be about the same size. Place them in a large pot and cover with cold water. Bring to a boil and cook until fork tender. Do not overcook. Once they are done, drain them.
While potatoes are cooking, prep the rest. Make sure you taste the dressing to see if you need to add more or less seasoning.
Once potatoes are drained, add them to a large bowl and add your onion, capers, dill and parsley and toss. Add dressing and toss. Check for seasoning and once again. Let it refrigerate for two hours before serving it with feta sprinkled on top.