Mediterranean Orzo is a great vegetarian dish. You can serve it as a side or as your main course. It's great warm or cold. I personally like to add some grilled shrimp or chicken and make a meal of it.
After watching Down To Earth, the Zac Efron documentary on Netflix, I have officially decided that I will make pasta my main food source. Starting with this Mediterranean Orzo, Cin Cin!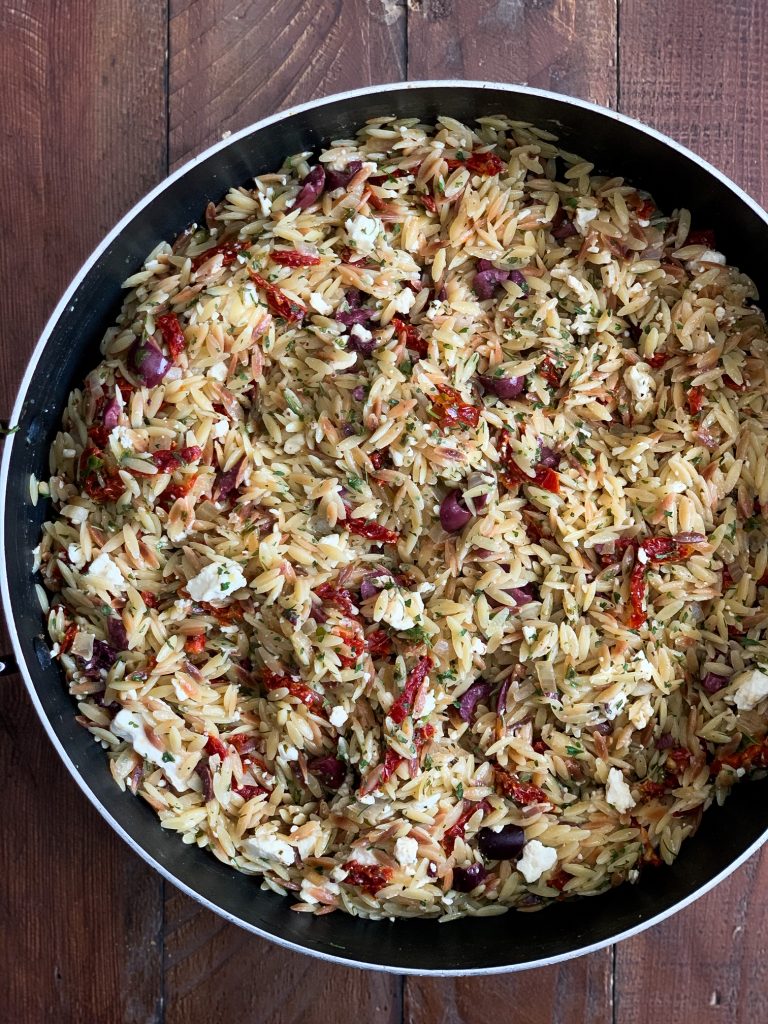 Ingredients
16oz. orzo
4 cups of chicken or vegetable broth (optional) you can use water
3 tbsp. olive oil
4 tbsp. lemon juice and zest of ½ lemon
4 cloves of garlic chopped
½ large onion finely diced
3oz. sun-dried tomatoes not in oil
1 cup chopped Kalamata olives or/and some of your favorite olive tapenade
3oz. herb feta
4 large basil leaves
¼ cup of each, parsley, dill and cilantro loosely packed
Salt and pepper to taste
1 tsp. dried oregano
Sprinkle of red pepper flakes
1 jar of chopped marinated artichokes
Salt and pepper to taste
Directions
In a large skillet heat up 1 tbsp. olive oil, add onion and sauté until softened. Once softened add the chopped garlic and cook for 2 minute until fragrant. Then remove from heat into a separate bowl and set aside.
In that same skillet add two tbsp. of olive oil and orzo to toast. Toast orzo for about 5 minutes and make sure you stir it often to not burn. It's ok if it gets a little brown, it will give it a nutty taste.
Add 4 cups of broth or water to the orzo and bring to a boil. Cook for 10 minutes or until water has evaporated and orzo is slightly under-cooked then remove from heat.
In food processor, add 1 tbsp. olive oil, sprinkle of salt, lemon juice, zest of lemon, pepper and fresh herbs and pulse until finely chopped. Add it to orzo and toss.
Add in the rest of the ingredients to the orzo and toss. Taste for seasoning and then serve.