Fresh or frozen raviolis will work for this easy sauce. I made it here with some fresh sweet corn and burrata raviolis that I found at Trader Joe's. I think plain cheese, spinach or even mushroom ravioli would go great with this sauce. The base of this sauce is lemon and butter, so you want to pair that with whatever raviolis you think would go well.
I personally love making this easy sauce because you can't really mess it up, and it's light and bright. I make it a ton in the summer months and goes great with a ton of different pastas. The easy toasted breadcrumbs on top are wonderful too and you can make them ahead of time. I usually make a bunch and store them in the fridge for a few days to sprinkle on vegetables after I roast them or salad.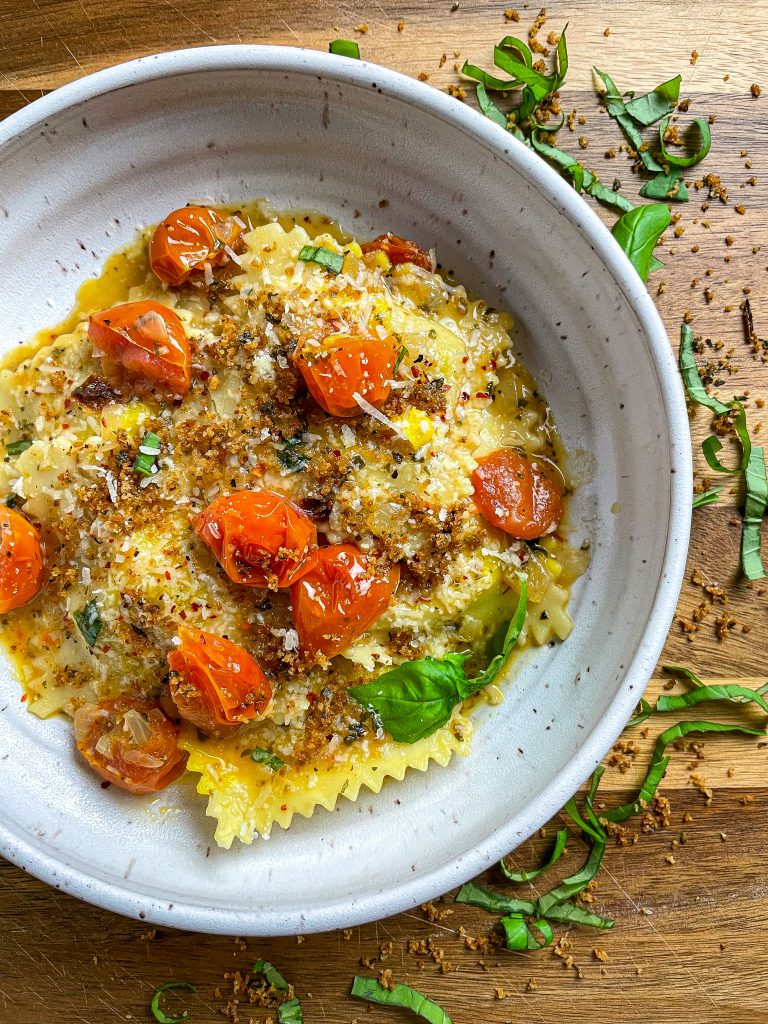 Ingredients
3 tbsp. olive oil
2 tbsp. unsalted butter
¾ cup Italian bread crumbs
4 cloves of garlic
1 pound of raviolis or half pound of pasta
1 small container of cherry tomatoes sliced in half
Half a cup of fresh basil (tear or chiffon it before adding to sauce)
½ large onion diced or one whole small
Parmesan cheese
Juice of one large lemon
½ tsp. dried oregano
½ tsp. dried parsley
Salt
Pepper
Red pepper
1 cup of chicken or vegetable broth/stock
¼ cup pasta water
Directions
Start by making the bread crumbs. Drizzle a pan with some olive oil about 1 ½ Tbsp. Then sprinkle in the Italian bread crumbs to coat the pan and mix together. The breadcrumbs don't need to be overly moist with olive oil but lightly coated. Over medium heat, stir and cook the breadcrumbs till brown and crispy and then set aside.
Bring the water for your raviolis or pasta to a boil. While you are waiting for that, start your sauce.
In another large pan over medium heat, add 1 Tbsp. butter and 1 Tbsp. olive oil. Then, add onions and cook till soft. Once soft, add garlic and mix. Allow this to cook for one minute and then add in cherry tomatoes and spices. Allow this to cook for 3 minutes and then add your lemon juice and stock/broth giving it a good stir. Cook until the tomatoes look nice and soft. Drop your raviolis in the boiling water; they won't take long to cook.
Add 1 Tbsp. butter to your sauce and mix. Remove it from the heat and sprinkle in your fresh basil. Add raviolis to pan with ¼- half cup of pasta water and Parmesan cheese. Mix and allow this to mingle together for a couple of minutes. Sprinkle breadcrumbs on top and serve.