This Peach Crumble Galette is going to knock your socks off. It is made with juicy peaches, cream cheese, peach jam and hint of lime and thyme. It is then topped with a delicious crumble and baked to perfection. You can serve it with whipped cream or some vanilla or caramel ice cream. It's perfect for breakfast or dessert.
As we near the end of summer, peaches are at their best. Being in Southern California, our peach season does tend to last a little longer because our summers don't really get hot until late June of early July. So, I still have a little more time to utilize them.
I have been on a real Galette kick recently because they are so easy to assemble and look beautiful and rustic. I'm not a big pie person. I don't like a huge slice of fruit pie, and I think it's just too much sometimes. That's why this Peach Crumble Galette is so perfect; you get the taste of a fantastic pie but don't feel sick after one slice. To save myself some time, I have been using pre-made refrigerated pie crust. You can absolutely make your own, but truthfully, sometimes I just don't feel like it. Check out my Reel of me making this Peach Crumble Galette.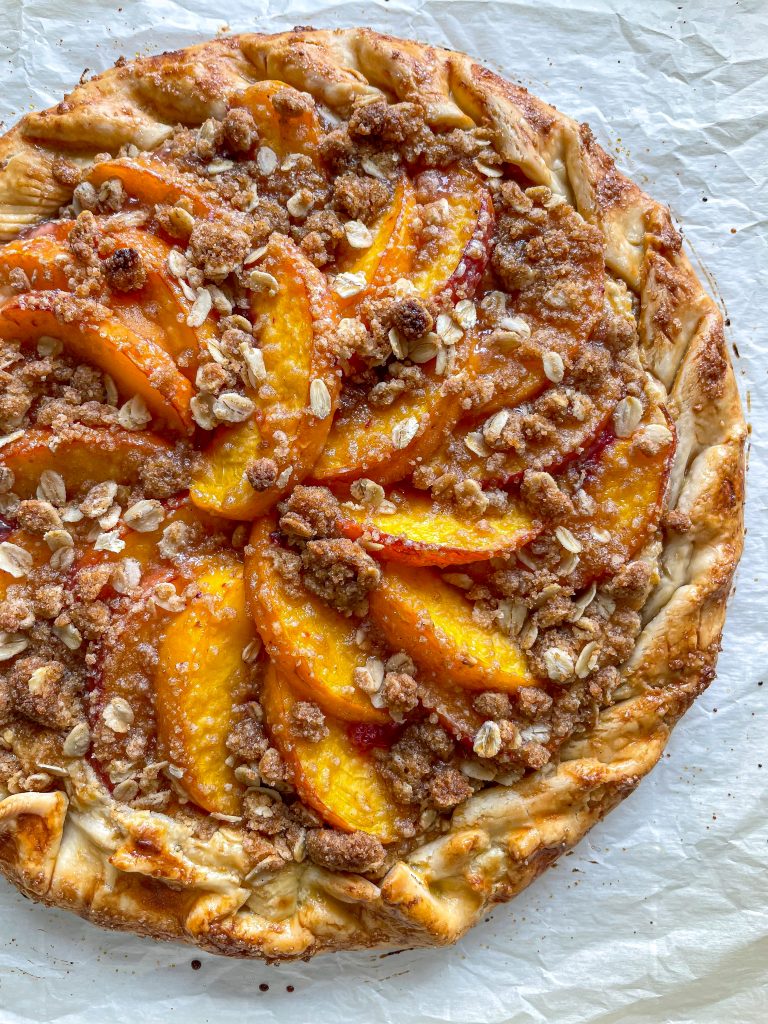 Ingredients
1 refrigerated pie crust
1 egg and 1 tbsp. of water for egg wash
Sprinkle of coarse sugar for outside rim of Galette
Ingredients for peach mix
2 large peaches, not overripe, sliced
2 tbsp. sugar
1 tbsp. flour
Ingredients for cream cheese filling
4 oz. room temperature cream cheese
¼ cup of peach preserve or jam
1/8 tsp. thyme
Zest of half a lime
Sprinkle of sea salt
Ingredients for crumble
¼ of a cup of flour
¼ of a cup instant oats
½ cup of brown sugar
¼ tsp. pumpkin spice
2 tbsp. melted unsalted butter
1 Pie Crust (homemade)
½ cup cold butter cut into small pieces
1 ¼ cups of all-purpose flour
½ tsp. salt
2-4 tbsp. ice water ( start with two and adjust)
Combine your flour and salt into a food processor and pulse a couple of times to mix. Add your cold butter and pulse until it it's crumbly, slowly add water until it starts to form a ball.
Place dough onto a floured surface. Press it out into a disk shape. Wrap in plastic wrap and put in the fridge for 30 minutes. Take it out and roll it out into a 9 inch circle.
Directions
Pre-heat your oven to whatever your crust instructions say. Roll out your crust onto parchment paper on a baking sheet to thaw. It should need about 10-15 minutes per the instructions on box.
Wash, dry and slice your peaches. Add them to a mixing bowl with your sugar and flour and mix. Allow this to rest for 10 minutes.
While that's resting, mix your softened cream cheese with your peach preserve, thyme, salt and lime.
Make your crumble by mixing your dry ingredients listed and then pouring in your melted butter and combining. It's ok if it's a little lumpy.
Evenly spread your cream cheese mixture onto your crust leaving a one inch border. Working from the outside in, create a pattern of peach slices overlapping in a circle formation. Then, sprinkle it with your crumble. Now, gently fold your dough around your filling making pleats as you go. Brush the border with egg wash and sprinkle with coarse sugar. If you don't have coarse sugar, just use a little regular and brown.
Bake until golden brown. I find that the directions say 12 minutes but I end up cooking it closer to 20 – just watch it. Let cool for 5 minutes and serve with whipped cream or vanilla ice cream.