You can't go wrong with Korean Beef Tacos. If you can please go out to a local Korean restaurant, I highly recommend it. You want to try the real deal, however I know that's not always an option for everyone. This recipe is a twist on the traditional Korean dish, bulgogi. I chose to use ground beef instead of the traditional sliced sirloin, that it is usually prepared with. Making this swap makes it come together a little cheaper. You can definitely still make this with sirloin (definitely try it both ways), but I would recommend marinating the steak in the sauce after you slice it for at least an hour. Either version is going to taste great. Korean Beef Tacos are fast, delicious and budget friendly.
I served these on warmed flour tortillas; they would also be great with lettuce wraps, traditional radish wraps, jicama wraps or even just as a rice bowl, if tacos aren't your thing. The garnishes are pickled red onions and radishes, quick marinated cucumbers, kimchi and cilantro. I always use this quick pickle red onion recipe by Lena Gladstone. I used the recipe to make both my onions and cucumbers. Kimchi is a staple in Korean cuisine and usually served with every meal. It is fermented veggies such as Napa cabbage and radish with a variety of spices. It's actually considered a super food because of its fermentation process that breeds bacteria that is awesome for your gut health. If you are not familiar with kimchi, make sure you get a mild jar because it can be very spicy. I eat it now almost everyday now.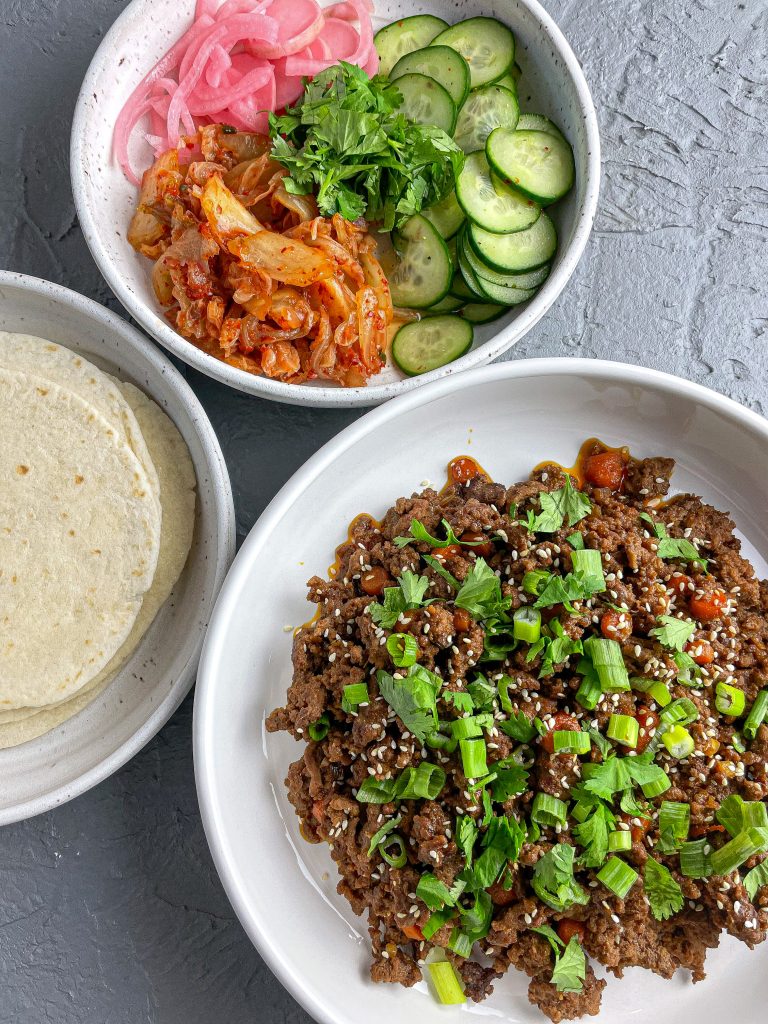 Ingredients (makes 10-14 tacos)
1 ½ – 2 pounds of 80/20 ground beef
1 Serrano pepper seeded and finely minced
1 onion diced
1 large carrot diced
½ inch nob of ginger skinned and finely diced or grated
4-6 garlic cloves minced or grated
Salt and pepper to taste (the sauce has sodium in it, so be cautious)
Toasted sesame seeds
Cilantro chopped for garnish
3 green onions chopped for garnish
¾ tsp. garlic powder
¾ tsp. onion powder
½ tsp. paprika
½ tbsp. neutral oil (veggie or peanut oil)
Sauce
1 tbsp. sesame oil
2 ½ tbsp. soy sauce
4 tbsp. Gochujang (red chili paste)
2 tbsp. Hoisin Sauce
1 ½ tbsp. sugar
1 lime juice or ½ tbsp. rice wine vinegar
1 tsp. Better than Bouillon Beef mixed with 2 tbsp. warm water then add to rest of sauce.
Directions
If you want the pickled onions, I recommend making them the day before or at least a few hours.
First chop your veggies, mix your sauce together and set them aside.
Add a little neutral oil to a large skillet on medium heat. Add your beef and break it up. Once it has a little color, add your carrots and onions. Cook for 6 minutes. Then, add in your Serrano pepper and ginger and cook for 3 more minutes. Add your garlic and cook for 1-2 minutes.
If the beef has a lot of fat coming off of it, drain it by putting it on a plate with a bunch of paper towels. Give it a minute, and then add it back to the pan. NEVER put hot oil or grease down the drain.
Once the beef is back in the pan, add in your dry seasonings and mix.
Then, add in your sauce, mix and cook on medium low for 6 minutes to thicken up. Once it's thickened, remove it from the heat and garnish with toasted sesame seeds, cilantro and chopped green onion.
Serve with toasted tortillas, lettuce wraps or over rice.