This Hatch Chile Pasta is a wonderful hatch chile recipe that I didn't know I needed, until I had it. If you love pasta, green enchiladas and a little heat, Hatch Chile Pasta is for you.
I had never had this until the day I made it. One of my best friends kept telling me about this hatch chile pasta she had, how it was absolutely amazing, and how she had never had anything like it. I wanted to go get it from the restaurant it, but I just never got around to it. I wrote down the idea for it in my little notebook probably over 2 years ago.
Then a few weeks ago, my husband came home from getting his haircut with a freezer bag of frozen fire roasted hatch chiles from his barber – lol. It was very random, but I guess the guy's order got mixed up, and the market gave him 50 pounds of roasted hatch chiles instead of 5. He was kind enough to portion them out and freeze them and handed them out to customers he felt a food connection with (my husband had a deep conversation about pizza with him, of course). I almost tossed them out because I thought it was weird, but then a light bulb went off, and I was like HATCH CHILE PASTA!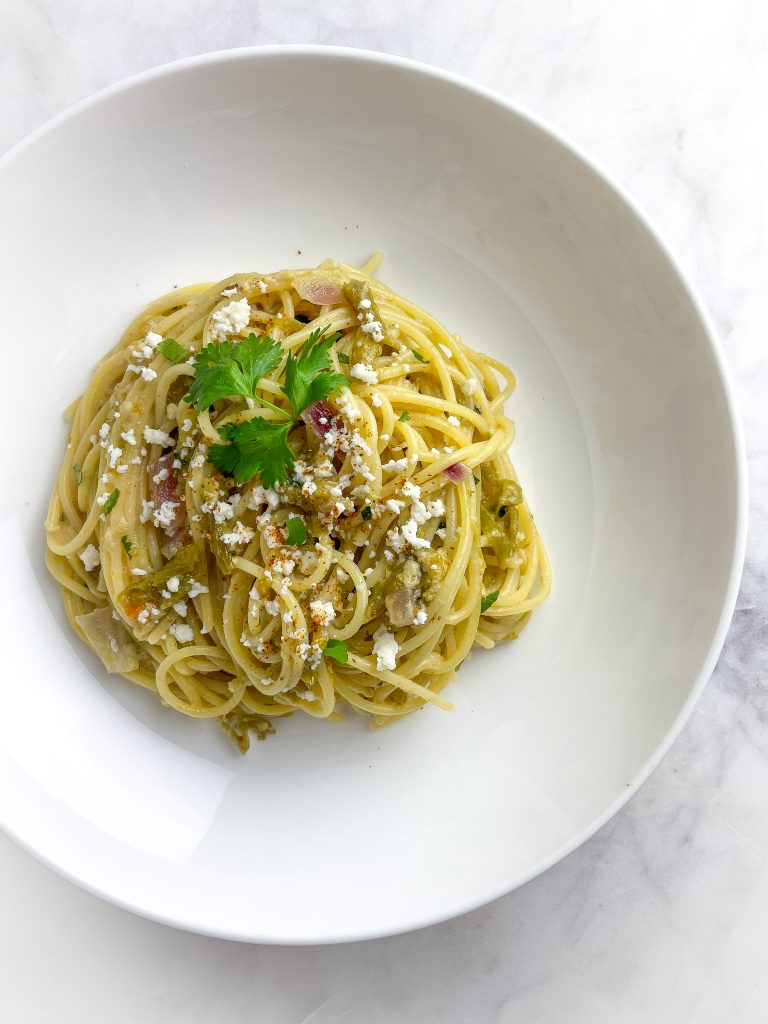 Recommendations: The hatch chiles I used were pretty spicy, even when seeded, so definitely try them before you make the sauce. I personally loved it, but it might not be for everyone. You can always add a little extra sour cream to mellow out the heat at the end if necessary. Canned hatch chiles usually are not as hot (still try before you make), but you could always add some diced jalapeno to kick it up a notch. I would dice, seed and sauté the jalapeno when you do the onions. I do recommend buying or making your own roasted hatch chiles, if you can, instead of canned.
This is also a vegetarian dish but you can also add some shredded chicken to it. I would pre-cook the chicken, shred it and then toss it into the sauce to marinate for a few minutes before you combine it with the pasta.
Ingredients
4 garlic cloves
2 cups of chopped fire roasted hatch chiles, seeded
1 cup of loosely packed cilantro then finely chop it (more for garnish)
½ of a large onion, finely diced
1 ½ tbsp. Olive oil
½ tsp. chili powder (more for garnish)
½ tsp. sea salt
¾ cup of vegetable broth
½ cup of sour cream
¼ cup of cotija cheese crumbled (more for garnish)
½ cup shredded Monterey Jack cheese
½-¾ cup of pasta water
1 lb. spaghetti
Directions
Bring a large pot of salted water to a boil. While that is coming up to temperature, seed and dice your hatch chilies very fine. You can also add them to a food processor and pulse. If I use a food processor, I will add the cilantro as well.
In a large pan over medium heat, add your olive oil and sauté your onions, once they are soft, add your garlic. Cook your garlic for one minute, then add your broth, chiles, salt, chili powder and mix. Cook this down till it begins to thicken a bit, maybe 3-5 minutes. Drop your pasta into the water and cook until al dente.
When the pasta is about 2 minutes from being done, add your cheese and cilantro (if you didn't already) and mix. Slowly add in some pasta water to loosen it up.
Remove from the heat and add your pasta to the pan and mix. Allow it to sit off the heat for a few minutes before serving to thicken up. Garnish with more cilantro, cotija and chili powder.