This Instant Pot Greek Lemon Rice Soup is incredibly bright and flavorful with a creamy consistency created by adding eggs instead of cream. It comes together in no time and tastes even better the next day.
I order a cup of avgolemono at every Greek restaurant I visit. We have a great spot down the street from us that we get takeout from whenever friends and family are in town and I don't feel like cooking. It is such a comfort food and that lemony tartness that you get in the first bite is so good. I have been using the IP lately to make a lot of my soups because I find that it infuses the flavors better and in less time than my Dutch oven. I also generally have a bunch of frozen chicken in my freezer, and the IP makes it really easy to cook it from frozen. I pop a frozen chicken breast into the IP for 12 minutes, and it comes out perfect for soups or curries where it will again cook in a sauce and absorb flavor. You can definitely make it either way, IP or on the stove-top, and it's going to taste great – it's just a personal preference. If you do choose to make it in on the stove, add about ¼ cup more broth because it will evaporate.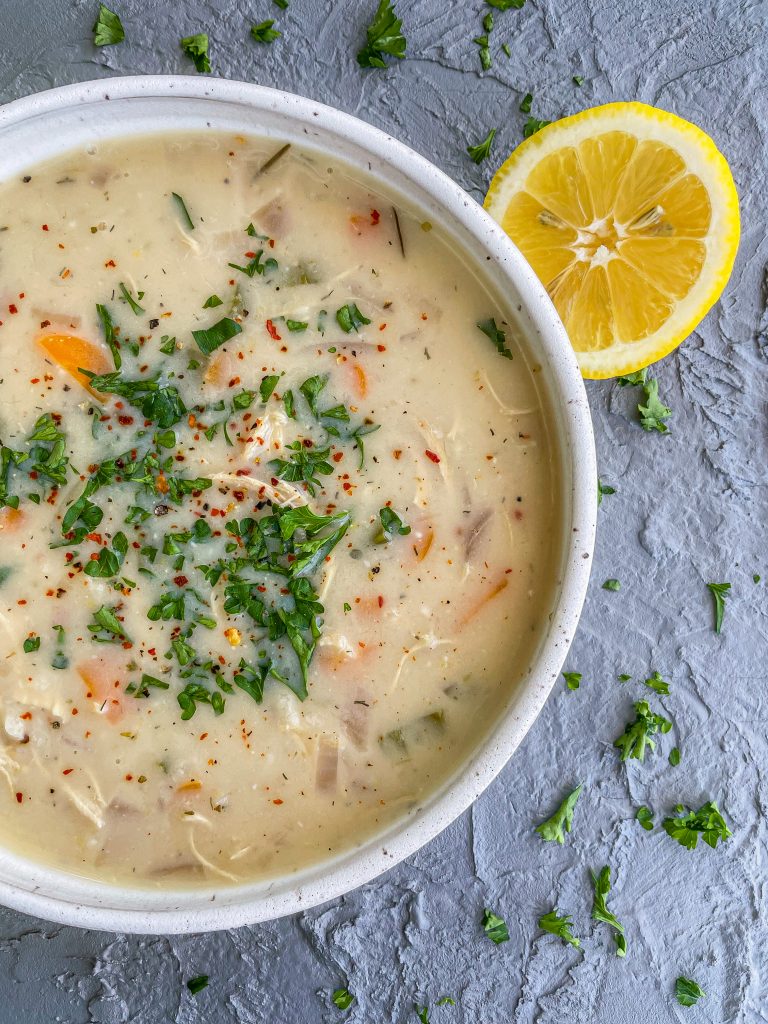 Ingredients
2 ½-3 cups of shredded chicken breast (I usually get enough from 1 large breast. This is a great recipe to use a store bought rotisserie chicken, just don't use a BBQ chicken one please.)
1 tbsp. olive oil
1 small onion diced
1 large carrot diced
1 celery stalk diced
¾ cup of Arborio Rice
4 cloves garlic pressed or minced
Zest of one lemon (recommend an organic lemon for zesting)
¼ cup of lemon juice (start there, if you want it a little more lemony go with ½ cup, but try it with ¼ cup first)
6 cups low sodium chicken broth
1 tbsp. chicken bouillon (optional, but I highly recommend)
2 large room temp eggs
½ tsp. onion powder
½ tsp. garlic powder
½ tsp. dried dill
½ tsp. dried oregano
¼ tsp. dried rosemary
2 bay leaves
½ tsp. kosher salt
¼ tsp. black pepper
Red pepper flakes (optional)
Garnish with some chopped parsley and lemon zest or wheels
Directions
Shred your chicken breast. Chop your veggies, zest and juice your lemon and assemble your herbs. Remember these are all suggested measurements. Follow the recipe, taste it and adjust for seasoning where you need it. If you want a little extra salt, do it! If you want a little more dill, do it! Live your best life. However, don't go crazy and add something not on the list or copious amounts of something like rosemary and then say it tastes bad.
Turn your IP on sauté mode and add your olive oil. Once it has heated up, add in your onion, carrot and celery to sauté. You want it to soften a little, but not be mushy – about 2-3 minutes. Once that's done, add in your rice, mix and sauté for 2 minutes. Now mix in the zest of your lemon and garlic and cook for 1 minute. Turn off IP.
Add in your chicken broth, chicken, chicken bouillon, dried herbs and spices and stir well. Put the lid on your IP, put it on manual for 5 minutes and let it natural release for 5 minutes. When you open it, give it a good stir, taste for seasoning and adjust. Turn off IP.
Now, it's time to prepare the egg lemon sauce. Pull out two ladles of your broth from your soup and set them aside. In a medium bowl, whisk your two room temperature eggs, then slowly whisk in your lemon juice to the eggs. Once that is mixed, SLOWLY whisk in your broth to your egg mixture. Slow and continuous whisking is key. If you go too fast, you'll end up with scrambled eggs. Once that is combined, mix it slowly into the pot of soup.
Garnish with chopped parsley, some lemon zest and maybe a little fresh cracked pepper.