This strawberry shortcake ice cream cake is sensational. If you love the Strawberry Shortcake Good Humor bars, then you will absolutely love this. Now this might not be the prettiest photo of the cake but it tastes awesome, trust me. I made it recently for my birthday, and I was over the moon for it. When I told people that's what I was doing, they were confused as to why I was making my own birthday cake. Like making something for yourself on your birthday is some kind of crime. A lot of shade was getting thrown at Matt, but he helped me every step of the way, so we actually made it together, and it was fun. We had music playing, some wine and were watching Halloween movies in-between the layers setting up. I had been holding onto making this recipe for a special occasion which turned out to be my birthday.
This recipe is super easy, it just takes some time to allow each layer to set. I hope you enjoy this Strawberry Shortcake Ice Cream Cake as much as we did!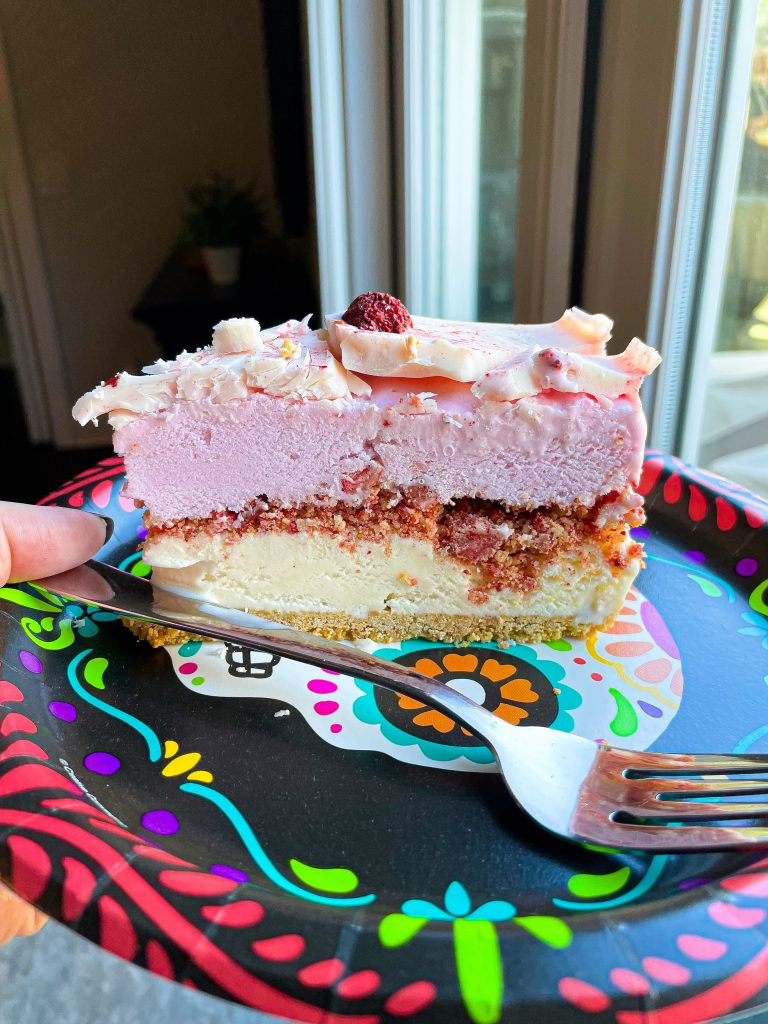 Ingredients
9 inch spring foam pan used to make cake
Parchment paper
Plastic wrap
Food processor
Crust
10 full graham crackers
¼ cup granulated sugar
5 Tbsp. melted unsalted butter
Crumble Filling
10-12 2-inch sugar cookies with no frosting or sprinkles
1.2 oz. bag of unsweetened freeze dried strawberries (I get mine from Trader Joe's)
2 Tbsp. melted unsalted butter
White Magic Shell
11 oz. white chocolate chips
1/3 cup coconut oil
Pinch of sea salt
Red food coloring (optional)
Ice Cream (get the good stuff and nothing crazy sweet)
1.5 Qt. Vanilla ice cream
1.5 Qt. Strawberry ice cream
Directions
Cut out a circle piece of parchment paper that will fit in the bottom of the pan.
Break up and place your graham crackers into your food processor. Pulse until fine and add to a mixing bowl. Mix in your sugar and then mix in your melted butter. Using a measuring cup, place this mixture into the bottom of the pan to make the crust. Gently and evenly press it into the bottom of the pan with the bottom of your measuring cup. Place in freezer for 2 hours.
About 25 minutes or so before the time is upon the crust, remove your vanilla ice cream from the freezer. You want it nice and soft to spread out over crust. If it is too hard it can break the crust. Scoop out your ice cream and place over the crust. Gently and evenly spread it. A measuring cup or a nice firm rubber spatula work well to help do that. Place a piece of plastic wrap over the ice cream touching the surface and place back in freezer for two hours.
Make your crumble when you have about 10 minutes left with the vanilla layer. First place your sugar cookies into your food processor and pulse until nice and crumbly (not fine like you did with graham crackers). Add them to a mixing bowl. Put your freeze dried strawberries into the food processor pulse until crumbly. It's ok if it's a little uneven; I like some bigger and smaller pieces. Add them to the bowl and mix, then add melted butter and mix again. Sprinkle this mixture on top of your vanilla layer and place it back in the fridge for 30 minutes. Take out your strawberry ice cream to thaw.
Repeat what you did with the vanilla ice cream now with the strawberry ice cream. Place plastic wrap over this layer and put back in freezer for 2 hours.
Time to make the magic shell. Place your white chocolate chips into a microwave safe bowl with your coconut oil and a sprinkle of sea salt. Microwave at 30 second increments and stir. Usually take 1-1 ½ minutes till completely melted. Place a few drops of red food covering and gently mix it in with a knife or toothpick until you create fun red ribbons. Pour it over your cold ice cream in a thin even layer and allow to set and to get hard. You can serve it right away or cover, place it back in the freezer, and serve later.