I love me some home made gelatinous bone broth. There was a big craze a few years ago about bone broth and all it's healing abilities. I don't know if I actually believe all of that since I have ingested ALOT of bone broth and still feel like I have been hit by a train most days. I do however think that it tastes so much better than store bought and will make anything you cook with it taste even more fantastic.
It's super important to get organic of everything! Organic free range chicken or grass feed beef bones and veggies. It makes a difference in quality. I love to add my bone broth into my Turmeric Turkey recipe.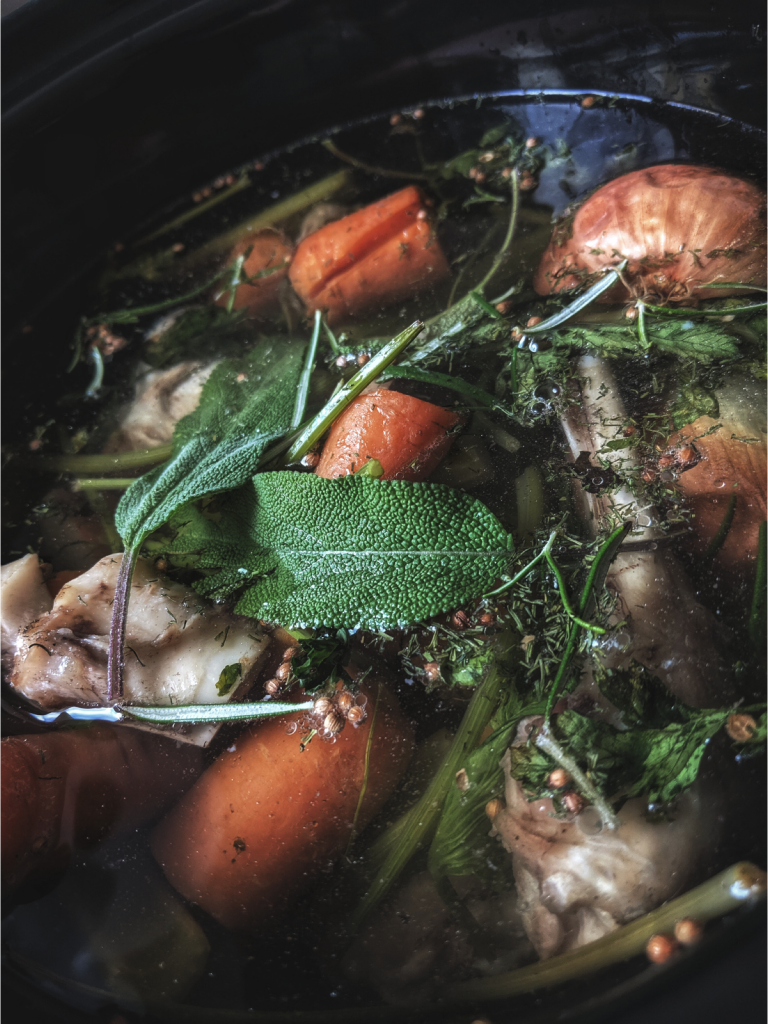 Ingredients
About 3-4 lbs. chicken bones, (body, feet, neck) or Grass Feed pasture raised beef bones (marrow, oxtail, short rib or knuckles). Whole Food usually has in frozen section by butcher or you can just tell them what you are making and they can put together a bag of bones.
large soup pot or crock pot
1 medium onion, chopped into large chunks
1.5 tbsp. apple cider vinegar
2 tbsp. minced garlic
1 tbsp. sea salt
4 bay leaves
2 carrots chopped
3 celery stalks chopped
2 inch chunk of ginger cut in half
Few stalks of parsley and thyme (I wrap them with the bay leaves in twine and put on top after everything else goes in) then you just easily can pick it out a few hrs.
Directions
First blanch your bones. Place bones in cold water and bring to an aggressive boil for 20 minutes and then remove. This helps remove some yucky stuff.
Roast beef bones on a sheet pans with olive oil for 30-40 minutes at 450 degrees. This helps the flavor. You don't have to do this with the chicken bones.
Combine the bones and everything else in a slow cooker or instant pot. Pour enough water on top to cover the bones by about 2 inches (but don't overflow your pot! Make sure you leave at least an inch of space from the top.)
For a SLOW COOKER, cook on LOW for 24-36 hours.
For the INSTANT POT, press manual and set the timer to 90 minutes. Once it's done cooking, allow the pressure to release naturally.
Transfer the bones, bay leaves, onion, and leftover garlic from the broth to a bowl using a slotted spoon. Allow them to cool before throwing them away.
In batches, transfer the broth from your pot to a large bowl by straining it through a wire mesh sieve (or large strainer). I usually strain it through my fine strainer a few times. Allow to cool in the bowl slightly before transferring to glass jars to store in the refrigerator. If you have a large flat pan you can cool it in that works best. Double pan with ice in the bottom one if you have it. You want to cool it as fast as possible before transfer. You do not want to put hot broth into fridge because it will grow bacteria fast. I often just freeze mine using muffin tins and just save enough fresh for a few days.
Fresh broth will last about 5-6 days in the fridge. If it looks thick, that's good! once you heat it, it will thin back out. If you have leftovers, freeze them in muffins tins and store in the freezer for later use! Ones they are frozen I transfer to plastic bag and date. Muffin tins are usually 4oz. I just add them to recipes that call for bone broth or defrost and sip on through the day.