Beet risotto is such a great way to utilize beets whether they are red, golden, fresh or canned. The sweet earthiness of the beets pairs perfectly with the creamy goat cheese, nutty Parmesan and toasted Arborio rice.
This is a pretty straight forward risotto recipe; the beets are where you can play around. If you want that bright color, use fresh red beets, just make sure you wear gloves when preparing or you will stain your hands. Golden beets are perfect for this dish too, and I have even skipped the fuss altogether and used canned beets. It won't give you the same color, but it works perfectly in a pinch. You can also find some stores have pre-cooked whole beets in the fresh produce section.
Whatever you use, you can't go wrong. It's such a hearty and warm meal. If beets are not your thing, try one of these other risotto recipes on the page here.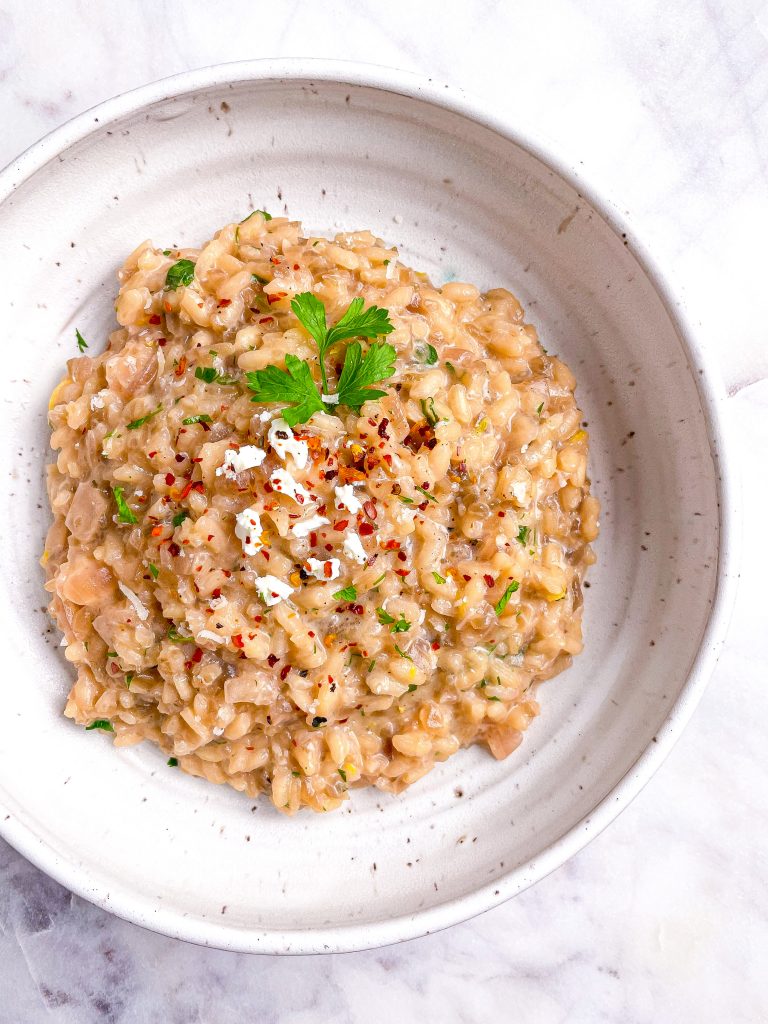 Ingredients
1 ½ cups of shredded beets (2 big beets or 3 medium beets)
2 tbsp. butter
2 tbsp. olive oil
2 cloves of minced garlic
1 tbsp. apple cider vinegar or some white wine
½ large onion diced
Zest of a lemon
1 cup of grated Parmesan cheese
2 oz. goat cheese (more for garnish)
1-1/2 cups Arborio rice
4 cups of vegetable broth
Salt and pepper to taste
Pinch of red pepper
1 tbsp. freshly chopped dill (more for garnish)
1 tbsp. fresh chopped parsley (more for garnish)
Optional for garnish – a drizzle of basil oil or even just add some fresh basil with the rest of the herbs if you have it
Directions
Put oven rack on middle position and set oven to 425˚ F. Wrap your beets in foil and let them cook for 1 ½ hours. Remove them and allow them to cool down for 10 minutes. Put on some gloves and run them under water to remove their outer layer. Once you have done that, give them a dice, and add them to a food processor to shred. I like to keep them with a tiny bit of texture and not completely smooth. If you do not have a food processor, grate them. That could get messy, so do it over a plate.
Bring your broth to a simmer in a sauce pan. In a large pot, heat up your olive oil and butter, then add your onions. Cook till soft and then add your rice to toast up. Stir this often, once you start to see some color, add your garlic and stir. Give this one minute to heat up then season with salt, pepper and some red pepper flakes. Add your apple cider vinegar (or white wine) to deglaze the pan and stir up all the tasty bits at the bottom. If you want a mellower beet taste, I would add your beets now and mix. If you want a bolder flavor and brighter color, add them after you cook the rice.
Now that the rice is toasted, slowly start adding your broth and continuously stir while liquid is absorbing. I usually do about ½ cup at a time. I add the next cup once the first has been absorbed. This should take about 20 minutes. Make sure you continuously stir. Once the rice is the consistency you want, add in your beets if you haven't already. Then, take it off the heat and add in your cheeses. Check for seasoning, and lastly, add your herbs and zest.
Garnish and serve!