You cannot go wrong with a platter of your favorite roasted vegetables, crispy prosciutto and creamy burrata served with crusty bread. We eat a lot of roasted vegetables in our house. It's our go-to easy week night meal. You can find some of my favorite roasted vegetable and rice dishes here. It's healthy while also making a ton of food for the week. Recently, we have been using our grill (that's probably older than me), but it gets the job done. I do love the grill because it has a lot of room and gets everything perfectly cooked. I know not everyone has that available, so you can use the stove for searing your vegetables or roasting them in the oven on high heat works great too.
You can really pick whatever vegetables you like. For this one, I blanched and sautéed some broccoli rabe and baked some eggplant and chopped onions. I try to cut everything so it's close to bite size so it will sit nicely on your slice of bread. I used some jarred roasted red peppers because I had a stockpile of them. I just drained them, rinsed, dried, seasoned and tossed them on my hot skillet for a minute or two with my olives. I personally used Lindsay Natural Olives because they are just made with olives, water and sea salt, so they aren't salty and vinegary but buttery (think traditional black olives). I also chose to heat up my prosciutto in the pan until it was nice and crispy. If you have never done that, I highly recommend it. I love to add fresh herbs with this too, so I added a little torn basil, oregano and parsley. I added some creamy burrata on top that I seasoned with a little sea salt, cracked pepper and this delicious garlic infused olive oil from William Sonoma. I grilled up some nice crusty bread to go with it, and it was delicious. We like to challenge each other to create the perfect bite. Matt usually wins. However, he usually ends up giving me the perfect bite, so I'm the true winner.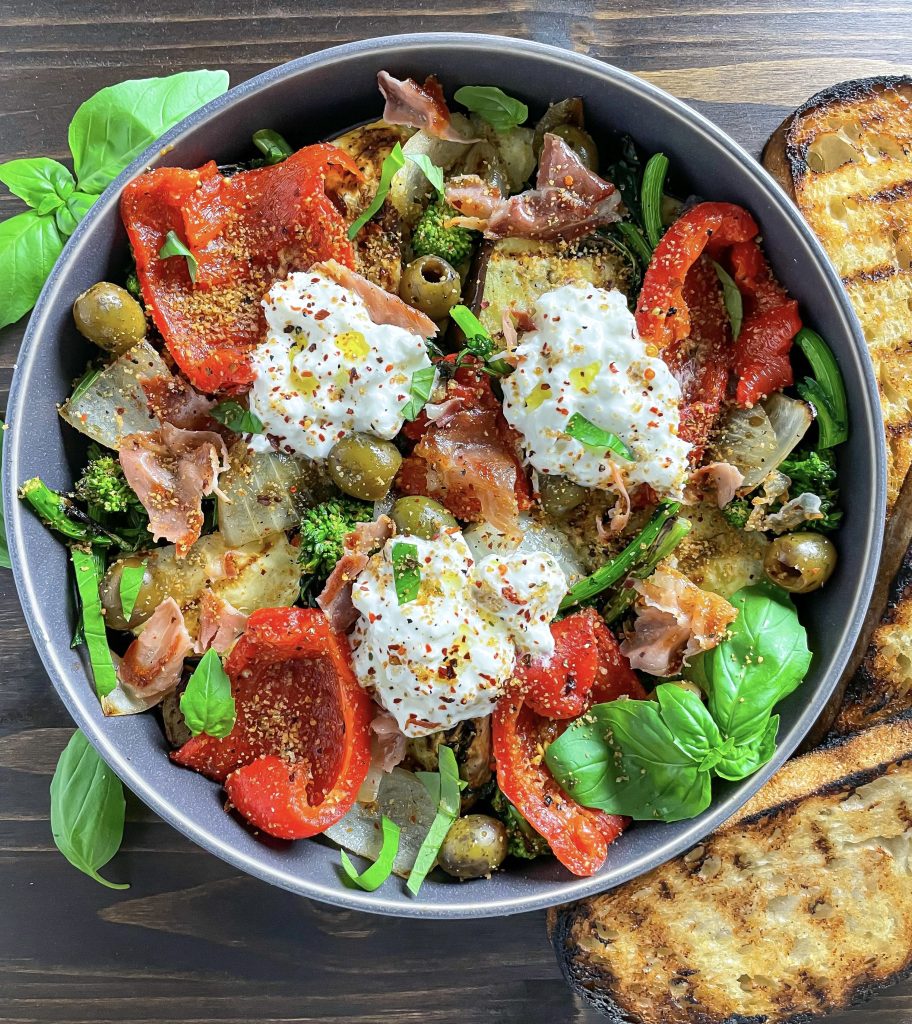 Check out my Instagram here!