Roasted Vegetable and Rice Salads are where it's at. We make one of these almost every week. I have been really trying to incorporate more vegetables and less meat in my life. That's why when I'm feeling a little weighed down, I make this nutrient rich and filling roasted vegetable and rice salad. I think if you look at the average person's diet many of us consume way too much meat and processed foods. I'll be the first to admit that at times I eat like an absolute garbage monster. So I'm trying to establish some balance. Don't get me wrong, I will still mess up a steak or a greasy burger but I also realized a few more salads in the mix wouldn't hurt.
Roasted Vegetable and Rice Salad is a great meatless Monday meal or just a way to get rid of your leftover veggies and herbs. You can mix whatever roasted vegetables you like with your favorite grain, cheese and vinaigrette, you can't go wrong. This Roasted Vegetable and Rice Salad is great as your main coarse or even a side dish. Great served hot or cold.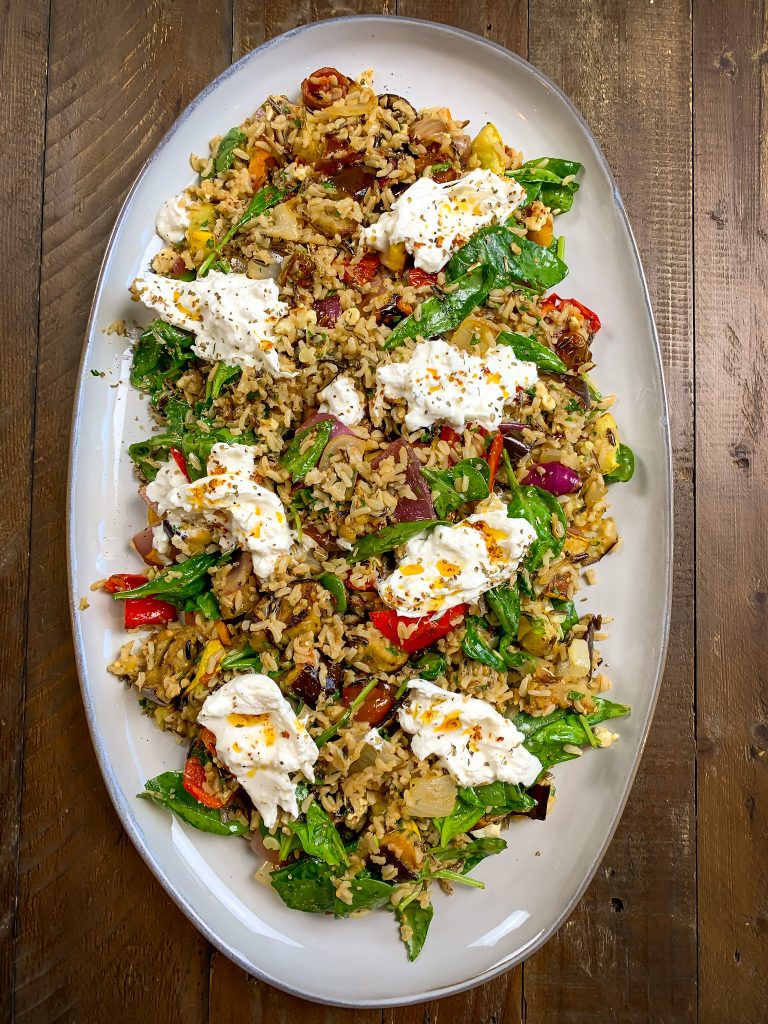 Ingredients(4-6 servings)
4-5 cups of veggies to roast (eggplant, onion, garlic, zucchini, bell pepper, tomatoes)
2 cups of spinach or Arugula
1-2 cups of cooked rice cups of cooked rice. I would say use at least one cup but I usually do two so the meal goes farther.
Cheese of your liking this one I used a little feta (in the salad) and burrata (on the salad) (burrata, feta, mozzarella balls)
Dressing
Whisk all of these together well to create the dressing. Always taste and adjust if needed!
1/2 cup olive oil
3 tbsp. red wine vinegar
2 cloves of garlic, pressed or ½ tsp. garlic powder
1 tsp. Dijon mustard
1 tsp. dried Italian seasoning
½ tsp. sea salt
¼ tsp. cracked black pepper
Dash of red pepper flakes
Squeeze of lemon
Directions
I feel like you can't go wrong with this recipe with whatever vegetables you choose. You can make this with white rice, brown rice, wild rice, faro or barley. I like to cook the rice ahead of time, then it has time to hang out and cool off/dry out a little.
I roasted chopped eggplant, bell pepper, red onion and zucchini. I toss the vegetables in about 2 tbsp. of olive oil then once tossed and coated I add some 1/2 tsp of onion powder, 1/2 tsp. of garlic powder, red pepper flakes, cracked black pepper and salt and give it another mix. Then I put it in a 400 degrees for 35 minutes. Tossing it halfway through and rotating my sheet pans. (You can really add whatever you like, just look up the proper roasting time. I'm making this tonight and I'm adding in some white beans (don't bake) and cherry tomatoes (adding tomatoes the last 15 minutes to heat up) and subbing some parmesan cheese for the feta and mozzarella balls for the burrata).
Whatever you do don't crowd the pan or the veggies will steam and not roast, so use two sheet pans alternating them halfway through. When they are done cooking add them to a large bowl with your rice.
I chopped together fresh basil and parsley, about one cup all together and added it to the bowl. I do suggest going a little lighter on the basil because it's very strong. I added about two cups of spinach and about 1/4 cup of feta cheese to the vegetable and rice and gave it a toss. The heat from the vegetable will soften the spinach. Then I added the dressing and gave it another mix. I let it sit for a few minutes to let the flavors come together.
Then I finished it off by pulling apart a big burrata ball of cheese on top of the salad and drizzle it with a little hot chili oil or balsamic drizzle.