This Heirloom Tomato and Burrata Pizza is my favorite. You can't go wrong with some fresh tomatoes, olive oil, garlic, Parmesan cheese, basil and burrata. The fresh tomatoes and creamy burrata are the star of this pizza. I love eating a pizza that afterwords I don't feel weighed down and gross. This pizza is light and tasty, giving you all the feels of end of summer.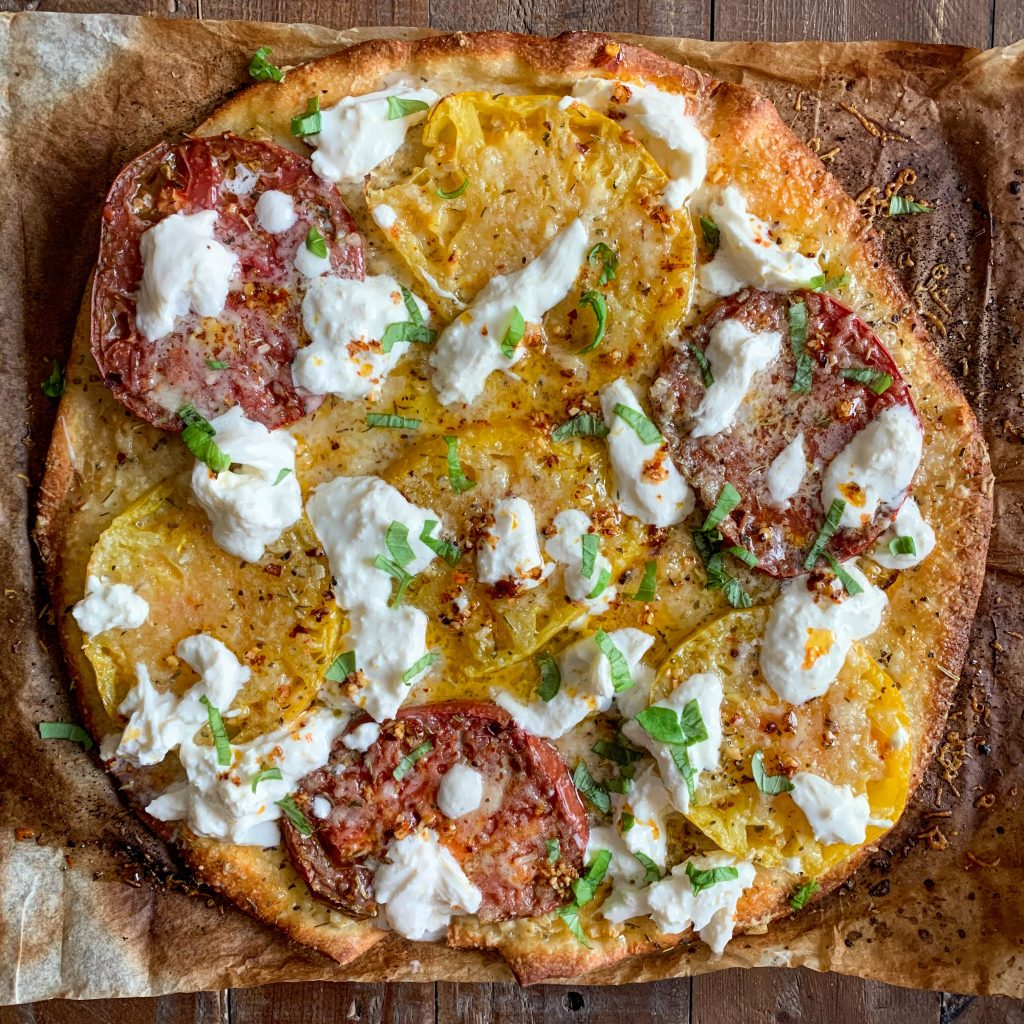 Ingredients
1 ball of dough or ready to bake pizza crust. I personally get my dough from Trader Joes's or the grocery store freshly made. This particular pizza dough was in the area with the biscuits and the brand is Wewalka. I have been really loving using there ready-made pizza/flatbreads lately. They are super thin and crispy and I dig it.
1 ball of burrata
½ cup of freshly grated Parmesan cheese
3 cloves of garlic finely diced (you can use more if you like garlic)
2 large heirloom tomatoes sliced
Chili oil or flakes
Chopped basil
Seal salt and cracked black pepper
Onion powder
Garlic powder
Dried Italian seasoning
Olive oil
Directions
Set oven to desired temperature that your dough needs. Slice tomatoes, grate Parmesan, and chop garlic and basil.
Lay out dough and drizzle it with olive oil and spread it evenly all over dough. Evenly distribute garlic on top the dough. Sprinkle a little garlic powder, onion powder and dried Italian herbs. Use half of the Parmesan cheese and sprinkle it on the crust. Then add sliced tomatoes and sprinkle those with a little sea salt, black pepper and red pepper flakes. Then add the remainder of the Parmesan cheese.
Bake pizza
Remove pizza from the oven and tear apart the burrata onto the pizza and then sprinkle with fresh basil. I like to also drizzle a little hot chili oil as well, but totally optional.