Lemon Butter Gnocchi with Spicy Sausage, Broccoli Rabe and Mushrooms is a mouthful to say and eat. Gnocchi is pasta made from potatoes, aka my two favorite things packed into one pillowy nugget. It's so satisfying and easy to make by hand, but I'll be honest, I buy it from World Market or Trader Joe's. I usually just get the plain ones because then they just soak up whatever your sauce is. However, I have been known from time to time to enjoy the garlic or sun-dried tomato ones. During the fall season, I like to scoop up some sweet potato gnocchi and make it with browned butter or pumpkin and butternut squash pasta sauce – AMAZING!!!
If you go the frozen cauliflower gnocchi route, more power to you! I actually have really enjoyed cauliflower gnocchi as well, but it can be a little tricky to cook. I personally boil it real quick, and then pan fry it on high, and it comes out pretty well. Then, I add it to whatever sauce I like.
I hope you enjoy this Spicy Sausage and Lemon Butter Gnocchi and it becomes a staple in your home.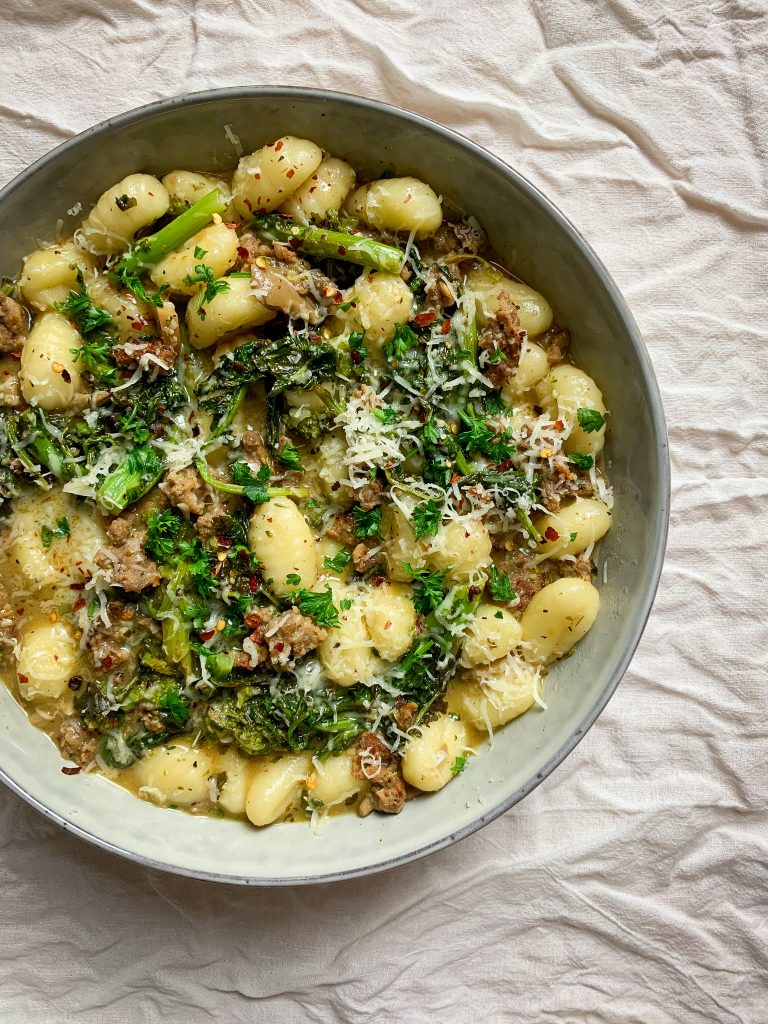 Ingredients
1lb of spicy sausage
1 bundle of broccoli rabe ( I love the bitterness from this but it might be hard to find where you live so sub broccolini)
4-6 oz. of lemon juice
½- ¾ cup of chicken broth or stock
4 tbsp. butter
17.6 oz. package of gnocchi
1 cup of sliced crimini or shitake mushrooms
½ cup grated Parmesan cheese
Salt and pepper to taste
1 tbsp. olive oil
¼ tsp. onion powder
¼ tsp. garlic powder
¼ tsp. dried thyme
½ tsp. dried Italian seasoning
1-2 tbsp. fresh chopped parsley for garnish
4 cloves of garlic pressed
Roasted Broccoli Rabe
2 tbsp. olive oil
1/8 tsp. onion powder
1/8 tsp. garlic powder
Salt and pepper
Directions
Set oven to 400 degrees. Starting bring a pot of water to a boil.
While your pot is coming to a boil, remove your sausage from it's casing and add it to a large skillet, breaking it up and cooking till crispy. Once it is cooked remove it to a plate with a paper towel to drain some of the oil off. Clean off mushrooms with a damp paper towel, press your garlic and set aside. Wash and dry broccoli rabe and place it onto a baking sheet. Drizzle with olive oil, seasonings and toss. Bake for 10 or so minutes till it is nice and roasted. Remove from oven, chop into bite sizes pieces and set aside.
In a pan, add 2 tbsp. of butter and 1 tbsp. of olive oil over medium heat and add mushrooms. Allow them to cook till brown and caramelized. Best way to do this is toss them in the pan real quick and then just let them cook on each side unbothered. Don't keep string, just let them cook. Once they are brown then add dried herbs, salt, pepper and garlic. Stir and cook for another 2 minutes.
Add additional butter, lemon and chicken stock and mix. Bring to a boil, and then take the heat down to a simmer. Now add your chopped broccoli rabe and sausage to sauce pan. Don't forget to taste sauce and adjust for seasoning.
Salt your boiling water and then add your gnocchi. When gnocchi floats, remove it and add it directly tothe sauce pan and mix. I usually add about ½ cup of the pasta water to the sauce. Let that cook together for a minute or so and remove from heat. Mix in parsley and half the cheese and allow pasta to sit for a couple of minutes so the sauce marries with the pasta.  Sprinkle extra cheese on top and serve.