I'll be honest, it has been like 3 years since I made these Thai Coconut Curry Meatballs, and I don't know why. They are packed with so many amazing flavors. They are honestly so good and they will definitely satisfy your craving for Thai food. They are awesome for meal prepping and freezing and the sauce is absolute FIRE.
When I first made them, it was at the beginning of my first Whole30. This version of Thai Coconut Curry Meatballs isn't Whole30, but I will also share how to make it Whole30. These were so delicious, and I was like OMG Whole30 is great! 30 days later I was living off of baked chicken thighs, broccoli and sweet potatoes for every meal. Eating my evening clementine turned into my favorite part of the day. I was burnt out. As someone who loves to cook, I found the amount of cooking I did on Whole30 unbearable. It was A LOT. I work from home and have no children, but I have no idea how someone with kids and a long commute would do Whole30.  I also hate eating the same thing 5 days a week. I can do the same meal for two dinners and maybe a lunch but 5 nights of the same thing and I'm miserable. In retrospect and after doing a few rounds, I was cooking way too much and making things so hard on myself by trying to make too many fancy things out the gate.
I did learn a lot from the process and would highly recommend it for someone that needs to evaluate their eating patterns, food allergies or what they are consuming in general. I learned so much about what to look out for when buying prepackaged foods. There are so many clean versions out there and then some really terrible ones. Look out for added sugars and ingredients you can't pronounce and unnecessary additives. It's so important to read labels, and now, thanks to Whole30, I'm a master at it. I also make most of my own sauces and dressings now which I really love. I truly believe that doing a few rounds of it and changing up what I buy has had a great impact on my overall health. I had terrible joint pain and inflammation from a messed up surgery. I had a hernia surgery in 2013 and my body had a horrible reaction to the mesh, and it's really jacked up my whole body. Making some of those dietary changes through Whole30 has helped a lot and I have actually been able to get off some medications that were helping me deal with nerve pain and inflammation!
My best advice if you are thinking about doing it is do your research and prepare! I know many people who didn't and they made it about a week. They were doing it wrong by sneaking stuff in that they shouldn't have or not reading labels. If you want to see the best benefits, do it correctly, be honest and don't cheat yourself. I prepared and had a game plan and did some walk-troughs at the grocery store to start looking at what was compliant. I printed a little cheat sheet so I didn't have to bust out my cell phone every few minutes. I also started to eliminate stuff like wine and ice cream a week before so that when day 1 started, it wasn't so intense.
If you decide to take on that adventure definitely make these Thai Coconut Curry Meatballs!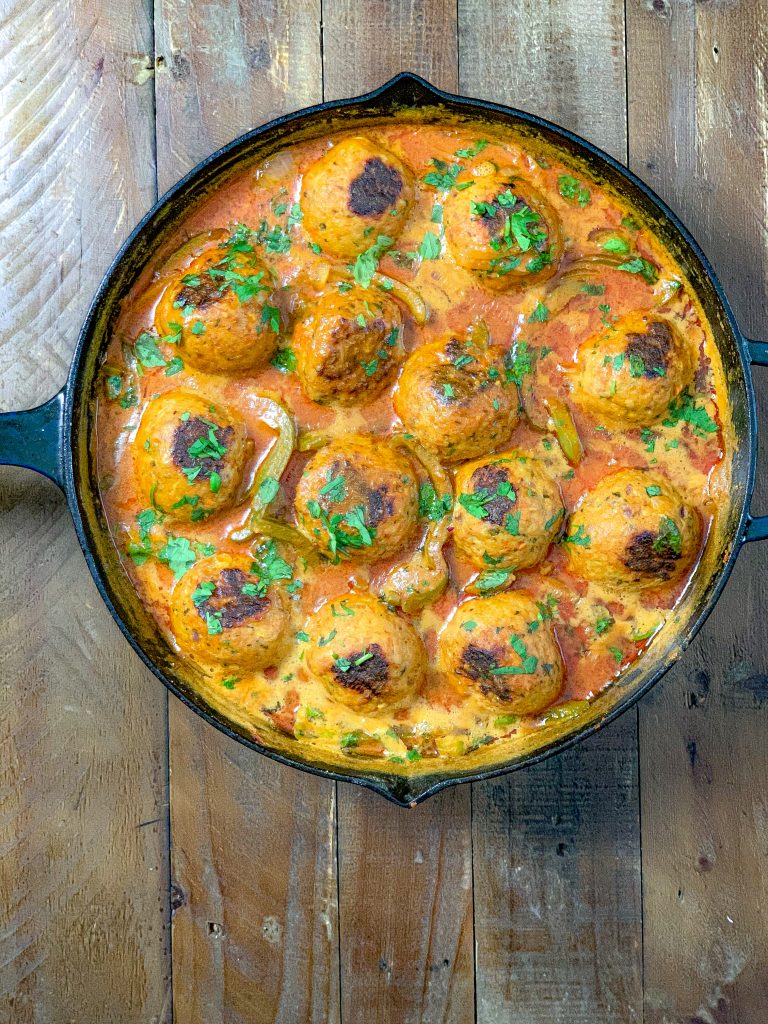 Ingredients
1 lb. ground pork
1 lb. ground chicken
2 small carrots peeled and roughly chopped
1 small red onion roughly chopped
5 cloves of garlic
1 inch of ginger grated on microplane
1 tbsp. lemongrass paste (store bought is not always Whole30, so you can use a piece of lemongrass roughly chopped and added to sauce and the end)
1 small lime juiced
2 cups of panko bread crumbs (substitute almond flour if doing Whole30, may need less or more)
2 eggs
½ cup of lightly packed cilantro stems and all
Small bunch of basil and parsley
Salt and pepper to taste
1 tbsp. curry powder
½ tsp. cumin
1/8 tsp. cayenne pepper
¼ tsp. ground mustard seed
½ tsp. toasted sesame oil
1 ½ tsp. soy sauce (for Whole30, use coconut aminos instead)
Sauce
2 small bell peppers sliced
1 small onion sliced
3 cloves of garlic pressed
½ jar of Thai Kitchen red curry paste about 2oz.
1-2 tsp. of chili garlic paste for some heat
1 tbsp. fresh chopped basil (if you can find Thai basil it would be great for this part of the dish if not use your regular basil)
1 tbsp. fresh chopped cilantro
Salt and pepper
1 ½ cans of full fat coconut milk (make sure you shake the can)
¼-½ cup of cashew butter
½ tbsp. coconut oil
Directions
I use a food processor for this part. However, if you don't have one, then use a cheese grater to grate the onion and carrot and a microplane for the ginger and garlic. Then finely chop your herbs and mix them all together with your lime juice.
If you do have a food processor add garlic, onion, carrot, lime juice (skin and grate ginger first) to the food processor and pulse until finely chopped but not mushy.
In a large bowl put your pork and chicken, 2 eggs, above chopped ingredients, 2 cups of panko, your spices, soy and sesame oil and mix all together. Cover and put in fridge for 1 hour to incorporate all the flavors.
40 minutes into your hour marinate turn your oven on to 400 degrees with rack in the middle of oven.
Once the hour is up, remove your mixture from the fridge and form into balls. I use a scooper that gives me ¼ cup sized balls so this recipe makes 18 and they all fit on one large 17 x 11 baking sheet. I place them on the parchment lined baking sheet leaving a little space between each. Bake for 20 minutes. Remove, flip and bake for 15-20 more until an internal temp of 165 degrees.
When I flip the meatballs, I usually start the sauce right after. I add coconut oil to a large pan and then sauté the peppers and onion until lightly charred. I add the garlic for one minute until aromatic and then add in the Thai curry paste and mix well. Then I add the garlic chili paste and cashew butter and mix well again. Finally I add the coconut milk scrapping the pan well getting all the charred bits up and bring to a boil then reduce. I taste it now to see if it needs some salt or more curry paste, cashew butter or spicy garlic sauce. I squeeze in a little lime juice and I let it cook on low while the meatballs finish.
Once the meatballs are done I add them to the sauce with the herbs. I allow the meatballs to hang out in the sauce on low heat for about 10 minutes. I baste them with the sauce halfway through.
Serve over regular or cauliflower rice!