These Orange Soy Glazed Miso Chicken Meatballs are THE BOMB. I think one of the greatest accomplishments on my blog have been my meatballs. Even if they aren't the most made, or visited page on the blog (you're missing out, MAKE THEM), they are all pretty great. I just love making them because I can make a ton and freeze some for later. Then, I just pop them out whenever I need a protein. Simply microwave them for a minute, then cut them up a little, and microwave for another minute. I mostly eat them over rice and veggies or on top of a salad. You can make some really fun sandwiches with them too. They are super convenient and packed full of flavor – way better than any frozen store bought ones, and they take minimal effort to make. I tend to use a large scooper when I make them, ¼ cup size, so I generally get 18 big meatballs. If you made them a little smaller you could make a ton more to freeze or serve.
I always recommend that when making these Orange Soy Glazed Miso Chicken Meatballs, you let the meat, once mixed, to sit in the fridge for an hour before cooking. I find that the meat absorbs all the flavors better that way. However, you don't have to do that if you're in a time crunch, but I do recommend it for the best flavor. Also, make sure to take the meat out of the fridge for 20 minutes before you roll it into meatballs and cook them in order to take the chill off. I like to bake them, and have never fried them, so unfortunately I can't recommend that you do. I just don't think they need it. A simple spray of cooking oil over them gets the outside nice and crispy without all the extra oil involved with frying.
If you make these and love them, please try my Greek Meatballs or my Thai Meatballs. I have a reel on my IG and TikTok account making these Orange Soy Glazed Miso Chicken Meatballs, if you want to check it out.
If you make them, tag me on Instagram @theslimmerkitchen. I would love to see!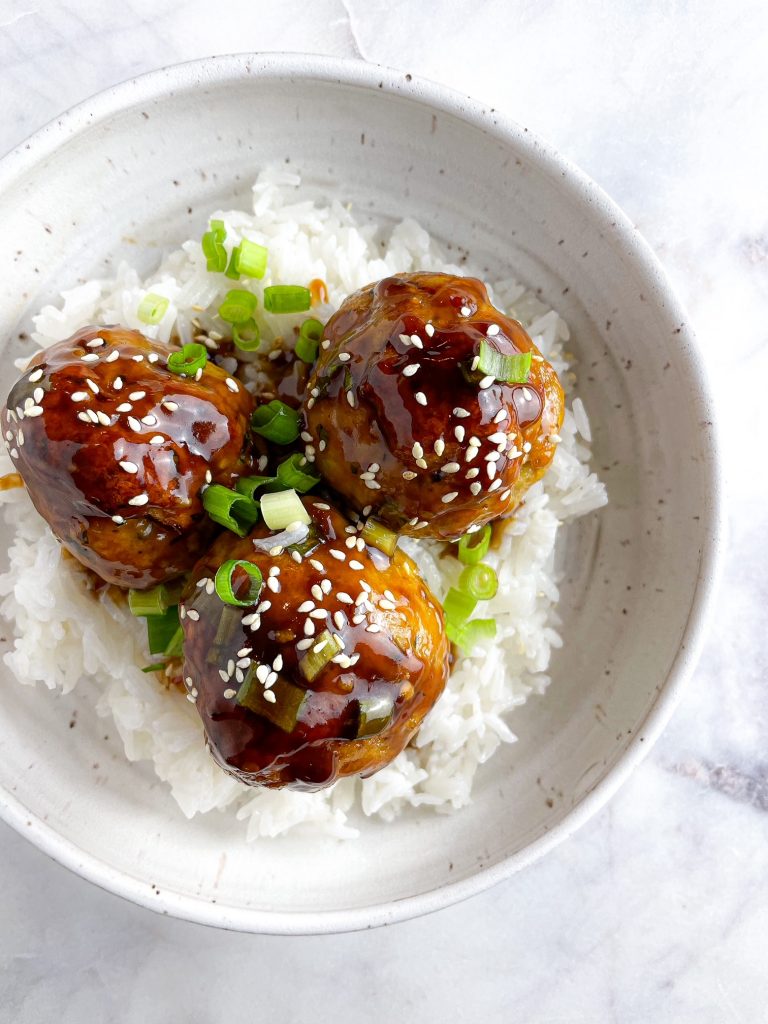 Ingredients
2 lbs. ground chicken
2 eggs
2 cups plain panko bread crumbs
½ bell pepper
2 scallions
3-5 cloves of garlic
½ jalapeno, seeded
½ cup loosely packed cilantro
3 big basil leaves
1 tsp. toasted sesame oil
2 ½ tbs. white miso paste
½ tsp. onion powder
¼ tsp. garlic powder
1 tsp. white or black pepper
¼ tsp. salt (the miso paste is already salty)
Sauce (enough to cover 6 meatballs)
3 tbsp. low sodium soy sauce
2 tbsp. Mirin (sweet rice wine)
1 tbsp. lime juice
3 tbsp. fresh squeezed orange juice
1 ½ tsp. brown sugar
3 tbsp. water
1 tsp. corn starch to make slurry
Toasted sesame seeds
Green onion sliced
Garlic chili sauce (optional)
Directions
Take your chicken and add it to a large bowl that can fit in the refrigerator. Take all of your veggies and herbs and lightly cut them up and add to a food processor and pulse till finely chopped. If you don't have one, then finely chop everything to the smallest you can. Once veggies and herbs are finely chopped, add them to the chicken. Then add your dried spices, breadcrumbs, miso paste, sesame oil and eggs. Mix with your hands until everything is incorporated. Don't over mix! Place it into the refrigerator for 1 hour. I like to serve this over rice, so make rice at some point.
At 1 hour, turn your oven onto 400 degrees. Pull out your meat from the fridge and allow it to sit for 20 minutes. Then roll your meatballs. The more even you can get them the more evenly they will cook. I like to use an ice cream scooper; you can also use a scale or measuring cup to help with making them uniform.
Roll them out and put them on your greased baking rack. I use a baking rack on top of a baking sheet to allow for better circulation of the hot air. Line it with parchment paper to catch any dripping and easy clean up. I also spray the meatballs lightly with aerosol cooking spray; you can also lightly baste them with some oil if you don't have the spray. Bake for 35-40 minutes until they reach an internal temp of 165 degrees. I used to flip them halfway but I don't think it's necessary if you're using a baking rack.
The sauce comes together pretty fast so you can make it once the meatballs come out. Take a large sauce pan and over medium heat add soy, Mirin, lime and orange juice. Allow this to heat up for a minute or two then add in your brown sugar and mix. It will begin to thicken after a minute or two. Take your corn starch and water and mix it together in a little bowl to the side then whisk that into the sauce that's on the stove. This will make the sauce thicken a lot faster and give it a nice glossy finish. Continue to mix until the sauce is nice and thick. Taste for seasoning. If you want it a little spicy, I recommend adding a little garlic chili sauce. Add back 6 of your meatballs and toss in the sauce. Allow it to cook in the sauce for a minute of two. Take off the heat and serve over rice. Garnish with sesame seeds and some chopped green onion.