Spinach and Tomato Risotto is a go to comfort meal for me. I know many people are intimidated to make risotto but don't be. It's actually really easy, you just need a little elbow grease, but i promise it's worth it. You can absolutely do this vegetarian and with no added cheese if you really want. The rice and slow cooking process will make it creamy all on its own. However, I still recommend adding the cheese if you can. If you don't have veggies to add, I would just add a little onion powder, garlic powder and some fresh herbs, like basil or parsley, to flavor. The Calabrian Chiles are a extra little something something int his dish. They aren't crazy hot once mixed in but they do add a little warmth and almost a umami flavor.
Risotto is a Northern Italian rice dish made from short grained rice called Arborio. The way you cook it makes it taste like a creamy little pasta by the end. The key to making this is to take your time adding the liquids while continuously stirring every 20 seconds, making sure it is completely absorbed before adding more liquid.
Whenever we go out, risotto is always one of the more pricey items on a menu, so I tend to stay away and then make it at home when it is way cheaper. You can make a ton all at once and have it over the next few days. I love adding some seared scallops on top or some of my baked Italian meatballs.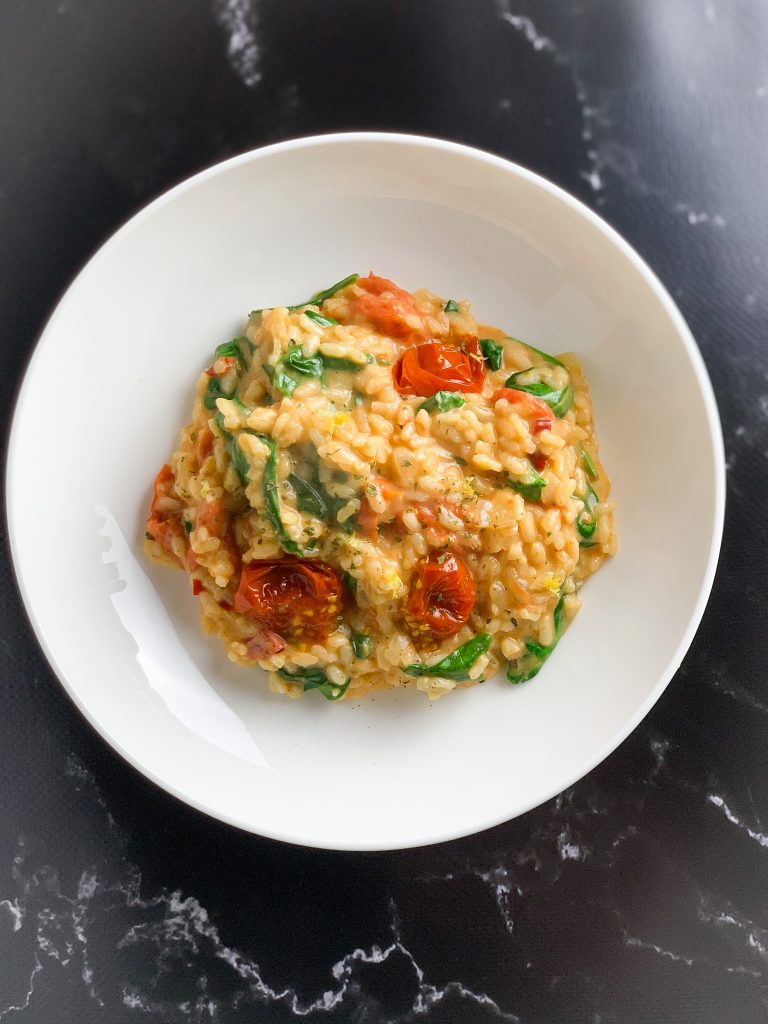 Ingredients
1 ½ cups Arborio Rice
3 Tbsp. olive oil
2 Tbsp. unsalted butter
½ cup loosely packed parsley (you will chop it later)
3 large basil leaves (chiffonade)
½ large onion finely diced
4 cups vegetable broth (warmed)
2-3 cloves of garlic minced
2-4 Calabrian Chiles minced (spicy)
1 ½ – 2 cups cherry tomatoes
A few handfuls of baby spinach
1 cup Pecorino Romano cheese
¼ cup Parmesan cheese
½ Mascarpone cheese
Zest of one lemon
Sprinkle of red pepper flakes
½ Tbsp. sea salt (may need more)
1 Tsp. black pepper
Directions
Wash your tomatoes. Get your cheese prepared. Warm your broth in a sauce pan.
Place 1 ½ tbsp. olive oil in large skillet over medium heat. Then, add in your tomatoes and sauté until the outside is roasted. You don't want it mushy. Season with some black pepper. Remove from heat.
Take another pot, I use a Dutch oven, and add the rest of the olive oil and butter. Cook onions until soft. Then, add garlic for 1-2 minutes until fragrant. You do not want to burn the garlic.
Add dry rice to pan and cook for 3-5 minutes until its nice and toasted. Right at the end, add in some lemon zest and your Calabrian Chiles, then mix.
Then, one cup at a time, add in the broth. Stir continuously until each cup is completely dissolved into rice before you add the next. Add salt, pepper, and red pepper flakes. Keep stirring until rice is cooked.
Once it's cooked, add your tomatoes in and mix. Then, mix in cheeses and herbs. Check for seasoning and adjust where needed.
Lastly, remove from heat and stir in your spinach. Serve with some extra basil on top and grated lemon zest.