I love making Baked Italian Meatballs and storing them in the freezer for future use. You just microwave them for a few minutes and add them to whatever you want. Sometimes I just eat them by themselves without anything else. Recently I made them and added them to my tomato and spinach risotto. Making your own Baked Italian Meatballs or any meatballs is great because you control what goes in them. Have you ever looked at the back of a bag of prepackaged meatballs? It's terrifying what's in some of them and also completely unnecessary.
You can totally fry these as well, but I don't in order to make them a little healthier. I used packaged Italian Panko bread crumbs. You can definitely go old school with it and use day old Italian or French bread to make your own too (that's how my mom used to make them).
I like to let the meat once mixed to sit in the fridge for an hour or so once everything has combined so that the flavors infuse into the meat. You don't have to do this, but I think it helps a bit. If you do let it sit in the fridge, make sure you remove the meat for 20 minutes before you cook to take the chill off.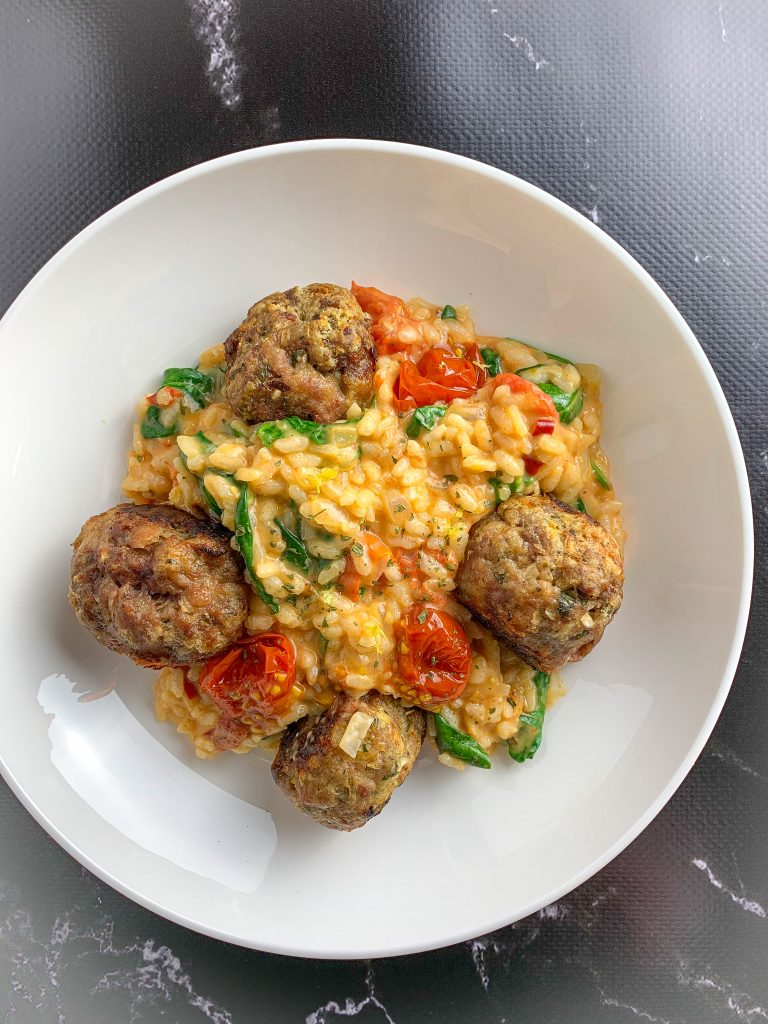 Ingredients
1 pound of ground beef 80/20
1 pound of ground pork or veal or mild Italian Sausage
½ white or yellow onion
2-3 cloves of garlic
2 eggs
2 cups of Italian Panko bread crumbs or 3-4 oz of Italian or French bread chopped up into small pieces. If you do this, allow it to soak in the milk for 5 minutes and add your eggs beaten to this and mix before adding to meat.
¼ cup loosely packed parsley
2 basil leaves
1 tsp. Italian seasoning
1 tsp. cracked black pepper
1 ½ tsp. sea salt
Sprinkle of fennel seeds if you don't use sausage
Red pepper flakes to your liking
½- ¾ cup of freshly grated Parmesan cheese
¼ – ½ cup whole milk
Spray olive oil
Directions
I prefer to mix the ingredients for the meatballs and let them sit for an hour in the fridge before I bake. I find the meat absorbs the ingredients a little better and it makes the flavors pop.
First, take parsley, basil, onion (quartered), and garlic and add them to a food processor. Turn it on until everything is finely minced. Then, lightly sauté that mix on low until the onion is soft and allow to cool down completely before adding to meat. I find this makes the flavor softer and sweeter.
If you're going to use bread, chop and soak that now. Start with a quarter cup of milk. Mix in the cubed bread squishing it into the milk. You want it to be fully absorbed and the bread no longer dry. Squishing/mixing it with your hands it usually the easiest way. Then, go to next step. If you're using Panko, just go to next step now.
Take the meat and add it to a large bowl. Add minced herbs and everything else except olive oil. Mix it with your hands, squishing it until everything appears to be evenly spread throughout. Don't over mix it. It doesn't have to be perfect. Place it covered back in the fridge for 1 hour.
After 1 hour, take out your meat. Heat oven to 400 degrees. Allow oven to be at 400 for at least 20 minutes to make sure it's evenly heated. Then, take a 17in x 11in baking sheet and line it with parchment then place a baking rack on top if you have one. This allows the air to circulate around the meatballs.
Take out meat and scoop 18 meatballs with a ¼ cup scooper. I used to just eyeball it, but the scooper is actually helpful and you get a more even measurement, which in turn the meatballs cook more evenly. Once they are all on the sheet, give them a quick spray of olive oil and bake for 20 minutes. Then, flip and bake for 20 more until they are 165 degrees internally.
If you want them to cook in a sauce pot, I recommend cooking them only 20 minutes in oven, and then add them to sauce to finish cooking.