I love Soup! It could be 90 degrees out and I'll be over here like "Pho sounds really great right now." I really love a good bone broth and veggies, but sometimes I just want something a little more cozy and creamy. My Thai Vegetable Soup was created from leftover veggies I had in the fridge. At first, I was not going to add curry paste or coconut milk, but I'm happy I did. It ended up delicious with a bright flavor. I had made some Thai Curry Meatballs a little while back (recipe on blog)and froze them. I heated a couple up and added it to my Thai Vegetable Curry Soup on the second night, it was a great addition. I love soup and stew the next day because the flavors really come together.
The measurements for the spices are me eyeballing it. If you taste it and think it needs more cumin or cilantro at the end, do it! Just remember to let it cook for a few minutes after you're done seasoning. Also, whenever you use turmeric, make sure you also add black pepper to get its anti-inflammatory health benefits, and be careful where you spill it (turmeric), because that stuff will stain pretty much anything.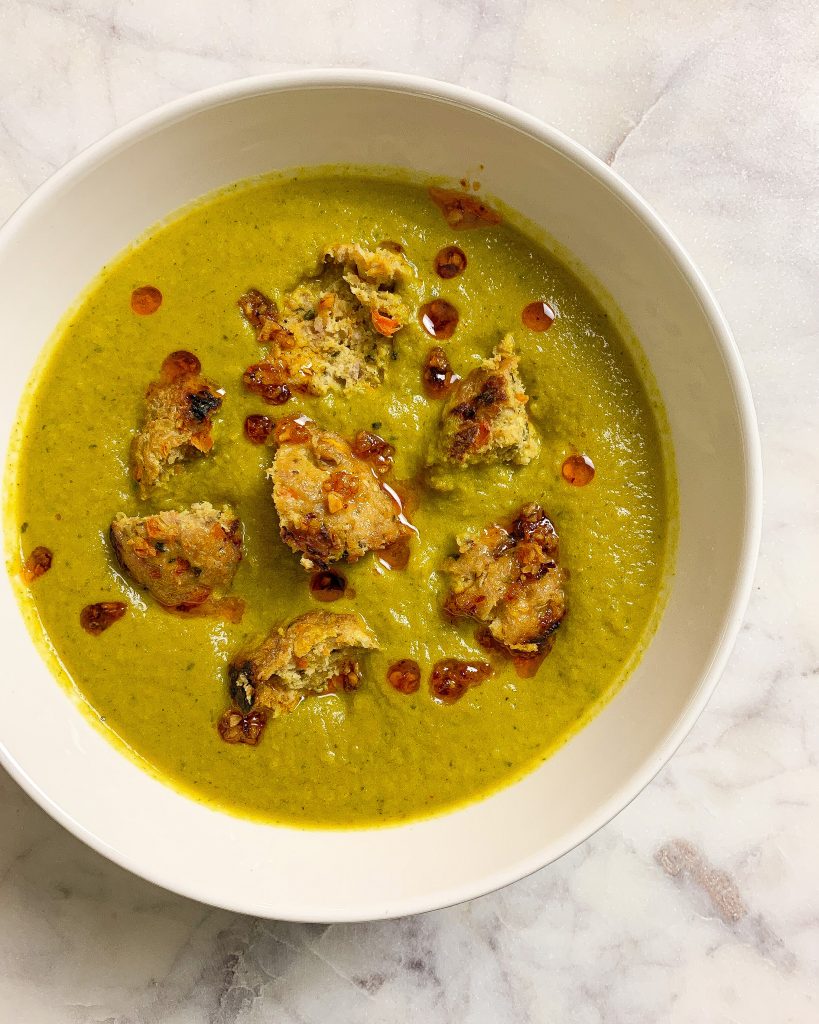 Ingredients
1 large head of cauliflower
1 sweet potato
2 carrots
½ a large onion
1 ½ inch of ginger grated
32 oz. chicken broth
¼ of a cup of coconut milk (shake it up)
4 garlic cloves
3 handfuls of baby spinach
2 oz. of red curry paste
1-2 tbsp. of chopped fresh cilantro
1-2 tbsp. lime juice
3-4 tbsp. olive oil roughly
Salt and pepper to taste
1 tbsp. Turmeric
½ tsp. cumin
½ tsp. dried basil
½ tsp. garlic powder
½ tsp. onion powder
½ tsp. umami powder (has salt in it, so monitor your salting)
1/8 tsp. cayenne pepper
Directions
Turn your oven on to 400 degrees. Cut up your cauliflower, carrots and sweet potato and add it to a large bowl. Drizzle in olive oil to coat the veggies and give it a toss. Then add your dried seasonings (Turmeric, cumin, basil, garlic and onion powder, umami, cayenne, salt and pepper) and toss it again. Once everything is coated, place it on a baking sheet for 15 minutes and then flip it and cook for another 15 minutes. Once it is nice and roasted, remove it.
In a large soup pot, preferably without a non-stick coating (if you're going to use an immersion blender) on medium heat add your onion and ginger and a little olive oil. Once your onion is soft, add your garlic and sauté for 1-2 minutes. Then add in your chicken stock and red curry paste and mix. Bring that to a simmer and then add in your roasted vegetables, spinach, cilantro and lime. Once the spinach has cooked down begin to use your immersion blender to thicken up the soup. If you have a heat safe blender, you can use that too – just do batches. I personally like to use the immersion blender and then add it to my blender to get it super smooth.
Once it's blended completely, check for seasoning, and adjust as needed. Lastly, once you take it off the heat, add in your coconut milk and serve. I like to add a little more cilantro as garnish and some crunchy garlic chili sauce.