These Korean Beef Sloppy Joes are packed full of flavor and a wonderful (dare I say better) twist on the old classic. I absolutely love Gochujang sauce, which goes into this and gives it so much of it's wonderful flavor. I highly recommend making some pickled vegetable to go on top of these sandwiches too.
It really saddens me that not until about 3 years ago did I get to experience Korean BBQ. It had been on my radar for a long time, but I was kind of intimidated to go. I brought it up from time to time as a date idea, but nothing happened. Thankfully our friend Brett was in town and invited us out for it. I was pumped! He and his close friend, Raquel, took us and showed us the ropes. It was everything I dreamed about, plus free ice cream at the end. God, I miss going out to eat, laughing and drinking and not worrying about a potentially deadly virus.
This recipe for Korean Beef Sloppy Joes makes a bunch, just an FYI, we wanted enough for 6-8 sandwiches. So you can cut the recipe in half if you're only making a pound of meat. Like any of my recipes if you try it and you want more spice or a little more sweetness, adjust as necessary.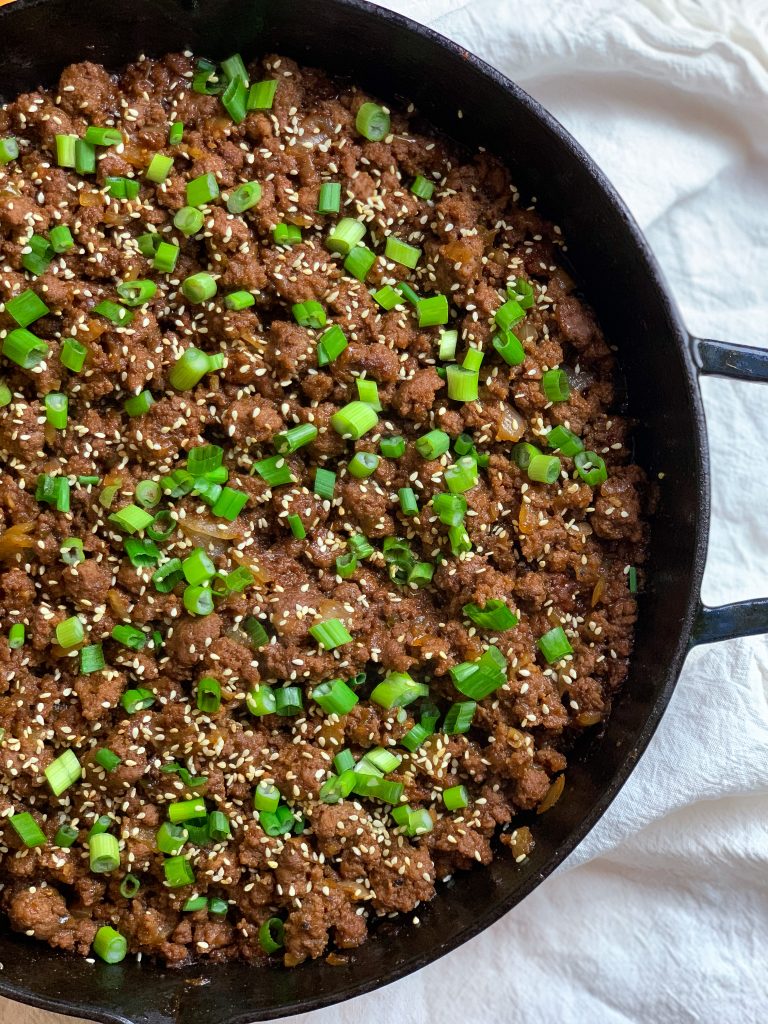 Ingredients
2 pounds of 80/20 ground beef
1 Serrano pepper seeded and finely minced
3 green onions chopped
1 onion diced
½ inch nob of ginger skinned and finely diced or grated
6 garlic cloves minced or grated
Salt and pepper
Toasted sesame seeds
¾ tsp. garlic powder
¾ tsp. onion powder
½ tsp. paprika
½ tbsp. neutral oil (veggie or peanut oil)
Sauce
1 tbsp. sesame oil
2 ½ tbsp. soy sauce
4 tbsp. Gochujang (red chili paste)
2 tbsp. Hoisin Sauce
1 ½ tbsp. sugar
1 lime juice or ½ tbsp. rice wine vinegar
1 tsp. Better than Bouillon Beef mixed with 2 tbsp. warm water then add to rest of sauce.
Pickled Veggies
32 ounce mason jar
¾ cup of rice wine vinegar or white wine vinegar
1 ½ cup of warm water
2 tbsp. kosher salt
Veggies of choice (I suggest red onions, cucumbers, carrots or radish) thinly sliced
Directions
First thing you want to do is assemble all of your stuff. Chop your veggies and mix your sauce together and set aside.
Add a little neutral oil to a large skillet (I love my big cast iron) on medium heat. Add your beef and break it up. Once it has a little color, add your onions. Cook for 6 minutes and then add in your Serrano pepper and ginger and cook for 3 minutes more. Add your garlic and cook for 1-2 minutes. Then add in your dry seasonings and mix.
Then add in your sauce, mix it together and cook on medium low for 10 minutes to thicken up. Once it's thick, remove it from the heat, garnish with toasted sesame seeds and chopped green onion. Serve on your favorite roll with some shredded lettuce and pickled veggies.
Pickled Veggies Clean your mason jar, chop/prep your veggies and add them to jar. In a separate bowl or large measuring cup mix your warm water, salt and vinegar until salt has dissolved. Pour that over your veggies to the very top. Close and shake for 1 minute. Place in fridge for at least 4 hours. If you have time, make them a day ahead for the best flavor. Every time I make them, I have just enough or too much of the vinegar mix. That's because the amount of veggies I can cram into the jar fluctuates. So if you have too much left over, don't worry. If you have to little, just add a smidge more of the water and vinegar mixture.