Wonton Soup is so delightful, comforting and easy (when you're not making the wontons, dumplings or Gyoza) to try and tackle. Last year I took this awesome course on making dumplings, Bao buns, Shao Mai and spring rolls. It was so hard and clearly an art form that you definitely can't master in 3 hours. I appreciate everyone who makes them by scratch (same goes for all my pasta grannies). Although it was challenging, it was also the tastiest class I have ever taken, because I LOVE all of those things.
I have learned over my years that being able to build a great broth is an art form. I have made some weak broths in the past during my cooking adventures. Tricks I swear by are adding a little soy sauce, miso or chicken or beef bouillon. One of those always works; it just helps enhance the flavor so much. I swear by soy sauce added to chicken noodle soup.
Below is the recipe for a quick version of Wonton Soup, I bought pre-made frozen Gyoza and used chicken stock I had on hand instead of making it from scratch. There are some wonderful and authentic Wonton Soup recipes and videos out there if you're interested in making them.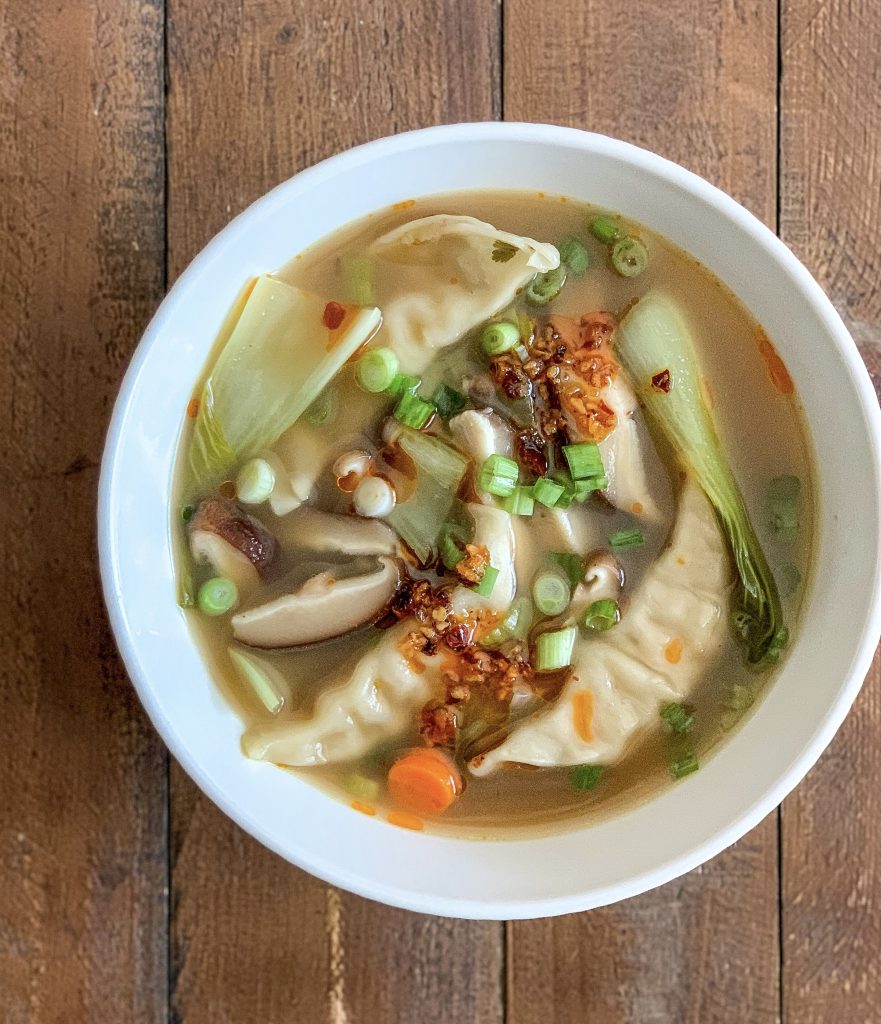 Ingredients
1 Carrot chopped
2-3 Green Onions chopped, about ½ cup
Handful of cilantro chopped
1.5 inch nub of ginger, peeled and run it over a micro plane or finely minced
½ white onion sliced
1-3 garlic cloves
1.5 Tbsp. Sesame Oil
1.5 Tbsp. Low Sodium Soy Sauce
1 Tbsp. Light miso paste
5 oz Shitake Mushrooms
8 Cups of Chicken Broth
2 heads of baby Bok Choy cleaned and either kept whole or chopped
16oz. package of Wontons, Gyoza or dumplings
Salt and white pepper to taste
Extra: Chef Troy's Crunchy Garlic Chili Sauce to drizzle on top (It's so good).
Directions
You will need two pots for this, one to make your soup base and one to cook your wontons/dumplings/gyoza. You want to cook them separately and you don't want to add them to the soup until ready to serve because they get slimy.
Bring a pot of water to a boil. While that's happening get your veggies cleaned and ready.
In your other pot over medium heat add your sesame oil and sauté your mushrooms to soften but not caramelize, about 2 minutes. Then add in your, ginger, carrot and white onion. Cook this lightly for just a few minutes then add the garlic and miso paste and mix. Cook for 1 more minute and then add in your chicken stock and soy sauce and bring to a simmer. I like to let it cook for about 10 minutes then give it a taste for seasoning and adjust.
You can add in your bok choy for the last few minutes to cook. You can also cook it separately in a pan and sauté it with a little oil and some soy sauce and garlic and serve it on the side instead. Your call.
Once the stock has been cooking for 10-15 minutes and the carrots are softened, drop your dumplings in their pot of water and cook according to their directions.
Right before serving I personally like to add most of the cilantro and half of the green onions into the soup. I think it gives it a little more flavor. Then I use a little to garnish each bowl when I serve.
Ladle your broth into a bowl, add in a few wontons and garnish with cilantro and green onion and give it a drizzle of that delicious garlic chili sauce.
Enjoy!