There is nothing I love more than a 10 minute meal. Some of my favorite pasta dishes are made in the amount of time it takes to boil the noodles. This Lemon Alfredo Pasta is one of them. It doesn't always have to be complicated. I do make a lot of my own sauces, but sometimes I see one on the shelf at the store, and I have to give it a try. I recently saw Trader Joe's had a Limone Alfredo Sauce, so I picked it up. Last night I was feeling lazy, so I busted it out.
You can just use the sauce just from the jar though I would recommend using some of the starchy pasta water though when mixing the pasta with the sauce. I wanted to jazz up my Lemon Alfredo Pasta so I added a cup of frozen peas, two handfuls of baby spinach and a can of Italian diced tomatoes. I always have frozen fresh basil and parsley in olive oil cubes in the freezer, so I popped one of each of those in which gives me a tablespoon of each and added a little fresh cracked pepper, red pepper and a sprinkle of Parmesan cheese.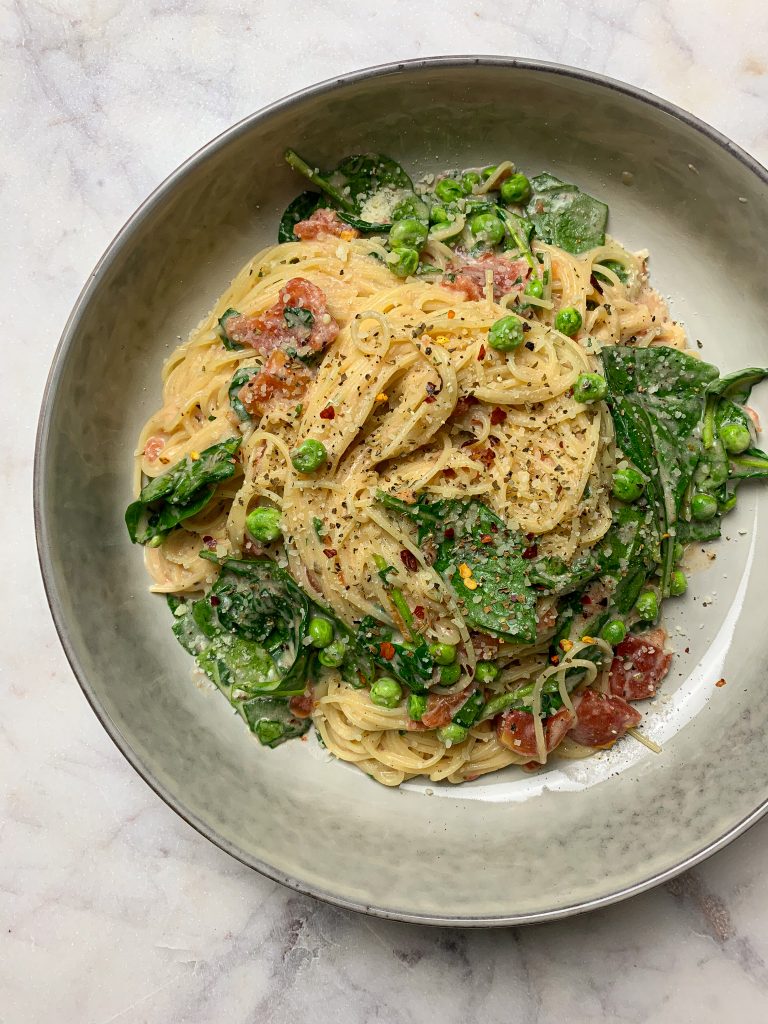 Ingredients
1 package of spaghetti or angel hair pasta
1 jar of Limone Alfredo or just Alfredo and add lemon zest
1 can of diced Italian tomatoes
1 tbsp. basil
1 tbsp. parsley
2 cups baby spinach
1 cup frozen peas
1 tsp. garlic powder
Salt and pepper
Red pepper flakes
½ cup starchy water
Directions
While you bring a large pot of water to a boil (salt once it comes to a boil) add your Alfredo and the rest of the ingredients to a pan and heat up. When the pasta is done (cook to al dente) take it out and add it directly to pan, don't drain. Mix it well, taste and adjust for seasoning and add more water to thin it out if needed.