Honey Glazed Root Vegetables are simple and absolutely delicious. Who would have thought coating a vegetable in honey, butter and some red chili flakes would be so good?
We had some extra carrots, radishes and beets from the previous week, and I wanted to use them for something before they went bad. I recently had some type of honey carrots while out at a restaurant, and it inspired me to create this dish. I decided to take it to the next level by adding a variety of vegetables and upgrading the sauce with herbs and a little heat.
I hope you enjoy these honey glazed root vegetables as much as I did.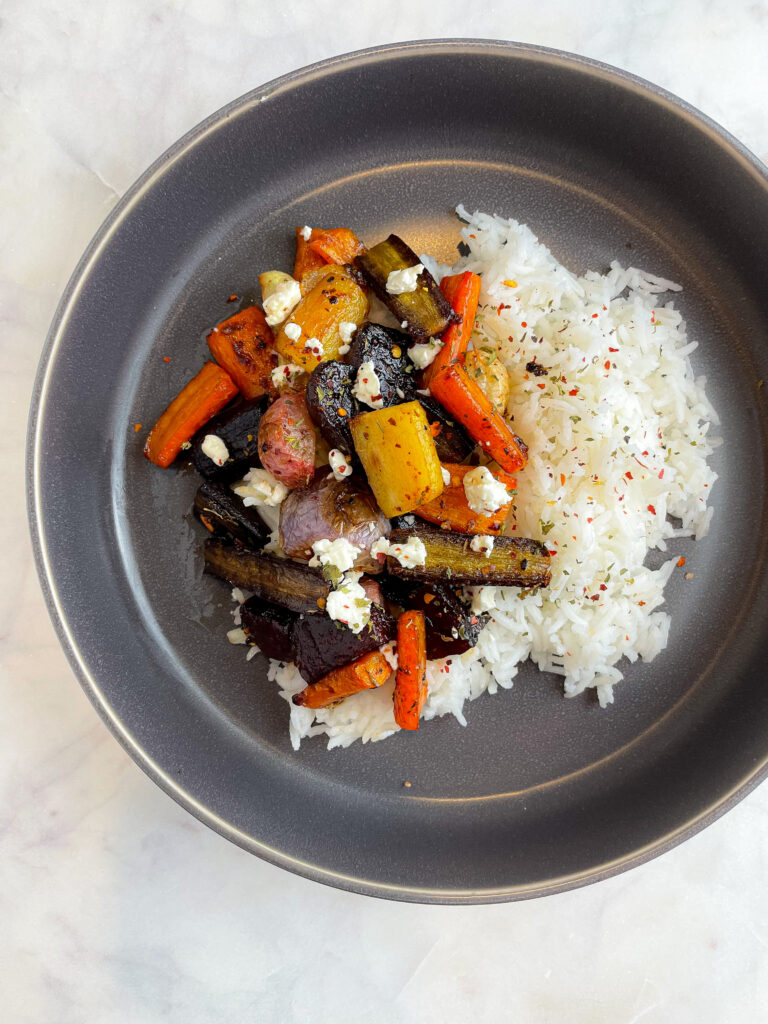 Ingredients
1 lb. carrots, peeled, halved and cut into 1 inch pieces
1 lb. radishes, halved (about two bunches)
8 oz. of steamed, peeled and diced beets (I get ones already done at Trader Joe's and just dice them). You can do them yourselves by roasting or just wash, peel, dice and lightly microwave them for 5 minutes drizzled with a little olive oil covered in a bowl with plastic wrap with a few holes poked in it.
¼ cup unsalted butter
3 Tbsp. honey
1 tsp. dried thyme
¼ tsp. sea salt
A few cranks of fresh ground pepper
¼ tsp. red pepper flakes or two Calabrian chili peppers finely minced
½ tsp. onion powder
3 Tbsp. crumbled honey or herb goat cheese
Directions
Preheat oven to 425˚ F. Wash, peel and chop your carrots into 1 inch pieces. Wash and cut your radishes in half.
Add butter to a large pan on medium low heat. Once the butter is melted, add honey, thyme, chili or red pepper flakes and mix. Let that cook for about two minutes. Turn off and toss your carrots and radishes in it (save the pan with the sauce to heat up beets). With a slotted spoon, remove carrots and radishes and lay them flat side down on a parchment lined baking sheet. Sprinkle with salt and pepper and place in oven for 15 minutes. After 15 minutes give them a toss and cook for 15 more.
After you flip those, take the diced beets and add them to the pan with the honey glaze to warm up. When the carrots and radishes are done cooking, add them back to the pan with the beets and coat once more. Remove them to a bowl and sprinkle with goat cheese.