Butternut squash and mushroom risotto is pure comfort food. When I think of the colder months, I think of comfort food. A meal that is going to fill you up, make you feel cozy even when the outside world is cold and dreary.
The roasted butternut squash bring sweetness to this dish while the caramelized shiitake mushrooms round it out with their delicious buttery and earthy flavor. I love trying new cheese combinations when I make risotto and that's what I did here with the crumbled Gorgonzola. The Gorgonzola brings a little something extra to the dish that makes it stand out. None of the flavors overpower the other but come together to create a really nice savory risotto. I hope you enjoy this butternut squash and mushroom risotto.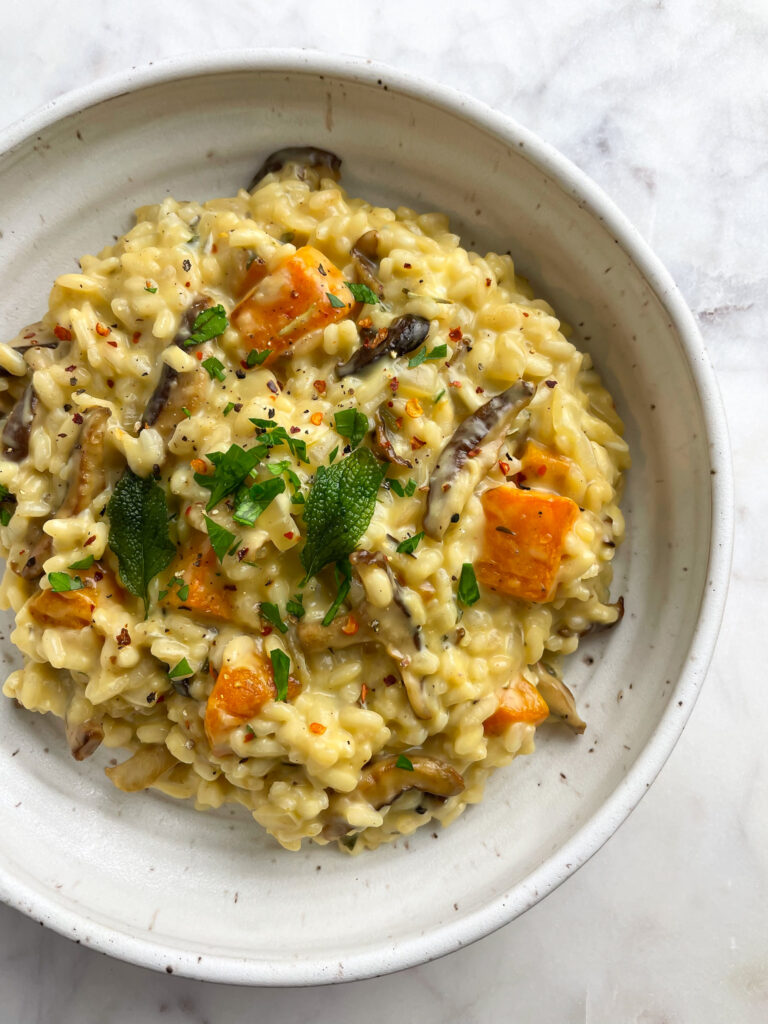 Ingredients
1 ½ cups Arborio Rice
1 medium butternut squash ¾ inch cubed roughly (about 2.5-3 cups)
2 Tbsp. butter divided
2 cloves garlic minced
5 oz. package of Shiitake Mushrooms
½ large yellow onion finely diced or two shallots
4 cups chicken stock or broth
½ Tbsp. fresh thyme removed from stem
½ Tbsp. fresh sage chopped
1 Tbsp. fresh parsley chopped for garnish
¼ cup of dry vermouth or dry white wine or more chicken stock
1 cup fresh grated Parmesan cheese
½ cup crumbled Gorgonzola cheese
Salt and pepper to taste
Seasoning for squash (roughly)
1 ½ Tbsp. olive oil, enough to coat squash
½ tsp. sea salt
½ tsp. paprika
½ tsp. onion powder
½ tsp. rosemary
½ tsp. thyme
Sprinkle of red pepper flakes
Couple cranks of black pepper
Directions
Preheat your oven to 400˚F, peel, seed and chop butternut squash into small cubes. Toss it in olive oil and then sprinkle it with seasonings. Lay out in one layer on a baking sheet. Roast for 15 minutes then remove it and give it a toss and cook for 15 minutes more.
Once you have tossed your butternut squash you can start with the next part. In a small pan warm up your broth on low. You will be adding that to your rice later.
In a separate large pot or Dutch oven over medium heat add 1 Tbsp. of butter and half of your mushrooms. You want to cook in two batches so that the mushrooms have space to caramelize. Allow the mushrooms to cook till caramelized about 3-4 minutes each side. Sprinkle with a little salt right before they are done. Do the same for the other half and then remove and set aside.
In that same pan you cooked your mushrooms, add in your onions to soften. Once they are soft, add in your garlic to cook till fragrant (only a minute or two). Now add in your rice and mix. You want to toast the rice a little to give it a nice golden color. This will take just a couple minutes; don't forget to stir it so it doesn't burn. Sprinkle with a little salt and pepper towards the end. Once it's nice and golden we want to deglaze the pan with our ¼ cup of dry vermouth/wine or stock. Pour it into the pan and scrape the bottom of the pan to get up any crispy bits.
Check your squash in the oven it should be about done. Remove and set aside. Sometimes I just turn off the oven and leave it inside to keep warm. Just make sure it doesn't burn it.
Back to the rice, now start to slowly add in the 4 cups of chicken stock. You do this 1 ladle at a time. You will continuously stir the rice until the liquids are fully absorbed before you add the next ladle. This takes about 15 minutes. Once all the liquids are absorbed and the rice is cooked take it off the heat. Now add in your fresh herbs and mix. Then sprinkle in your cheese and mix again. Lastly mix in your squash and mushrooms. Taste for seasoning and adjust.
Garnish with some fresh herbs, I also flash fried some pieces of sage because I think it looks pretty.