This Roasted Brussels Sprout and Butternut Squash Salad might be my favorite salad in existence. It's perfect for the cold months and holiday season but I find myself making it all year long. You can't go wrong with roasted veggies. If you hate veggies, ROAST THEM!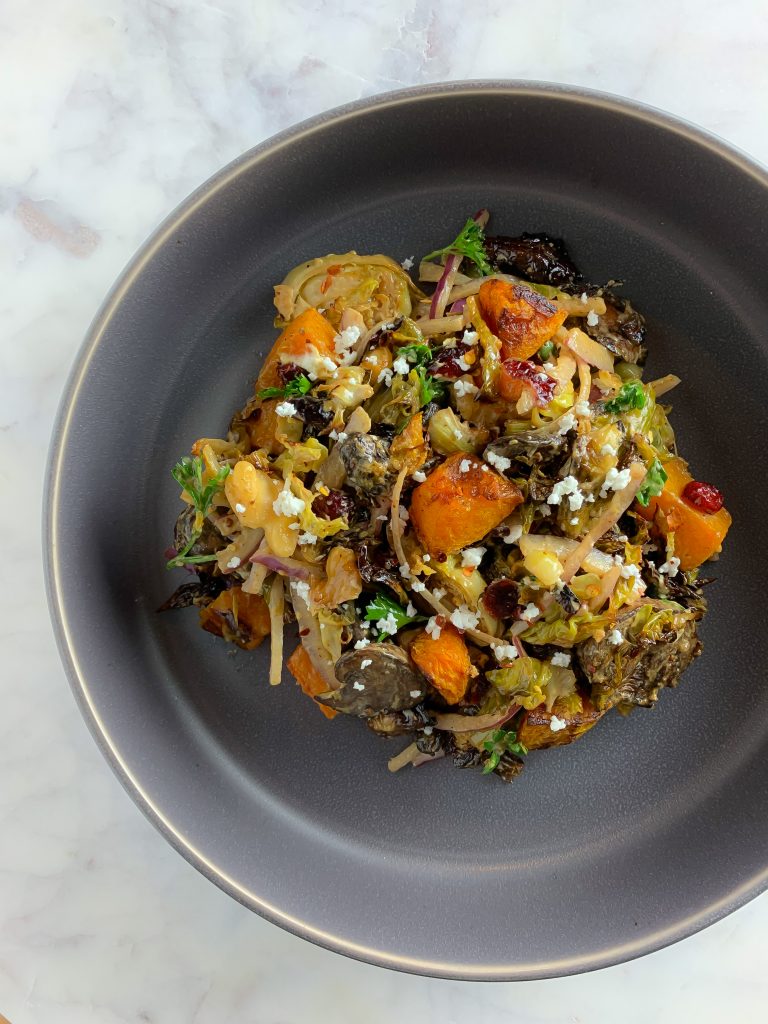 Roasted vegetables are amazing by themselves and go deliciously mixed together as a salad. This is a pretty easy salad to assemble and it's packed full of flavor. The dressing really pulls it all together and the chili powder on the butternut squash just slaps. Roasted Brussels Sprout and Butternut Squash Salad can be served as a main course or as a side; this would go fantastic at Thanksgiving or Christmas time.
I usually make the roasted veggies in bulk, so I can eat it over a few days. If you want to do that, I recommend that you only add the dressing as your about to serve it and save the leftovers dry. I heat up the leftover Brussels and Squash and then toss with all the other cold ingredients and add the dressing. That way everything doesn't get mushy. The dressing stays great to for a few days in the refrigerator.
Remember when your roasting veggies you give them space and don't over crowd the sheet pan. If you do they will steam and not get as crispy. The difference in texture and taste is worth honoring that rule. Also don't forget to rotate your sheet pans if you put two in at the same time.
Ingredients
Butternut Squash
1 medium butternut squash, peeled, seeded and cut into 1 inch cubes
2 tbsp. olive oil
1 tsp. chili powder
½ tsp. onion powder
Sprinkle of cayenne pepper
Salt and Pepper
Brussels Sprouts
3 cups of sliced sprouts (if they are big I cut in 4th if they are smaller 3rd)
1 tbsp. olive oil
½ tsp. garlic powder
½ tsp. onion powder
Salt and pepper
½ tsp. dried thyme
Mushrooms (optional but highly recommend)
1 tsp. olive oil
1 cup of sliced mushrooms
1 tsp. balsamic glaze
Salt and pepper
Other Ingredients for salad
Toasted walnuts or pecans (optional and rough chop after you toast)
Dried cranberries
Goat cheese (regular or herb)
¼ thinly sliced red onion (rinse under water and dry)
Parsley
Apple Cider Vinegar Dressing
½ tsp. onion powder or 1 small finely minced shallot
1/3 cup extra virgin olive oil or avocado oil
¼ cup apple cider vinegar
2 tsp. Dijon mustard
2 tsp. honey
½ tsp. salt
¼ tsp. black pepper
Directions
Toss your veggies in olive oil and season. Lay them out onto a baking sheets and roast at 425˚ for 25 minutes. Pull them out, toss and put back into the oven for another 20 minutes (make sure you rotate your sheet pans, top to bottom and bottom to top).
Heat up your nuts on low in a skillet until fragrant about 8 minutes. Just lay them out evenly and flat and let them heat up.
Cook your mushrooms in one layer over medium heat with olive oil until nice and browned about 5-8 minutes. Just let them sit, don't mess with them, only flip once when that first side is browned. Once they are browned on both sides add your salt and pepper and mix. Then add your balsamic glaze to cook for another 2 minutes till absorbed. If you don't cook the mushrooms you can add a little balsamic glaze as a finishing touch on your salad instead.
Add all the ingredients of the dressing into a bowl and whisk very well, I prefer a side to side method instead of in circles. Taste for seasoning and adjust.
Now mix everything together with the dressing. Use cranberries, goat cheese, nuts, and parsley to your discretion. I love goat cheese, so I go heavy. Remember, you can always add more, but you can't really take it out. Allow to sit all together for a few minutes so the dressing absorbs and serve!