Tuscan White Bean Soup is a simple and hearty soup that you can make in 30 minutes. This recipe is a great vegetarian option, but it can also easily be made with some delicious spicy sausage. Whichever you choose to do, you will not be disappointed.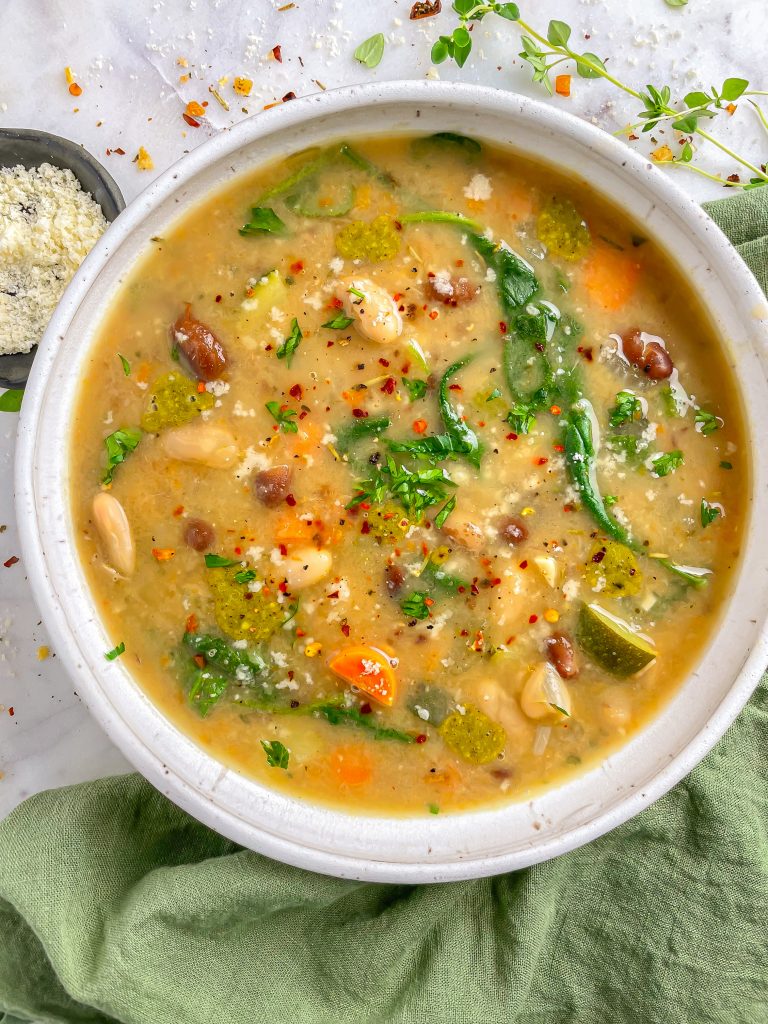 Since we don't get a real winter here in Southern California, I bring the winter to me with warm and hearty soups, stews and crusty rustic bread. The best part is that soups and stews are pretty easy and usually make a ton of food, so they are perfect for food prepping for the week. The also freeze well for future consumption when you don't feel like cooking.
Some recipes for this soup call for cream to thicken it. For this recipe, I blend some of the soup to give it a nice creaminess. You totally can add a ¼ cup of heavy cream or coconut milk in addition to blending it to make it even creamier, but it's not necessary. You do you baby!
If you love white beans and all-things Italian, I suggest you give my Cannellini Beans and Broccoli Rabe a try.
Ingredients
2 cans of Cannellini Beans drained and rinsed
2 Tbsp. olive oil
3-5 cloves of garlic minced
1 onion diced
2 big stalks of celery diced
1 large carrot diced
1 zucchini diced (optional)
6 cups of chicken or vegetable broth
2-3 cups of baby spinach
2 Italian sausage links if you want meat. (I like regular or spicy. I remove from casing and brown it in the pot before I cook the veggies. I set it aside on a paper towel to drain the oil while I do the rest and add it back in when the veggies are done softening. You can use a little of the oil to cook the vegetables in or you can wipe it out of the pot and add olive oil).
Parmesan cheese
Parmesan cheese rind if you have one handy, if not, no big deal. I like to save mine in the freezer to toss in soups.
1 ½ Tbsp. Better Than Chicken Bouillion or vegetable version
1 ½ Tbsp. dried rosemary or a couple of fresh rosemary sprigs (remove them before you blend soup).
2 bay leaves (remove before you blend soup)
A few sprigs of fresh thyme (remove before you blend soup)
½ tsp. onion powder
Red pepper flakes to taste
Salt and pepper to taste
Parsley, Pesto and Parmesan Cheese for garnish
Directions
In a large Dutch oven or soup pot on medium heat, brown your sausage and set aside on a paper towel to drain excess oil. If you are not using meat skip that step and start by adding your olive oil to the pot. Add your carrots, onion and celery to soften. Once it has softened (3-5 minutes) add your garlic and zucchini for another 2 minutes.
Now, (add your sausage back in if your using it) add to your pot your seasonings: salt, pepper, thyme, rosemary, onion powder, bay leaves, Parmesan rind and mix together. Pour in your broth and bouillon and stir. Bring this to a boil. Once it comes to a boil add your beans and lower it down to a simmer for 15 minutes.
Once the 15 minutes is up (if you didn't add a Parmesan rind you can add some grated Parmesan cheese now, ¼ to ½ a cup). Check your soup for seasoning and adjust if needed.
Now, it's time to thicken it by blending some of the soup. Remove your cheese rind, bay, fresh rosemary and thyme before you blend it. If you use dried rosemary and thyme, you can leave it. Remove two cups of soup into a heat safe blender and blend. Add it back to the soup and stir. This will thicken it up. You can also use your immersion blender to do this. Blend it to whatever consistency you like. If two cups doesn't make it thick enough for you, do a little more. I like to have it 50/50. This is also the time to add your heavy cream or coconut milk.
Cook for another few minutes and then take it off the heat and mix in your baby spinach. It should wilt pretty easily into the soup.
Sprinkle with some fresh parsley, cheese and a drizzle of pesto. Serve with some crusty bread to dip.