Easy Baked Gnocchi is a simple weeknight meal or the perfect dinner idea for when you are having company over. It looks beautiful with very minimal effort, you're going to love it. Serve it with a simple salad and some crusty toasted bread and you have the perfect meal.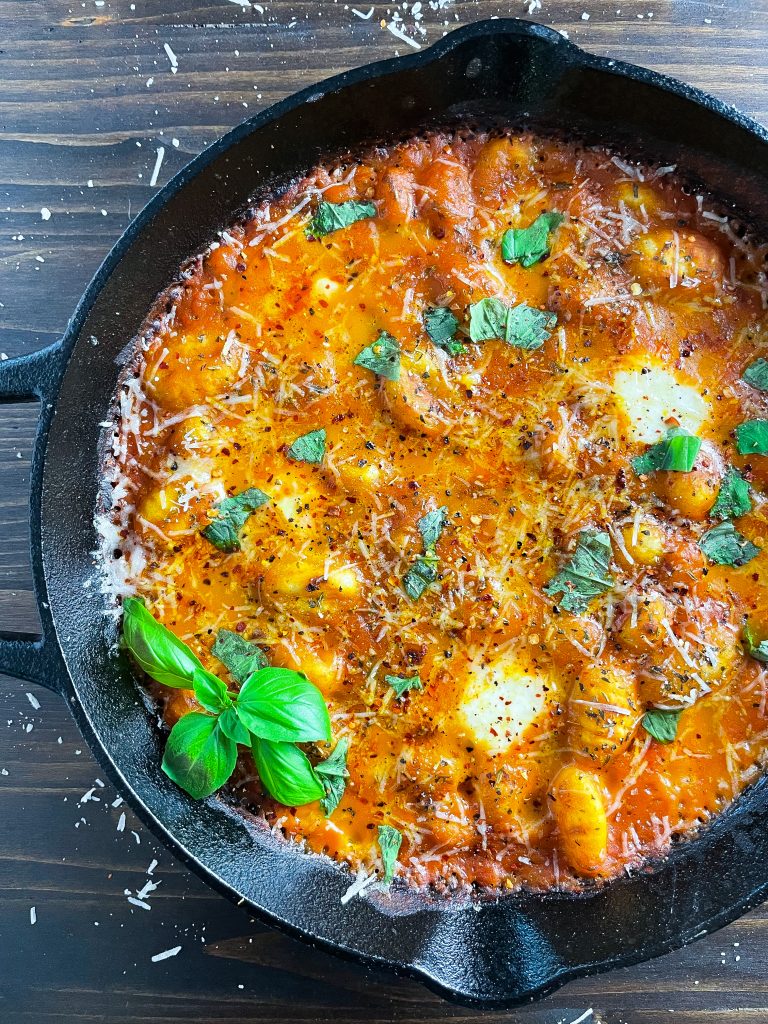 Ingredients
Package of gnocchi (16-18 oz.)
Jar of your favorite red sauce
Mozzarella balls
Parmesan cheese
Fresh basil
Cracked red pepper
10 inch cast iron skillet
Bread Crumbs (optional but highly recommended)
1/4 cup of Italian panko breadcrumbs
1- 2 Tbsp. olive oil
Directions
To make the bread crumbs heat up your skillet and sprinkle enough breadcrumbs to coat it. Drizzle some olive oil, 1-2 tbsp over the top of the breadcrumbs and mix. Cook over medium heat, stirring regularly until they are nice and toasty. Set aside.
Turn on your oven broiler. In a small pan or pot, heat up your jar of sauce over low heat. I always add a little splash of water and mix it in. In another pot, bring water to a boil to cook your gnocchi. When the water starts to boil, salt it and add in your gnocchi. Cook it per the instructions on the packaging; it should only be a few minutes.
Remove and drain your gnocchi. Grab your cast iron and ladle in some of your sauce. Then add your gnocchi and more sauce and mix. The sauce should coat the gnocchi and fill the pan. Now place about 8-10 little mozzarella balls around the skillet and grate some Parmesan cheese on top.
Place it inside of the oven until the cheese has melted and the top gets a little toasty. Everyone's broiler is different, so just keep an eye on it. Pull it out and sprinkle it with some torn basil, more Parmesan, red pepper and toasted bread crumbs.