Fancy Instant Ramen is my new favorite thing to make when I don't know what to make. It was a big thing last year – all over TikTok – and since then, it's the only way I make it. With only a few little additions to your instant ramen, you can have Fancy Instant Ramen at home.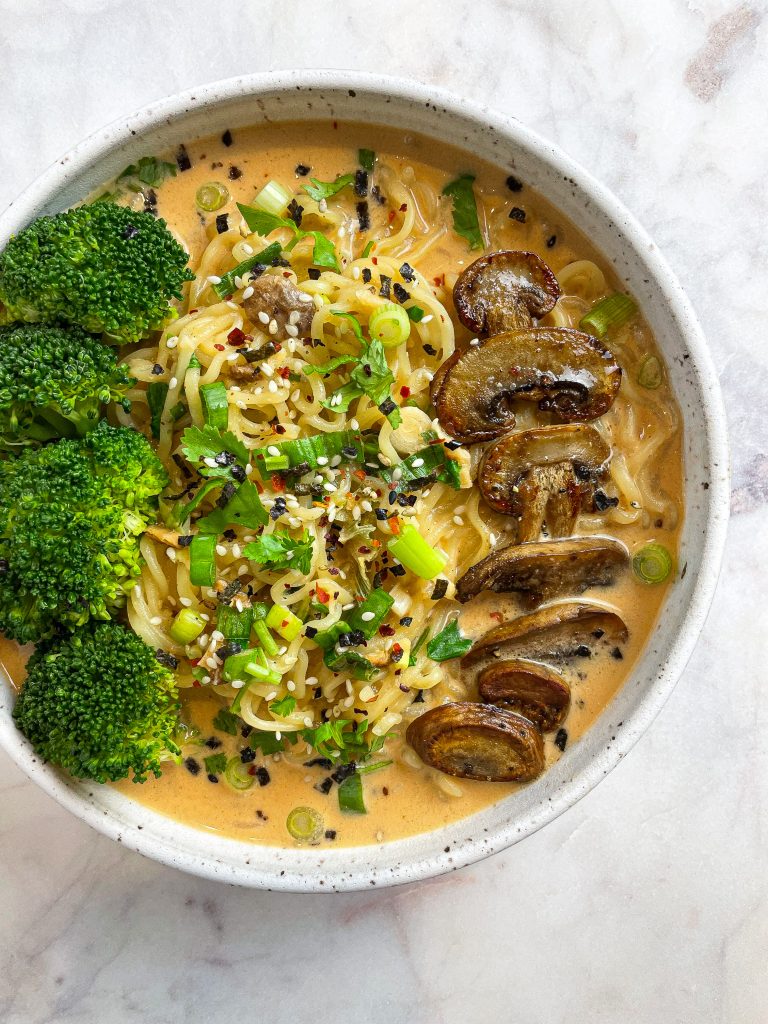 If you're like me, your first experience with ramen unfortunately was in college using it as a barter system. I consumed insane amounts of instant ramen and instant noodles that first year. How I don't have high blood pressure is beyond me. Because of that, I couldn't look at it or eat it for years.
It wasn't until I moved across the country that I got to experience true authentic ramen, and it was a life-changer. Other than the noodles it's completely different, it's incredible. It just wasn't easily available when and where I grew up. Now, there are wonderful places all around me in California. Ramen is my go to take out comfort meal. If I'm sick, tired, dealing with a hangover or just in a mood, I will go and get some ramen.  It instantly lifts my spirit and usually puts me into a great place to take a nap.
If you haven't had instant ramen like this, I highly recommend giving this TikTok-inspired Fancy Instant Ramen a try. Is it as good as your local ramen spot? no! However it's a great way to jazz up your instant ramen.
Ingredients (2 servings)
2 eggs room temperature
2 packages of instant Ramen, I personally like NongShim Spicy or Black Noodle
Sriracha if you don't use a spicy instant ramen and want some heat. Use to your discretion.
Any sautéed veggie you like, broccoli, bok choy, cabbage, snap peas, mushrooms, spinach
2 Tbsp. Kewpie mayo
½ tsp. garlic powder or 1-2 finely minced garlic cloves
1 Tbsp. white miso paste
1 tsp. soy sauce
½ tsp. sesame oil
Green onion diced
Cilantro (optional)
Furikake Seasoning
Sesame seeds (if you don't have Furikake)
Directions
I like to cook my vegetables ahead of time. I usually just sauté them with a little olive oil, garlic and salt or blanch them and lightly season. Then at the end I just add them into the warm broth to heat up. If you like mushrooms, I have a great sauce I love to cook my mushrooms in here, it just takes a few extra steps ahead of time, but I promise they are DELICOUS.
Bring 5-6 cups of water to a boil. The ramen packets usually say just 2 cups, but I like more broth. Adding the extra seasonings helps make it flavorful and not bland, so you're ok using extra water.
While that's coming to a boil, take your eggs, miso, mayo, garlic, soy, sesame, Sriracha (if you're using it) and spice packet from your ramen pack and mix together in a large bowl. I usually use my 2.5 qt. Pyrex mixing bowl for this.
Drop your ramen noodles to cook in boiling water. It should take about 3 minutes to cook, but look on your package for the proper directions.
While they are cooking, start slowly pouring a cup and a half of hot water from the boiling pot into your egg mix. You want to slowly but aggressively mix that together with a whisk. This will temper your eggs so that they don't scramble when you add the noodles and broth together at the end.
When the noodles are done, add the noodles to the bowl and mix. Then add your cooking water to your mixture and mix together. Toss your veggies in to heat up. Give it a taste and adjust for seasoning; add more sesame or soy if you want.
Portion it out into two bowls and garnish with green onion, cilantro and your Furikake seasoning.