I saw the most beautiful colored pasta dish come across my feed on IG the other day by @isabellagambuto. I rushed to the store to gather the ingredients and really recommend you do the same. Visit her page www.isabellagambuto.com, she's pretty rad and shares a lot of tasty things. I took the base of her sauce and added my own spin on it by adding a few things I had around the house. Either way, you can't go wrong.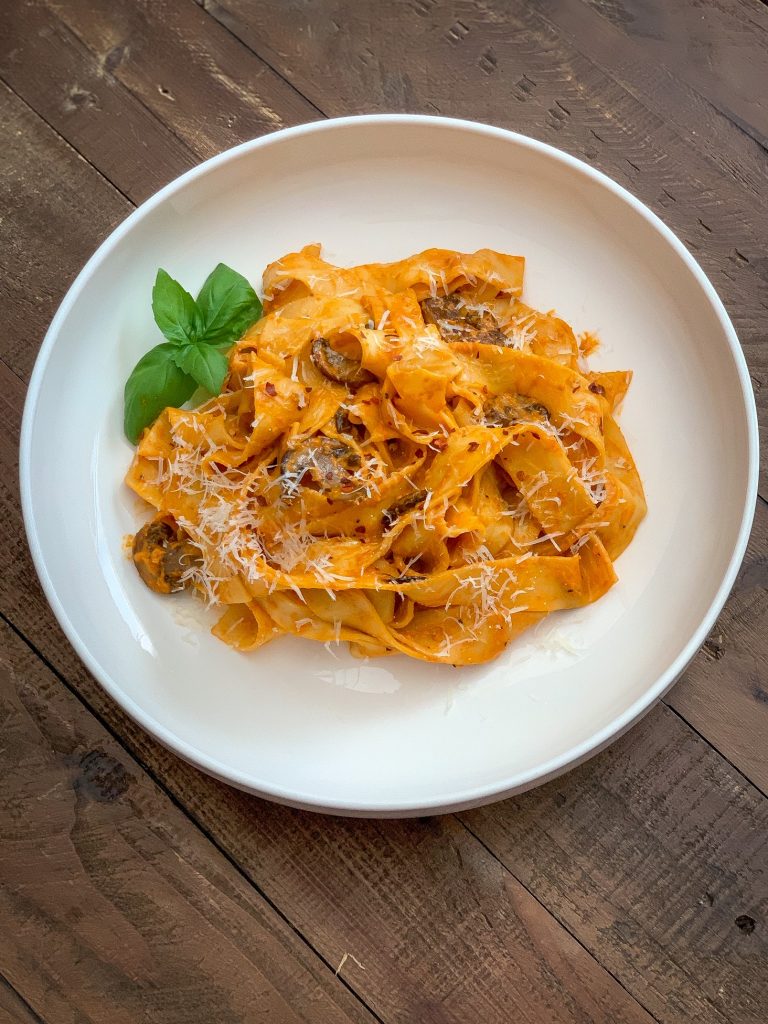 Additional Ingredients
1 package of crimini mushrooms sliced
1 room temp stick of unsalted Kerry Gold butter
3 pints of sungold tomatoes, I couldn't find any so I used the mixed cherry tomatoes which had sungolds in it. It didn't have as bright of a orange color but was gorgeous non the less.
1 tbsp. olive oil
½ of a yellow onion thinly sliced or one shallot
¼ tsp. thyme
4 cloves of roasted garlic
¾ cup shaved Romano cheese
Fresh Basil
Cracked black pepper and salt to taste
Red Pepper Flakes
1 lb. pasta, I chose Pappardelle
I think sweet peas or summer corn would be a great substitute if you are not a mushroom fan.
Directions
Roast a head of garlic. You can do this ahead of time by setting oven to 400 degrees. Peel the outside protective layer of garlic skin off. Keep the skin still on the remainder of the garlic so it's still intact. Chop off the very top of the garlic exposing the cloves slightly. Place this on top of a piece of tin foil and drizzle some olive oil over the garlic with a sprinkle of sea salt. Wrap it up and bake for about 40 minutes. It should be browned and squishy. Set aside to cool.
Once that is done set your temp down to 300 degrees to prepare your sauce.
Slice all of you tomatoes in half and lay them skin side down on a large baking sheet and cook for 1 hour. You don't need to season them. If you have to spread them on two baking sheets, make sure you rotate them on the racks halfway so they cook evenly.
While that is cooking heat a large pan over medium heat add half your olive oil and add sliced onions and slowly cook for 20 minutes until very soft. Then set aside.
Bring water to a boil to prepare to cook your pasta
While you are waiting for your water to boil add in the remainder olive oil and brown your mushrooms for another 20 minutes. Once they are browned add in the thyme and a little salt and pepper. Cook for another few minutes. You do not want to add salt to soon; if you do, the mushrooms won't brown right. Once they are finished, set aside.
Salt water and put pasta in it to cook
Once your tomatoes are ready add them, butter, 4 roasted garlic cloves, sautéed onion and some salt and pepper to your food processor or blender. Turn on until creamy.
Remove pasta once cooked, preserving 1 cup of pasta water.
Add pasta, sauce, mushrooms, basil, cheese to pot and mix. Add pasta water if needed to thin it out. I needed all of the sauce and pasta water to cover my pasta. Garnish with more cheese, basil and red pepper flakes.