Aren't they just so pretty? I'm not going to lie. This isn't an "original idea." I have definitely seen enchiladas presented this way before on Pinterest. It's a genius idea if you're like me and enjoy both red and green sauce with your enchiladas. My husband usually prefers green, but with the mixture, he didn't mind having the red too. I personally don't love corn tortillas unless they are deep fried (chips). It's just something about the texture… I don't know. Therefore, these ones are made with big flour tortillas. If you're thinking 'oh no, won't they get soggy?' They do not because unlike traditional style, you don't dunk them in the sauce. You just gently spread some on when you assemble, and they don't get over saturated.
I also have a recipe for a green enchilada casserole/lasagna, and it is FIRE. It weighs about 10 pounds when assembled, and it's not for the faint of heart (there's so much cheese). I will post it on here one of these days. Matt's mom is the one that turned me onto chicken enchilada casserole. Whenever I make either of these, I usually will go ahead and make a few batches and then freeze them for future use.
If you're going to make a few and freeze them, I personally don't freeze it with the toppings like the pico de gallo and sour cream. Instead, I will buy those fresh again when I want to cook the frozen one. I freeze it in a glass container (not baked, just assembled) and then will take it out about 45 minutes before I want to cook it to get the chill off so the Pyrex doesn't break in the oven.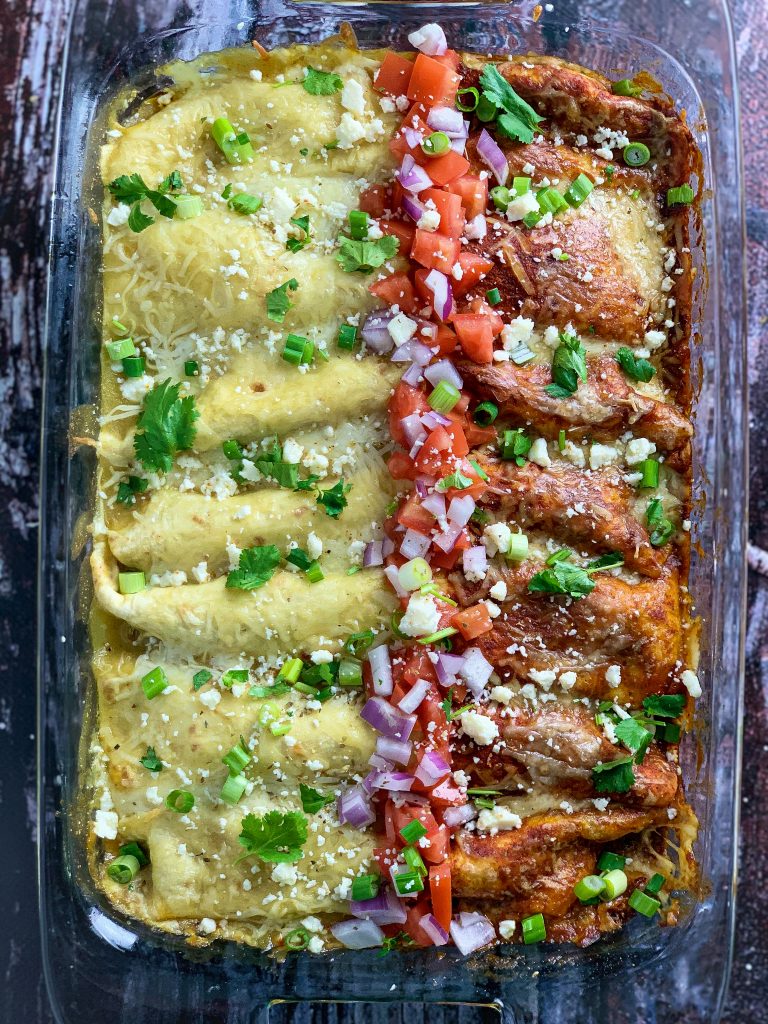 Ingredients
2 large chicken breasts (boneless/skinless)
½ large onion sliced
1 clove of garlic minced
19 oz. green enchilada sauce
19 oz. red enchilada sauce
7 oz. diced green chilies
1 cup broth if using the Instant Pot (½ cup for crock pot)
1 tbsp. taco seasoning
½ tsp. salt if your taco seasoning doesn't already have salt added
10 oz. shredded Monterey Jack cheese
1 package (10 ct.) large flour tortillas
Pico ( you can buy it freshly made at the store usually or make your own)
1/2 red onion diced and rinsed
½ cup of chopped cilantro
2-3 seeded and diced Roma tomatoes
Squeeze of 1/2 a lime
1/4 tsp. salt
1/4 tsp. garlic powder
1/2 jalapeno seeded and finely diced (optional)
Garnish
Cotija cheese
Sour Cream
Green Onion
Cilantro
Directions
Turn oven on to 350 ˚ F to bake.
I made my chicken in the Instant Pot (IP) because it was frozen. Take your chicken and added it on top of the trivet that comes with the IP, then add chicken broth to the bottom and add half of the taco seasoning to the top of the chicken. Set it to 10 minutes with 5 minutes natural release. After opening the IP, remove the chicken, shred it, and place back into the IP on sauté function with the rest of the taco seasoning, can of green chiles and onion and cook it for 3 minutes. Next, add the garlic to cook for 1 minute. Bring it back up to pressure for 2 minutes to infuse the flavors and do a quick release. If you don't have an IP, use whatever you normally would to make shredded chicken, crock pot or stove top. Just make sure you mix it all together with the seasoning, green chiles, onion and garlic to cook and infuse the flavors.
Once that's done, it is time to start assembling the enchiladas. First, take a little green and red sauce and spread it on the bottom of your 9×13 inch baking dish, just a thin layer. To assemble the enchiladas, take a flour tortilla and add a little green and little red sauce to it and spread it all over. Then take a few scoops of chicken and spread it out on the part of the tortilla closest to you and sprinkle with cheese. Roll it up and lay it in the baking pan, seam side down. Once they are all assembled, add the green sauce down one half starting from the middle and working your way out and then do the same with the red. It doesn't have to be perfect; your pico de gallo will cover any imperfections. Then, give it a sprinkle of the remaining Monterey Jack. Take some tinfoil and spray it down with non-stick spray and cover the enchiladas to bake for 30 minutes. Once the 30 minutes is up, remove the tinfoil and let it bake for another 10 minutes.
While they are baking, mix your tomatoes, red onion, lime, jalapeno, cilantro and seasoning to make pico de gallo, and set it aside. Crumble your cotija, dice some green onions and a little more cilantro for garnish. I like to serve it with sour cream.