This bread is no frills and absolutely tasty. At the beginning of COVID, everyone was going wild making sourdough bread. Therefore, I couldn't find flour or yeast for a few months, so I missed the party. Also, upon research and watching everyone else's posts, it looked like a pain in the ass. I eventually lost all interest in bread making, enjoyed my store bought slices and naturally became bitter towards all the people hoarding the yeast and the flour (you know who you are!). Once my anger subsided and I found some yeast, I thought maybe I'll give it another try. I was thinking, "there has to be a less time consuming process, I can't imagine my Irish ancestors with their temperaments dealing with the equally difficult temperament of sourdough every time they wanted some bread."
That is when I discovered this recipe on Pinterest, and now her easy crusty bread is my go-to fresh baked bread recipe.
For the recipe visit Nagi's blog.
I will share some of my tips for you making this below!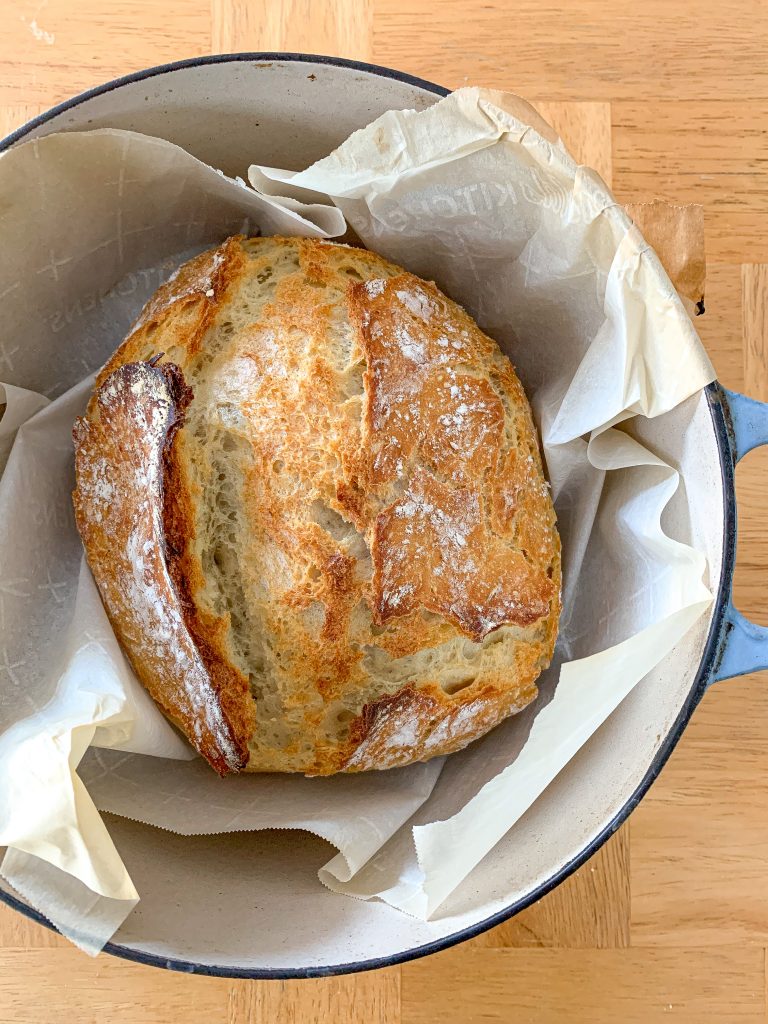 My Tips!
I like to make this into garlic bread or serve it with pasta generally. So I usually add a little less than ¼ tsp. of garlic powder and onion powder in with the flour and salt. I also have on occasion put in some dried rosemary, about a ¼ tsp. Rosemary can be very strong, so less is more.
I often keep my flour in the fridge, and because of that, I usually measure out the flour into my bowl 1 hour ahead of time to take the chill off.
I use active dry yeast, which isn't "instant yeast," and it works just fine. I bring my water for the bread up to 125-130 ℉ checking with a thermometer, then add the yeast in and give it a stir before adding it to the flour mixture.
It's been pretty chilly in my house, so I have been setting my oven to 300 ℉ and letting my bowl of dough rise while sitting on top of the oven with a dish towel under it. I use a large Pyrex bowl with a lid, that way I can pop it in the fridge if I want to let it ferment overnight.  Usually, I just cook it right after it's done proofing because I love bread and don't want to wait. The longest I have left it in the fridge for was 24 hours and I didn't notice too much of a difference.
Make sure you heat up your Dutch oven in the oven for 30 minutes before you add the dough to it.
I take it out and let it cool for 10 minutes on a cooling rack before I cut into it with a bread knife and cover it with olive oil butter and sea salt.
Once it's completely cooled, I store it in a Ziploc bag. It is usually gone within 48 hours so long-term storage has never been a thing.
Writing this makes me want it now, but I have already had two loaves this week…