If you follow me on Instagram, you will know that I love Thai coconut curry. I make it pretty regularly when I'm not ordering it for takeout. I love the vibrancy of flavor and colors that are a part of Thai cuisine. At home I usually have red or green curry paste as well as some coconut milk in the cabinet. I like to make and freeze citrus, lemon grass, ginger and fresh herbs in ice cube trays so I can have them ready whenever I need them. If you're not freezing your favorite citrus or herbs, you're missing out. It was a real game changer for me and helps minimize food waste big time. I know this specific dish I use chicken but if you want to make it vegetarian or vegan just use the cauliflower or tofu to substitute. I never cook tofu but the packaging usually comes with directions on how to prepare it.
I have a quick video of me making this saved in my stories on Instagram: Theslimmerkitchen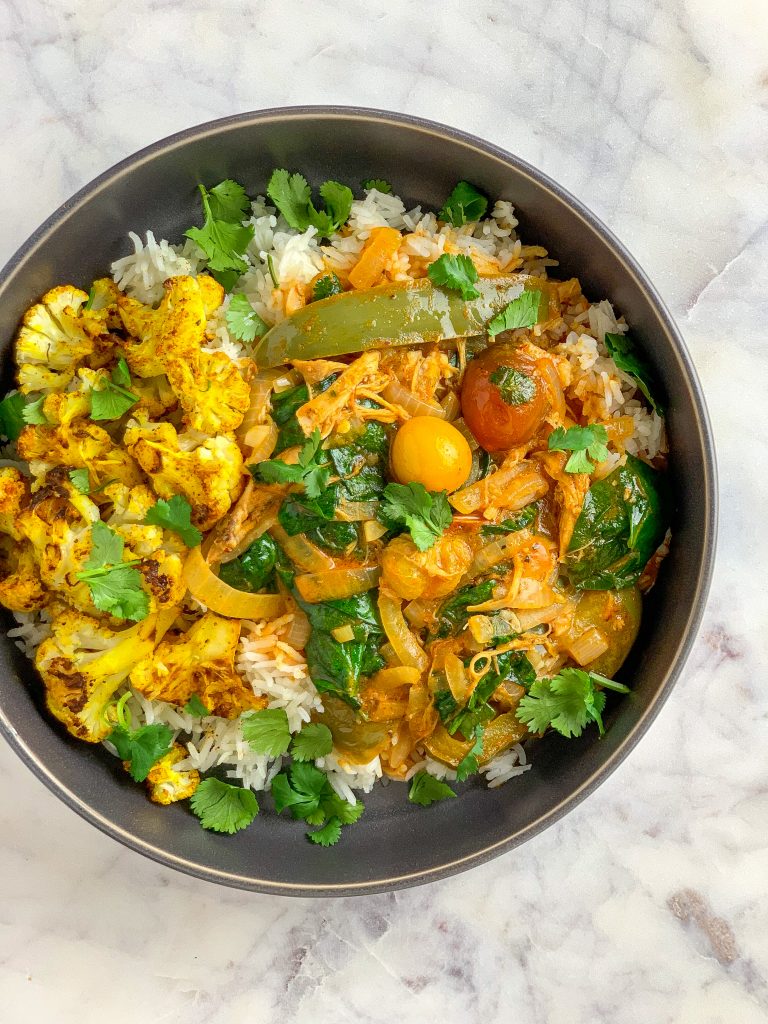 Curry Ingredients
1 lb. chicken thighs shredded
2 tbsp. olive oil
1 ½ tsp. ground ginger
½ tsp. dried coriander
½ tsp. dried basil
1 can of coconut milk
2 tsp. lime juice
Salt
White pepper
1 onion sliced
3 cloves garlic minced
1 bell pepper sliced
½ cup cilantro chopped
3 tbsp. red curry paste
1 tbsp. chili garlic sauce
4 cups spinach
2 cups whole cherry tomatoes
Sometimes I will add in some fresh diced pineapple for a little sweetness
Your favorite rice (prepare as package says)
Cauliflower Ingredients
1 head of cauliflower broken into florets
1-2 tbsp. olive oil or coconut or avocado
1 tsp. turmeric
1 tsp. paprika
¼ tsp. Cumin
Salt
Pepper
Directions for Cauliflower
Set oven to 400˚. Take your cauliflower and toss it in oil, then toss it with your dry spices. Spread it out evenly on a baking sheet. Bake it for 15 minutes, toss and bake for 15 minutes more or until it's to your liking. If your going to omit chicken and use just the cauliflower don't mix it in with the sauce, just serve it on top and mix as you eat.
Directions for Curry
Make your rice
You can make the chicken either on the stove in a deep skillet or Dutch oven. Season it with a little salt and sauté it on the stove with some oil, when it's done cooking, remove it, dice it and set aside. You will then use the same pot to build the sauce.
If you use the IP, place the thighs on top of the trivet, add one cup of water, season with a little salt and set the valve to seal. Set it to manual or high and cook for 8-10 minutes (10 if frozen) with a 5 minute natural release. Then remove your chicken, shred it and set it aside. If it's a little under cooked, that's fine because it will cook some more in the sauce. Empty out the water and remove the trivet. Return the pot and set it to sauté function to build your sauce.
To build the sauce, add olive oil to your skillet or IP then sauté your bell peppers and onion till soft. Season with some salt and pepper. Once those have softened, add in your garlic to cook for 1 minute. Add back in your chicken and your dried spices and mix.
Once that's mixed, add in your curry and chili sauce and lime juice. Mix again and let that cook for 3 minutes. Add your coconut milk and cherry tomatoes and let it cook for 5 minutes. Once the 5 minutes are up, check for seasoning and adjust.
Turn your pot off and mix in your spinach and fresh cilantro. Serve with rice and roasted cauliflower and a little extra cilantro for garnish.