As I sit down to write this recipe for my Instant Pot Chicken Tortilla Soup, I have just finished off my fifth serving of it over the past 5 days. You might ask, aren't you sick of eating it? NO. Not only is it delicious but I have been physically craving it every day. It also has saved me from cooking and even worst deciding on what to cook over the past few days. That's the beauty of making a big hearty soup like Instant Pot Chicken Tortilla Soup. Mind you, it's only two of us eating it, so if you have a family of four, it's probably not going to last as long.
This is an Instant Pot recipe, but you can totally make it on the stove. Just bake your chicken ahead of time or if you're in a pinch, buy one of the precooked (garlic and herb) rotisserie chickens at the store and shred it. Then, do all the other steps to build the soup on the stove, and let the broth come together for 20 minutes on a simmer before serving (instead of the 8 minutes at the end if using the IP).
You can use whatever cut of chicken you want to make Instant Pot Chicken Tortilla Soup. I used breasts for this, but you can totally use skinless thighs or whatever piece you'd like. Just make sure that you have enough meat (about 1.5 cups) to add into the soup. If you have more, it will just make your soup a little thicker. I had 1.5 pounds of chicken breast to start before I cooked it, so it gave me a few cups of meat. You can always add a little more stock/chicken broth/water to thin it out if it's too thick at the end. Taste for seasoning if you add more liquids and adjust accordingly.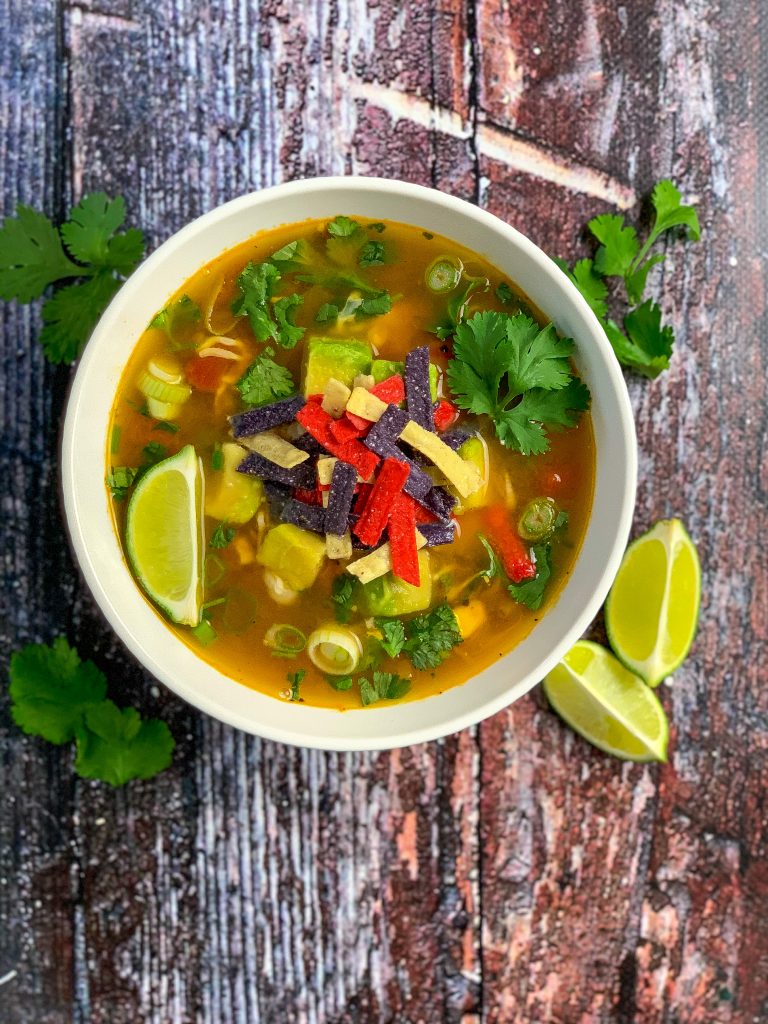 Ingredients
1-2 Chicken Breasts (you want to get 1 ½- 2 cups of shredded chicken)
32oz. low sodium chicken stock or broth
1 tbsp. Better Than Bouillon Chicken
1-2 cups of water (start with one and see if you need more to thin it out)
1 onion diced
5 cloves of garlic minced
2 14.5oz. cans of fire roasted tomatoes
15oz. can of black beans (drained and rinsed)
7oz. can of diced green chilies
2 tbsp. olive oil
1 ½ cups of frozen corn (I like Trader Joe's Fire Roasted Corn)
1 or ½ Jalapeno seeded and finely diced for heat (optional)
1 ½ tbsp. Chili Powder
2 tsp. cumin
1 tsp. dried oregano
2 tsp. salt (to taste)
1 tsp. fresh cracked black pepper
½ tsp. onion powder
½ tsp. garlic powder
You may need to add a little water between 1-2 cups to thin it out. I usually use one of the empty tomato cans filled with water.
Chicken Seasoning
1 tsp. chili powder
½ tsp. cumin
½ tsp. dried oregano
Sprinkle of salt and pepper
Garnish
Fresh Cilantro
Chopped green onions
Diced avocado
Tortilla Strips (make your own or buy pre-made)
Shredded cheese
Limes (1-2 slices squeezed into each bowl when you serve)
Directions
In your Instant Pot, add one cup of water. Place your trivet and add your chicken on top of it. I tend to make mine with frozen chicken I have saved in the freezer. Season your chicken and turn it on for 8 minutes on manual if frozen and 5 if not. If you use chicken with the bone in, add an additional 2-3 minutes. Don't worry if it's not 100% cooked because you're going to cook it again. Let it naturally release for 5 minutes. While that's cooking, prep your veggies.
Remove the chicken and set aside. Turn off your IP and empty it out. No need to rinse it, just dump out water, remove the trivet and add the steel pot back to the base. Turn it onto sauté function and add your olive oil. Once it's warm add in your onions to soften (if you're using diced jalapenos add them now too). Once they are soft (3-5 minutes) add your garlic to cook for about 1 minute or until fragrant. Now stir in your dried spices to the onion and garlic, and then add in your stock, water, beans, tomatoes, chilies and corn and stir.
Shred your chicken and add it to the pot. Now, turn your IP back on for 8 minutes on manual. This will make the flavors really come together. Manual release when 8 minutes is up. Caution soup will be INSANELY HOT. Check for seasoning and adjust. If you do add more spices just give it a few minutes to incorporate before serving.
Serve with all of your favorite garnishes listed above!