This recipe was just an off-the-cuff mash up of things I had in the kitchen that I wanted to use. My friend was having a crappy day, so I invited her over to have a nice comforting meal. Surprisingly, an hour later her day got way better. We found out were going to be neighbors!
I love making lemon butter sauce with pasta. It's lighter and brighter than an Alfredo sauce, but still has that richness from the added cheese and butter. For this Trofie in a lemon butter sauce with white beans, sundried tomatoes and spinach I used Pecorino Romano cheese for this; if you have Parmesan, you can use that in its place. Pecorino is sharp and tangy, and I like it with lemony stuff.
I'm a big fan of freezing leftover herbs into ice cubes, as you know if you read my blog or have visited my IG page, so I usually have a lot of herbs at my disposal. For this recipe, if you don't have fresh basil which the recipe calls for, you can use ½ tsp. dried. I highly recommend freezing extra fresh herbs when you have them; it's a game changer when you're whipping something together and you can use those instead of dried. The same goes for onions, scallions and peppers, if you have extra, dice them up and toss them in an airtight baggie in the freezer. Next time you need just a little onion or pepper, you'll have it!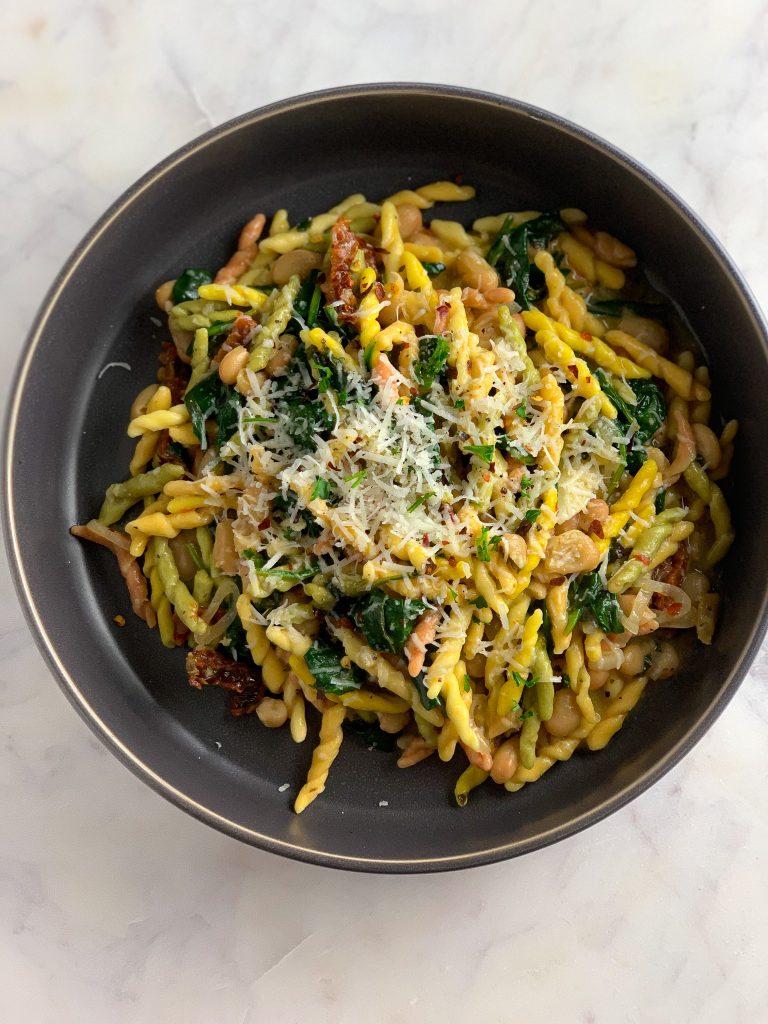 Ingredients
1 can of white beans (Cannellini or Great Northern Beans)
½ cup of sliced sundried tomatoes in oil drained
Juice of 1 ½ lemons (about 3 tbsp.) and the zest of one
½- ¾ cup of chicken broth or stock
½ cup saved pasta water
4 tbsp. butter
16 oz. of Trofie or Gemelli pasta
1 handful of baby spinach
1 shallot sliced
¾ cup grated Pecorino Romano or Parmesan cheese
Salt and pepper to taste
2 tbsp. olive oil
¼ tsp. onion powder
¼ tsp. garlic powder
½ tsp. dried basil (1 ½ tbsp. fresh)
½ tsp. dried rosemary
1-2 tbsp. fresh chopped parsley for garnish
4 cloves of garlic pressed or smashed
Red pepper flakes to your liking
If you want to add some meat to this, some diced up chicken would be good, grilled shrimp, or like 2 pieces of sausage removed from their casing, broken up by hand and sautéed. If you use the sausage, just cook the onions and garlic in its fat instead of adding oil. You can use some finishing oil at the end if you want to drizzle over pasta.
Directions
Bring a pot of water to a boil. While that's heating up, slice shallot, press garlic, zest and juice lemon, get your chicken stock/broth, sundried tomatoes and spinach ready as well as herbs and cheese, and drain your beans.
In a pan, add olive oil over medium heat and shallots to soften. Once they are soft, add in your garlic for a minute to cook. Now add your dried herbs and seasoning. If you are using fresh basil, don't put it in yet. Stir and cook for another 2 minutes. Add your beans and tomatoes to heat up for about 3 minutes. Drop your pasta in boiling water and you want to cook it under by 2-3 minutes. It will cook more in sauce.
While pasta is cooking, add the butter, lemon and chicken stock into your pan. Bring to a simmer and add your cheese. Once that incorporates, add your fresh basil and taste for seasoning and adjust.
When the pasta has 2 minutes left add your spinach into your sauce.
When the pasta is done place it straight into the sauce from the water. I didn't use all of the pasta for this dish, I probably left out about a cup and a half and saved it separately. I kept adding pasta until the ratio of pasta and sauce looked good. Add about a ½ cup of pasta water into the dish and mix.
Once it's mixed, taste again and adjust if needed.
Remove from heat and allow it to sit for about 3 minutes to come together.
Garnish with parsley and more cheese if you like.