Okonomiyaki is an iconic Japanese savory pancake made with flour, eggs, shredded cabbage, and your choice of protein (shrimp, mushrooms, mussels, whatever you like) and topped with a variety of condiments . It's name translates to "what you like, grilled". Depending on what region of Japan you are visiting there can be different variations of how this dish is prepared and served.
I went to Japan (Tokyo) in 2008. It was a very last minute and a spontaneous trip, so there was zero planning on my part. I told my work 3 days before that I was leaving for two weeks and they could either let me come back or I was going to quit (once in a lifetime opportunity baby). My boss Angela looked at me and Sue who made the schedule and they said GO. They didn't even hesitate. Told me my job would be there when I got back. I Love those ladies for that and all the people who picked up my shifts so I could LIVE MY BEST LIFE. 48 hours before the trip I worked a double, then got in my car and drove two hours to JFK airport and flew to LA where I then applied for a same day Passport. It was bananas, but it worked out. To this day I am still grateful that I was given the opportunity to go. Looking through old photos and searching my memory, I don't think I actually had Okonomiyaki! A few years ago a few food bloggers did a tour of Japan and they were going on a hunt for the best Okonomiyaki, which inspired me to try and make it myself. Now that things are opening back up, I hope to try it at a local Japanese restaurant that makes it.
Tokyo was an absolutely beautiful city, everyone was incredibly friendly and the food was top notch, wherever we went. I grew up going to NYC and Boston regularly and Tokyo blew them out of the park. It was like if NYC went to rehab and got it's life together and then had a full body makeover. They took such pride in their city and you could tell. I hope to go back one day with my husband to explore more of the country it's culture and history.
Click here to learn more about the history of Okonomiyaki!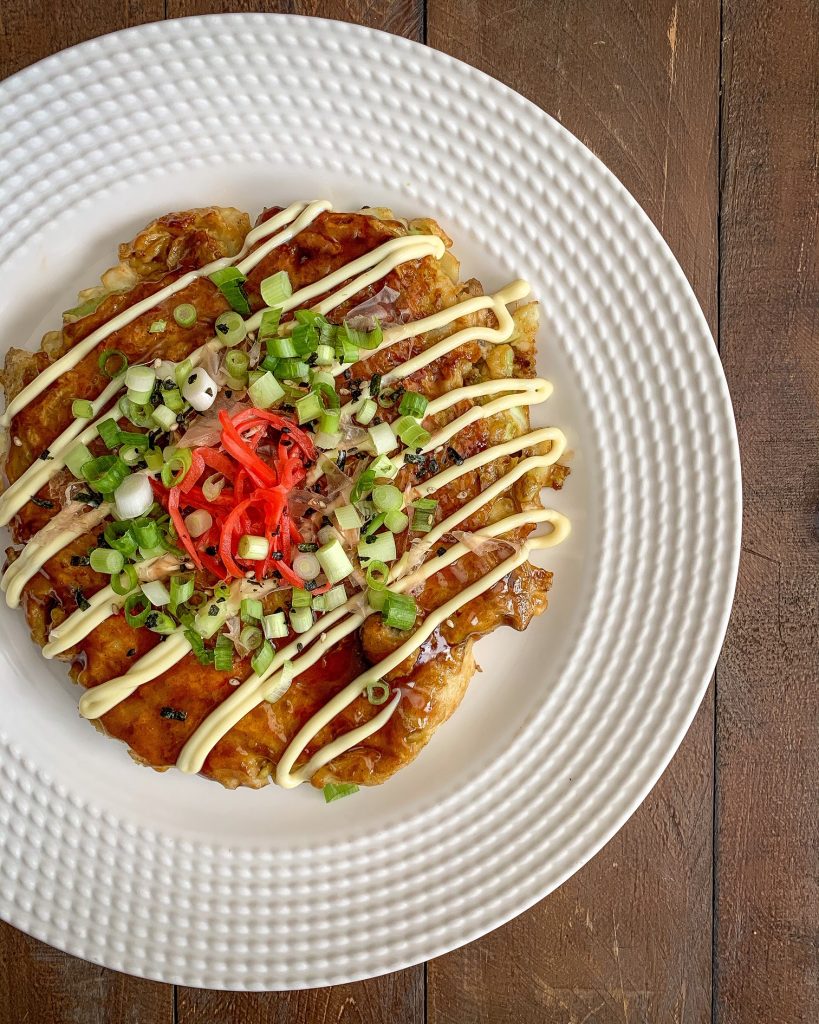 I took a short cut when making mine by purchasing Onkonomiyaki flour off Amazon. If you want to do everything from scratch check out Just One Cookbook, Namiko Chen does an amazing job of breaking down each step and explains all the details and products with photos and video.
Ingredients (2 big ones)
1 cup of Okonomiyaki flour
2 eggs
3/4 cup water
1.5 cups minced cabbage
2 green onions sliced (white part goes in pancake, green as garnish)
4-5 slices of bacon or thin pork belly cut in half
2 tbsp. pickled red ginger
1/2 cup tempura scraps
1/4 cup of chopped and sauteed mushrooms (cook ahead of time)
Vegetable oil for frying
Toppings
Okonomiyaki sauce
Kewpie Mayo
Green onion sliced
Dried Bonito flakes (Katsuobushi
Aonori or Furikake seasoning
Red pickled ginger
Directions
Since I used mushrooms, I first sauteed them to add them to the Okonomiyaki flour. If you are using shrimp you don't need to do that, they will cook fine in the batter, just make sure you cut them up into small pieces.
Slice your onions and separate the green part from the white, slice and mince your cabbage and cut your bacon/pork belly into halves.
Mix your Okonomiyaki flour as it says on package. Then add in your mushrooms, cabbage, onion, tempura scraps and pickled ginger and mix.
In a large pan with a lid, heat up a very thin layer of vegetable oil over medium high heat (you want the pan hot). Once it's hot scoop in a large scoop of the batter like you would a pancake. Use your spatula to form it into a round shape and 1/2-3/4 an inch high. Then place your bacon slices on top. Cover and allow to cook for 5-7 minutes until the bottom is crispy and brown.
Gently flip it and re form it if you need to with your spatula. Give the top a light coat of the Okonomiyaki sauce. Cover and allow to cook for another 5-7 minutes.
Once that side is cooked, take the lid off and allow to cook one more minute on each side. I like to again add a little coat of the sauce.
Remove it from the pan onto your serving plate and garnish. I like to do a few more coats of sauce, then a drizzle of the mayo across it, then bonito flakes, green onion, ginger and lastly aonori flakes or some Furikake seasoning.