Chicken Francaise is a meal I have had probably a 100 times in my life. You can find it on almost every menu at a Italian restaurant back home in Connecticut. It is similar to chicken piccata but a little different. You reverse the dredging process and it doesn't have capers. I usually use a little more lemon too when I make a piccata.
I had never had Chicken Francaise with peas added to it before until recently when a friend asked me to because that's how he likes it, so I rolled with it. You ask for peas, you get the peas. This recipe is for two large chicken breasts cut in half, so 2-4 servings. I made a large tray of it for this photo, so you won't get the same amount. You can take the recipe and double it for more.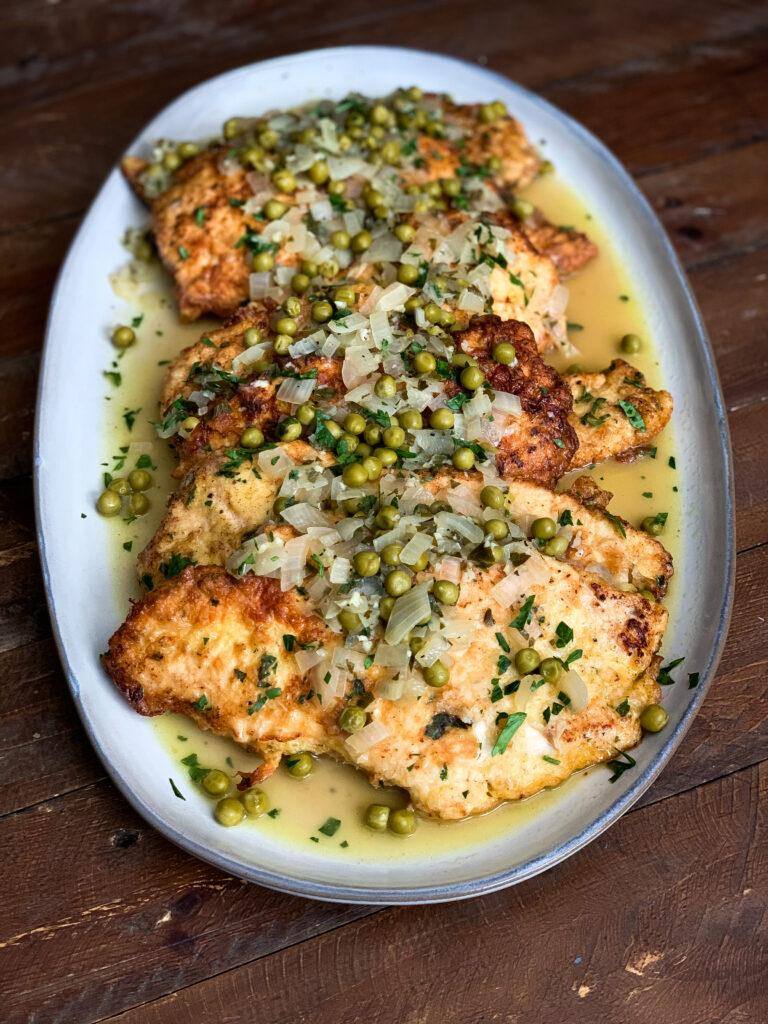 Ingredients
2 tbsp olive oil
1 pound boneless and skinless chicken breasts, butterflied in half and pounded thin
salt and pepper to taste
¼ cup flour (sometimes you have to add a little more)
¼ onion chopped
2 eggs, lightly beaten
1 tsp Italian seasoning
½ tsp paprika
1 tsp onion powder
½ tsp garlic powder
4 tbsp. butter
3 cloves garlic, chopped
Red pepper flakes to your liking
1 cup chicken broth
¼- ½ cup white wine
¼ cup lemon juice
3 tablespoons parsley, chopped
1 cup of peas
Directions
Turn your oven on to 200 degrees to keep chicken warm after you cook it. If you do this, put the chicken on a wire rack on top of a cookie sheet so air circulates and the chicken doesn't get mushy. You probably don't have to do all of that if your only making a few pieces. Highly recommend when you are making a bunch.
Set up your dredging stations:
Flour dredge: Salt, Pepper, paprika, garlic and onion powder.
Egg wash: I add 2 tbsp of chopped parsley, Italian seasoning salt, pepper and a splash of lemon juice.
Heat the oil and 1tbsp butter in a pan over medium heat.
Season the chicken breasts with salt and pepper to taste, dredge in the flour, shake off any excess, dip into the egg, shake off excess, and then fry in the oil until lightly golden brown on both sides at cooked internally to 165 degrees internally. Place it in the oven to stay warm while you make the sauce. If they oil gets too brown, dump it out in a oil safe jar and start over. If you make a lot of this you will have to do that a few times, so make sure you have enough oil.
Add 1tbsp. butter to the pan and heat, over medium heat, add onion and cook until soft before adding the garlic and red pepper flakes and cooking until fragrant, about a minute.
Add the broth, wine and lemon juice, bring to a boil and simmer until it thickens a bit, about 3 minutes. Add peas and mix. Cook for another few minutes to warm up peas.
Remove from heat, mix in the last 2 tbsp of butter and the rest of the parsley and drizzle over the chicken!
Great over pasta, but I would double the sauce if your going to do that. I like it served with garlic mashed potatoes and steamed broccoli.