This Mushroom and Corn Pasta can do no wrong. When you think of mushroom and corn pasta, you generally think of a cream sauce. I'm a girl that loves a good cream sauce, but this garlic and basil sauce makes you think twice. It's very light and flavorful and the way the burrata melts into the warm noodles, it is just incredible.
Mushroom and Corn Pasta is a bright flavorful meatless pasta dish. In under 15 minutes you can make this beautiful dish that is perfect for sharing with friends and family.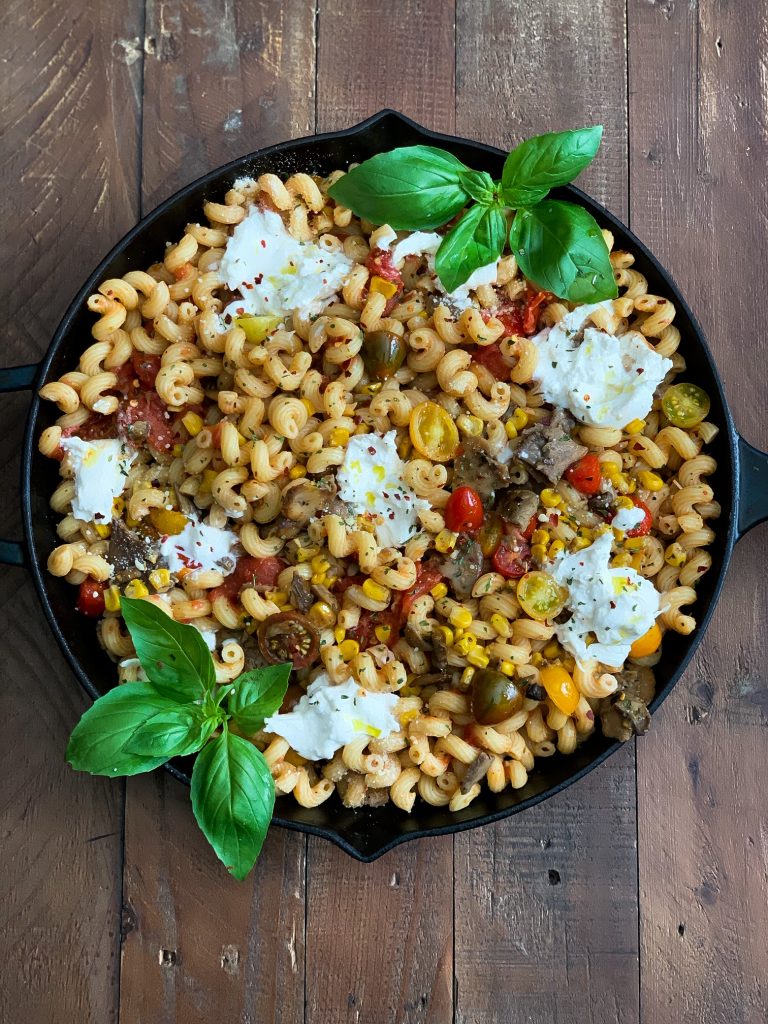 Ingredients
1lb Cellentani pasta
5 garlic cloves shaved
2 ½ cups sliced cherry tomatoes
2 ¼ tbsp. olive oil (use a little extra for drizzling at the end)
1 cup of corn kernels
28oz whole peeled tomatoes drained
1 ½ cups mushrooms of your choice sliced or chopped. I used the frozen Mushroom Medley from Trader Joe's. I have also used canned before as well. They just cook faster than fresh.
1 tsp. dried Italian seasoning
¼ tsp. onion powder
¼ tsp. dried parsley
4-6 nice big basil leaves chiffonade
¾ tsp. sea salt
¼ tsp. black pepper
Red pepper flakes
¼ cup grated Parmesan cheese
1 ball of Burrata cheese pulled apart
Directions
Prep all of your veggies and herbs and bring a pot of water to a boil.
In a nonstick pan or Dutch oven heat 2 tbsp. of olive oil over medium low heat. Once it is warm add in garlic for 1 minute to cook till aromatic (don't brown or burn) then add whole tomatoes, black pepper, salt, Italian seasoning, onion powder and stir. Let this cook for 3-5 minutes.
Toss pasta in pot and cook till al dente. Remember to save ¾ a cup of pasta water before you drain it.
While that is cooking add mushrooms and corn to a pan with a little splash of olive oil and sauté adding dried parsley to season. Cook till they are tender.
Once tomatoes have cooked down, take a potato masher or meat tenderizer and crushed up the tomatoes until they are a chunky sauce. Taste for seasoning.
Take fresh cherry tomatoes and add them to the corn and mushrooms to cook for 1 minute and then remove that pan from the heat. Tomato sauce should still be cooking in other pan.
Pasta should be ready at this point. After you drain it add it to the pot with the sauce, saved pasta water and Parmesan cheese and mix. Then add the other pan of veggies and mix again. Allow this to sit together for 3 minutes so the pasta soaks up the sauce.
Place on your serving plate or bowl. Pull dollops of Buratta on top over the pasta. Garnish with more fresh basil, red pepper and a little drizzle of olive oil.
*If you want to use other types of veggies, go ahead. I would recommend if you are going to use zucchini, squash, eggplant to saute it ahead of time and set aside. Then add it back in at the end to heat up so it doesn't get mushy. If your going to use spinach add it in the last 2-3 minutes a few handfuls at a time to wilt.